News
Mercury Transit 2019: Date, Time, Where and How to Watch in Dubai and Various Parts of the UAE
Mercury Transit 2019: All the information you need to experience this rare occurrence. Check out information about the date, where and how to watch in Dubai and other parts of the UAE
Mercury Transit 2019 is all set to happen today as one of the most rare events in astronomical history. This is a rare alignment with Mercury passes directly between the Earth and the sun. A small part of it will be visible as a black dot moving across the sun by many parts of the world. It would last for several hours but will happen next after thirteen years in November 2032. The event is being looked forward by people all over the world and everyone is eager to see Mercury crossing the sun.
Date, Time, Where and How to Watch Mercury Transit 2019?
Date: November 11th, 2019
Time: It will start from 4:35 pm and last for fifty eight minutes.
Where: Al Thuraya Astronomy Centre, Dubai
At different times, there will be a different sight for Dubai
At different timings, there will be a different sight. For example, at 4:35 pm Mercury will touch Sun's edge. At 4:36 pm the full transit will begin.  Mercury will be fully within the Sun's edge. At 5:30 pm, Mercury will be closer to the center of the sun as seen from Dubai. Since the Sun will be near the horizon at this time, the best view will be possible from a high point on the unobstructed area with free sight. Since 5:31 pm is the sunset time in Duba, the transit will be visible during the sunset.
Why can Mercury Transit not be observed with the naked eye?
However, it cannot be observed with the naked eye. Mercury is only 1/194 of sun's total diameter. It will appear just as a speck which the naked human eye will not be able to detect. A telescope with a magnification of 50x or more with adequate filtration ensuring safe viewing is recommended. The Dubai Astronomy Group has organized an event to observe Mercury Transit 2019 at Al Thuraya Astronomy Centre from 4 pm onwards.
CEO of Dubai Astronomy Group has something to say about the precautions while observing Mercury Transit 2019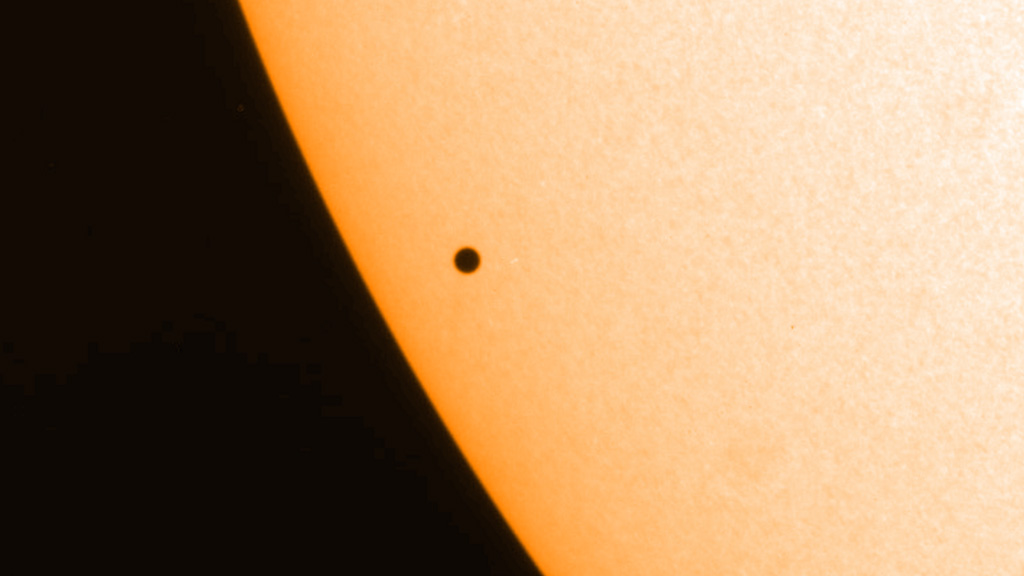 According to the CEO of Dubai Astronomy Group Hasan Ali Harii, special precautions must be taken while observing the rare solar alignment. According to him, no one should look at the sun with the eyepiece without filters. The eyepiece will rapidly become hot hence do not touch it. He advised the people to stay away from it as the sun is focused on it. Any skin contact can burn the skin and generate pain.
General Precautions to be strictly observed while Mercury Transit
Here are some general precautions that need to be observed while watching the Mercury Transit.
1. Never look directly at the sun without eye protection.
2.      Do not use sunglasses or filters made from photographic film. A combination of photographic filters crossed polarisers or gelatin filters, CDs, CD-ROMs, or smoked glass is equally unsafe.
3.     Before fitting any filter to a telescope, it should be thoroughly checked for damage. In case, it has any scratches, pinholes, scuffing, or any such indication that does not ensure its credibility it should not be used.
4.      Filters required for solar viewing are specific. Do not compromise on that. Make sure the filters you are using are specifically designed and secured to the telescope you are using.
Since the event of the smallest planet in the solar system becoming visible for Earth dweller is a rare sight, there is excitement all over the world for this day. In many countries, there have been arrangements made for the people to watch the rare astronomical alignment following precautions that are required for the safety. Since the next Mercury Transit is expected in November 2023, it is high time everyone goes and watches it.