TV/Streaming Reviews
Meray Paas Tum Ho: Adnan Siddiqui and Humayun Saeed Praise Each Other
Meray Paas Tum Ho is a popular television show which has Humayun Saeed, Ayeza Khan, and Adnan Siddiqui in the lead roles.
Adnan Siddiqui and Humayun Saeed are two of the finest names in the Pakistani entertainment industry. Both ventured into films after carving a niche for themselves in the television. While Adnan Siddiqui has even worked with global artists like Angelina Jolie and Sridevi, Humayun Saeed has given some of the biggest hit films to the Pakistani film industry. However, despite all the glory and fame, they got in films the actors par excellence did not leave their alma mater: the television. These days they are coming together in the popular television show named Meray Paas Tum Ho.
Meray Paas Tum Ho, penned down by Khalil-ur- Rehman Qamar and directed by Nadeem Baig, is one of the most widely watched television shows at the moment. The fans actively look forward to the new episodes and every Saturday it is the talk of the town.
Humayun Saeed is playing the role of a middle-class man Danish who stays calm and controlled even during the hardest moments of life. His wife Mehwish (played by Ayeza Khan) leaves him for a much richer and charming man Shahwar (played by Adnan Siddiqui). While Danish remains mysteriously quiet and calm about all situations, he cannot control himself from attacking Shahwar in his office when it came to his son Rumi. Danish slaps Shahwar in front of his co-workers and leaves him in a state of despair.
The scene has received rave reviews from the audiences. Humayun Saeed, in particular, received applause from the audience.
Humayun Saeed took to twitter to thank everyone for the response and also appreciate Adnan Siddiqui. According to Humayun Saeed, 'Thank you for all the love and appreciation! It kind of feels strange to 'like' or respond to all the excitement on someone being hit though. I have to admit credit goes to Adnan Siddiqui whose wonderful reaction to my action has made this sequence such a success @adnanactor'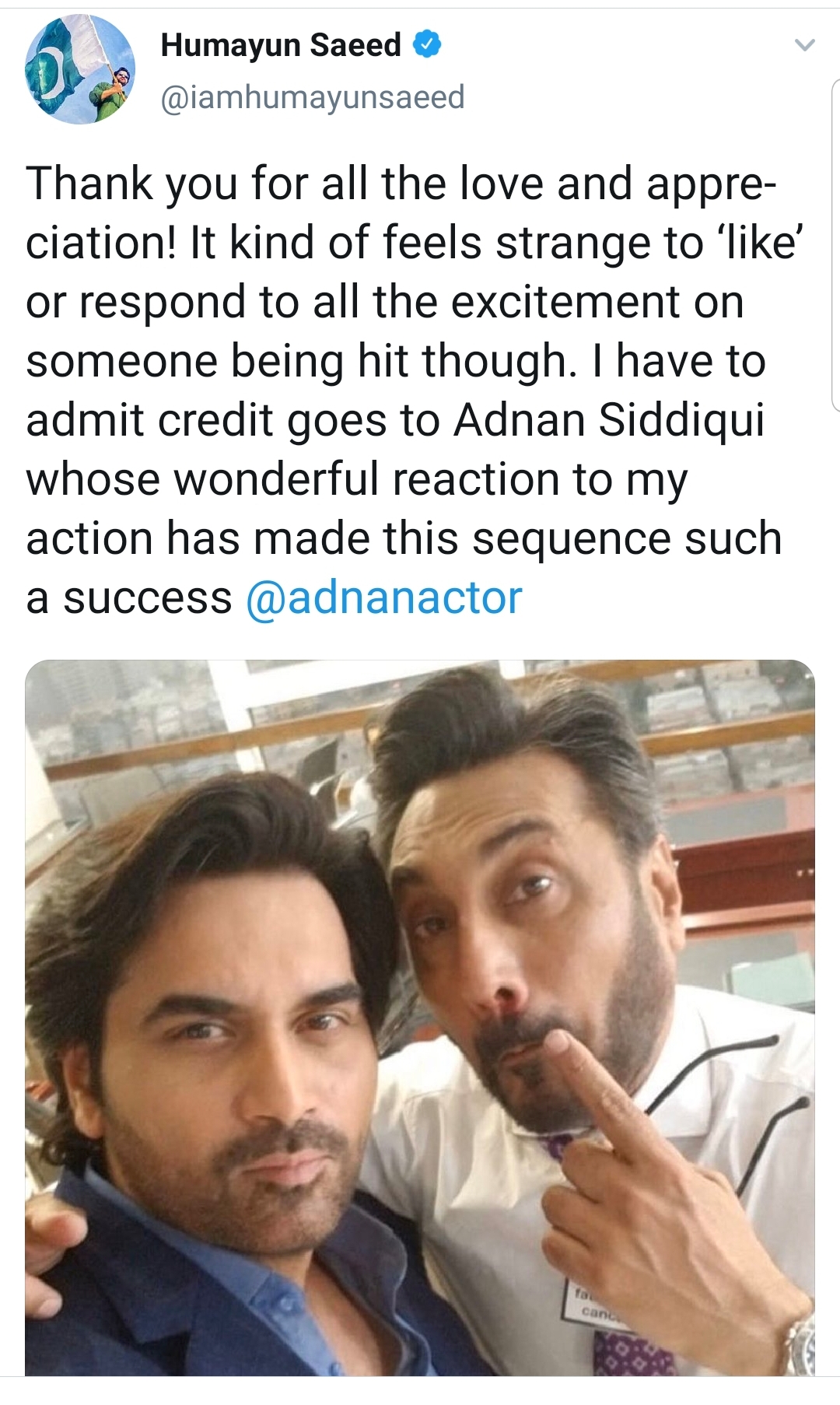 Adnan Siddiqui was greatly touched by HumayuN Saeed's kind words and took Instagram to post a video message for his co-actor. He thanked Humayun Saeed for his kind words and said that anyone would have reacted similarly on being slapped. In the heartfelt caption, Adnan Sididqui said,
'Thappad se darr nahi lagta sahab ji, pyaar se lagta hai." Haha! Thank you Humayun for the impromptu thappad that has created a ripple effect. The way you hit me got the best reaction out of me.
Hoping you all will continue to shower us with your love.'
In an exclusive interview with Masala Magazine, Adan Siddiqui said that his inspiration for Shahwar's character came from Nadeem Baig and Khalil Ur Rehman's writing. According to Adnan Siddiqui, he was a director's actor and believed in doing whatever he was asked to do. He appreciated the bashing he received for his character because it meant the character was working for them. Adnan Siddiqui believed that being in the character was a win-win situation for everyone.