TV/Streaming Reviews
Meherposh Episode 1: Ayeza Khan and Danish Taimoor's Show Takes Off Running
"Meherposh" is Har Pal Geo's latest, starring Ayeza Khan and Danish Taimoor in lead roles as their characters wind up intertwined in each other's lives after a mishap
"Meherposh" is 7th Sky Entertainment's latest offering, produced by Abdullah Kadwani and Asad Qureshi. The show has been directed by Mazhar Moin and written by Misbah Nausheen.  The show not only stars Ayeza Khan and Danish Taimur as a pair for the first time since their marriage, but also has big names like Rehan Sheikh, Sania Saeed, Ali Abbas, Zainab Shabbir, Iffat Rahim and Ismat Zaidi in prominent roles.
As episode 1 begins, the show immediately pulls viewers in with a catchy, strong OST by Sahir Ali Bagga.  We are introduced to Mehru (Ayeza Khan) and her family – Jahanzeb (Rehan Sheikh), Nusrat (Sania Saeed) and Aayat (Zainab Shabbir).  A loving, close-knit family, they are preparing for Mehru's wedding to Naeem (Ali Abbas).  A hiccup arrives on the scenario in the form of Shakeela (Iffat Rahim), a woman who brings a proposal for her son Waqas (Syed Arez) – and is dismayed when she realizes Suraiyya (Ismat Zaidi), her own bhabi, has already gotten her son engaged to Mehru.  While she's polite on the outside, she's seething with jealousy and bitterness once home and takes it out on Waqas.  She will be a key player in coming episodes.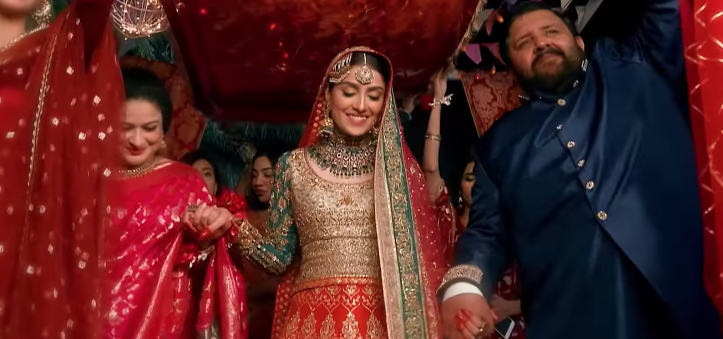 Ayeza Khan, Sania Saeed and Rehan Sheikh in Meherposh
We also meet Shahjahaan (Danish Taimoor), a sweet, helpful neighborhood boy who respects Jahangir as his teacher and also has a crush on Mehru.  Shahjahaan is a lovable character that you immediately develop a soft spot for as he's so respectful and seems very clean-hearted.  While having a crush on Mehru, he does not give it a second thought that she's getting married and only wants her happiness.  I won't pretend like I don't already have a soft corner for Danish Taimoor, but he is incredibly likable in this role.  Rehan Sheikh and Sania Saeed are adorable as Jahanzeb and Nusrat, Mehru's parents.  It's refreshing to see how realistic the portrayal of this loving, older couple is.  They aren't just together for their daughters, but actually share a warm, caring relationship with one another and their scenes just ooze "cuteness."  The two are incredible actors in their own right and watching them together is a treat.
What's important to highlight in this episode is the character of Naeem, Mehru's to-be husband.  When questioned about Mehru being his ideal, he makes a statement that the woman he marries should only be his, never have belonged to anyone else.  This comment immediately sends up warning signals to the viewer – and Naeem's suspicious behavior is cemented when Naeem happens to come across Shahjahaan helping Mehru with her bags at the mall, not realizing Nusrat is there as well.  While it's frustrating watching a character like Naeem, men like this do exist in our society in large numbers, men who are suspicious and do not trust the women in their lives.
The only unsettling thing about this show so far is that writer Misbah Nausheen's track record as a writer is simply not the best, as her last shows have been "Daasi" and "Ishq Tamasha."  But Mazhar Moin's direction is solid in this first episode and the 40 minute episode did not leave viewers bored for even a moment.  The character introductions are well-written with the personalities being well-defined and the scenes are seamless.  As far as first episodes go, this is a good one and the show holds a lot of promise.  Whether it takes a turn for the overly melodramatic is yet to be seen.