Tips
Meghan Markle's One Trick To Keep Stress At Bay That You Can Steal Right Away
Meghan Markle revealed in a post on her now-dormant blog, The Tig how something she started doing made her "just happier."
Meghan Markle might be under immense media scrutiny after stepping down from Royal duties as seniors members. The Queen, however, has given her approval and the couple is all set to transition into their new independent lives Though these might be testing times for the Duchess of Sussex, the former Suits star believes in the power of medication to keep her zen in balance. Meghan Markle is an incredibly aspirational person when it comes to taking care of her health and fitness. According to Bustle via Meghan Markle's former blog, The Tig, she practiced Vedic meditation. Vedic meditation comes from the Veda, which is the ancient Indian system of knowledge from which yoga, meditation, and Ayurvedic medicine all stem, according to the New York Meditation Center.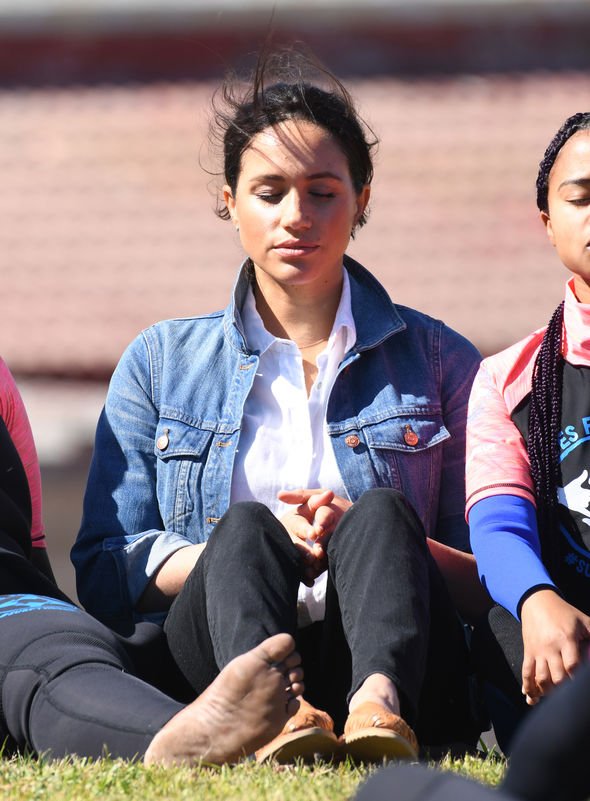 Meghan Markle's Practices Vedic Meditation:
In her now-defunct blog Tig, Megan Markle explained how she met a meditation coach Light Watkins in Los Angeles who explained the nuances of Vedic Meditation. The encounter led to her practicing meditation every day.
"Last week marked the one year anniversary of my relationship with meditation," she wrote in 2015, "something I found endlessly daunting at first (the thoughts, the distractions, the boredom of it), but soon became the quietude that rocked my world. I can't put my finger on the why or the how, but I will tell you this much, for me…I am just happier. And meditation has much to do with that."
What Is Vedic/Transcendental Meditation:
The Vedic Meditation is literally the OG meditation style that all others are based on. Vedic Meditation is basically non-religious meditation is centered around silent mantra. Celebrities like Arnold Schwarzeneggar, Ketty Perry, Oprah Winfrey, Hugh Jackman, and Clint Eastwood regularly practice Vedic Meditation regularly to keep themselves calm and happy under any circumstances. According to the London Meditation Centre: According to New York Meditation Center, Veda meditation "comes from the Veda, the ancient body of knowledge from India." The practice involves a mantra and settling your mind so you feel "clear, refreshed, and ready to engage."
Vedic Meditation is effortless and natural. You simply sit in a chair with your eyes closed for about 20 minutes in the morning and again in the early evening.
Benefits Of Vedic/Transcendental Meditation:
Meghan Markle has been a fan of Vedic meditation for over four years and now Harry has revealed that he meditates every day too. Let us get to know why Meghan Markle loves practicing Vedic Meditation and reasons why her meditation coach has pulled her into the meditation circle. Here is how the former Suits star emulates a positive mental attitude.
1.    Better Mental Clarity And Focus: While Vedic medication involves getting comfortable, 'noticing your breathing and getting lost in your thoughts' and to not 'resist any thoughts, including ideas, songs, conversations, images, feelings or sensations. It is basically teaching you how to have better clarity and focus.
2.    Releases Stress and reduces Anxiety: Overcoming stress could well be the main Transcendental Meditation benefit. The uncommon state of rest that Vedic meditation allows releases stress physiologically that has been accumulated for years. People who practice the Vedic Meditation technique say they have less stress, more energy, and less tension in their lives.
3.    Health Benefits: Scientific research has shown that Transcendental Meditation benefits people with various cardiovascular conditions, leads to lower blood pressure, helps fight Alcohol addiction and quits smoking, treats ADHD, improves intelligence and workplace relationships.
4.    Boosts Cognition and Unleash Creativity: Mindful meditation not only brings positive blissful peace, but it also helps in unleashing creativity and boosts cognition.it develops your creativity in mind-boggling ways.
5.    Improves Sleep Quality: If you're tossing and turning at night, Vedic meditation may be a helpful solution. Today, many people struggle to get a restful night's sleep. Some resort to medications that have serious side effects and may be bad for our health in the long run.
In short Meghan Markle, Transcendental/Vedic meditation routine from The Tig(RIP)is seriously accessible and doable. Just take out ten minutes from your lives and meditate to gain a calm and happy approach towards life in general. As Meghan Markle herself said
"I urge you to give it a shot," Markle concludes in her post. "The worst thing that can happen is that you gave yourself ten minutes of quiet in an endlessly loud world. Shhhhh……it feels good."