Celebrities
Mawra Hocane and Urwa Hocane's Interview with Nida Yasir and Why It Just Made All The Most Flawed Points
Mawra Hocane and Urwa Hocane, in a recent interview given to Nida Yasir, spoke strongly about the importance of good quality food and how it causes depression. Social media was in an uproar, however, there was more to this interview
Urwa Hocane and Mawra Hocane are two sisters who have made the name for themselves in the industry by sheer hard work. Urwa Hocane, being the elder one, joined the industry first. Mawra Hocane followed the footsteps of her elder sister after some time. Despite the competitive world of showbiz, Urwa Hocane and Mawra Hocane always appear two peas in a pod. Mawra Hocane, who is a lawyer by qualification, is also vocal about her stance on various socio-political issues. However, their careers have not been devoid of controversies. They recently gave an interview to Nida Yasir for her morning show which raised many eyebrows on social media.
Urwa and Mawra Hocane think that the 'only' reason for mental health issues is bad food
In this show, the sisters spoke about their daily life, food routine, workout, health mantras, relationships, and their clothing line. Among many other things, what caught the attention of social media users was Urwa Hocane's insistence that the only reason for depression and mental health issues is the wrong food. Social media did not take these remarks well.
The clip was shared repeatedly condemning the big stars like Urwa and Mawra about their views of an issue as sensitive as mental health. Their statements were considered irresponsible and insensitive.
Please stop hocane sisters from explaining depression pic.twitter.com/RN1tKL2bw4

— Riasat Ki Maut(@mahobili) August 6, 2019
Urwa Hocane: aaj kal kitne maslay hain k, depression ho gya, mental disease ho gai

Nida Yasir: ye sab khanay ki wajah se ho raha hai

Mawra Hocane: It's what you put in your body

Urwa Hocane: aur koi reason he nahin hai

wow!

— RSaeed (@aarSaeed) August 7, 2019
cc : @deepikapadukone you've been explaining it wrongly since yrs.

Mawra is smart. https://t.co/EV0LlHvTlP

— (@Utkarsha_desai) August 7, 2019
Urwa's confidence to say 'aur koi reason he nahi hai'
Bas aisa confidence ho tou life jhingala

— ماریہ (@xyzmariaa) August 6, 2019
Little did people know that there was a lot moreto this problematic interview. However, this was not the only issue with the show. There was a lot more which social media users did not get to watch.
'We used to shop our western wear only from abroad'
Urwa and Mawra Hocane's interview started with an introduction to their new clothing line which is western. According to the sisters, they preferred buying western wear from abroad because of the quality. They further reinstated that they were blessed enough to be able to visit abroad but everyone else did not have that privilege. Hence, they decided to build a brand for the people who cannot afford holidays abroad.
'The 'quality' of food intake matters the most'
Social media users were disturbed by their insensitive comments about the depression about the food. Urwa and Mawra Hocane mentioned that they only ate the best ingredients. While the sisters were telling the importance of a healthy diet and shunning junk food, they probably forgot that like vacation abroad not everyone in Pakistan has the luxury to afford good quality ingredients in food. Junk food is wrong for health but looking down upon people who have it is also equally unfair.
'My husband is the best. I faced no resistance from the family'
Urwa Hocane is married to Farhan Saeed who is one of the most successful singers of Pakistan. Apparently, all has gone well for her which is great. But Urwa Hocane reinforced that her husband is the best husband ever.
She said that men in Pakistan are not raised well but her husband is. She also spoke about her smooth love life where she had to face no opposition from the families on both sides. Probably, Urwa Hocane forgot that many women in Pakistan lose their lives in the name of honor when they want to marry for love. So flaunting her own privilege wasn't possibly the best thing to do on a morning show. It only showed how oblivious she was of people who do not belong to her social class but actually are a part of the vast majority.
'Women should follow their dreams'
Urwa Hocane urged women to work and follow their dreams. Thankfully she was corrected by the host Nida Yasir and her sister Mawra Hocane that not everyone comes from a family system where they get the needed support. Many women are unable to work despite strong professional qualification which is not their but their families' fault.
The oblivious Urwa Hocane still insisted they should work. Ok.
'iPhone has an application that tells screen time'
Something that was critical at this juncture was that the audience that was present in the studio was most probably not as privileged as them. When Urwa Hocane mentioned she 'only' had ten clothes to wear, maybe many people could not even afford more than two clothes.
When Mawra Hocane was talking about her iPhone, maybe not everyone sitting there could afford it.
Logically speaking, it was also the responsibility of the host to control the situation. But yeah, it was the same show where the host also showed her vacation shopping live on national television. Probably, it was not much of a big deal for Nida Yasir anyway.
'Women have nothing to do on Eid'
When asked a question about their Eid-ul-Adha plans, Mawra Hocane merrily mentioned how women have nothing to do on this Eid. Everything has to be done by the male members of the family. This was probably the moment that showed the pinnacle of ignorance among the privileged class of Pakistan. In a male-dominated society where Eids actually mean more work than usual for the women, Mawra Hocane flashed her privilege right in everyone's face.
Mawra Hocane's Response on Her Instastory
All these issues are the ones which only happened in the show. Since people have majorly watched the 16-second clip circulating on social media, they are only talking about Hocane sisters' mental health-related comments. Mawra Hocane also shared some thoughts and posts on her Instagram story to clarify her point.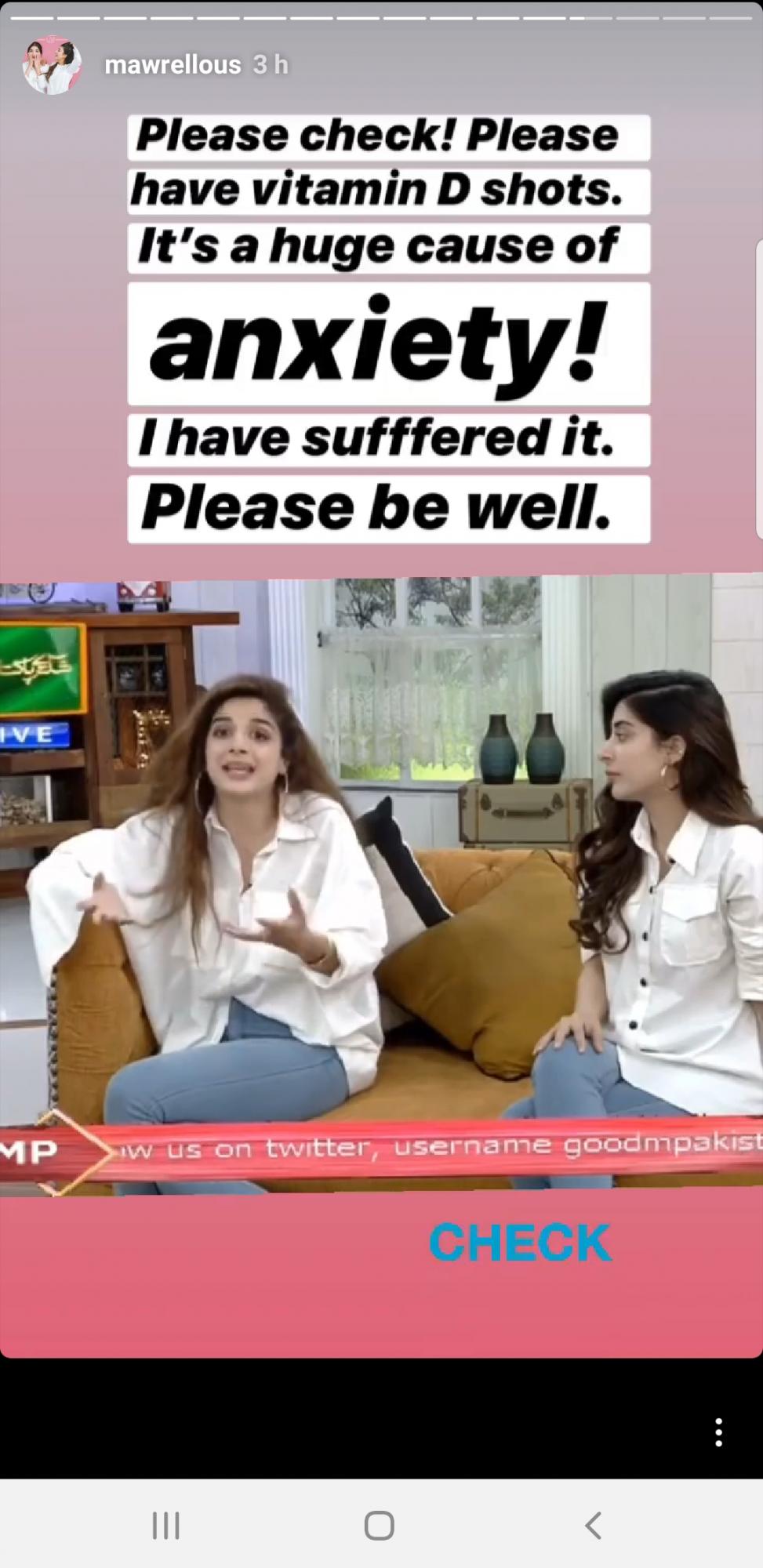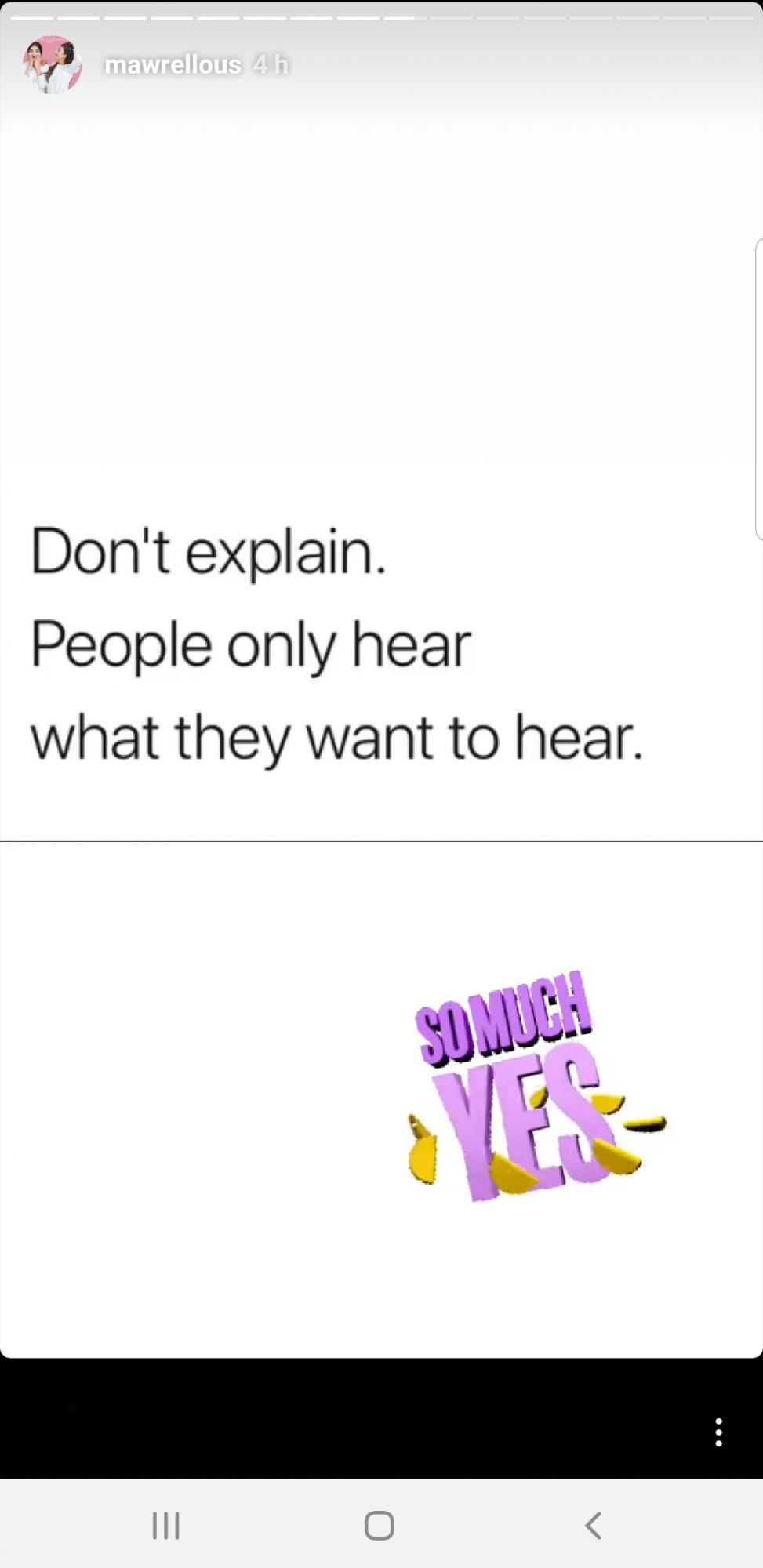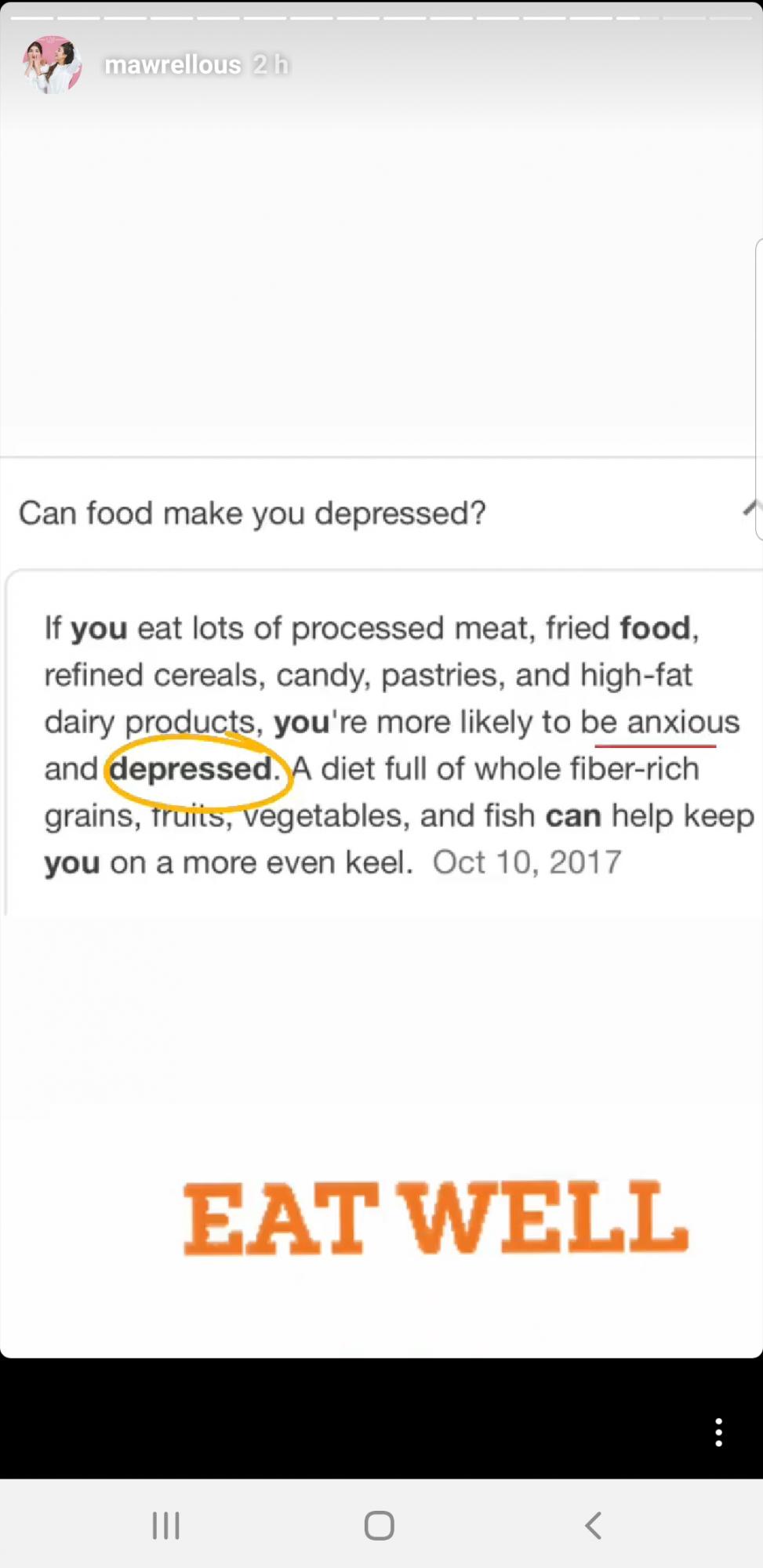 It is ironic on all levels that celebrities forget their influence on the common public at times. They forget that while they have all the privileges and lifestyle that only common people can see on screens, the sense of deprivation they generate with these comments and statements is an insensitive action. Mawra Hocane quickly responded to the social media comments that criticized her and Urwa's stance on mental health but she paid no heed to many other disturbing things these sisters spoke during the show. Is it all about social media at the end of the day and no internal reflection? Celebrities need to understand they are not just artists but influencers who strongly affect their audience.