Marjaavaan Box Office Day 4 Collection: Sidharth Malhotra and Riteish Deshmukh Film Collects INR 28.42 Crore
By Ayesha Hoda Tuesday, 19 November 2019
Sidharth Malhotra and Riteish Deshmukh's revenge saga continued doing decent business at the ticket windows on Monday. Learn more below.
Marjaavaan, starring Sidharth Malhotra, Riteish Deshmukh and Tara Sutaria, continued doing decent business at the ticket windows after a good first weekend. As per a report on Box Office India, the romantic action film, directed by Milap Zaveri, collected between INR 4-4.25 crore on Monday, the fourth day of its release, bringing its total earnings to INR 28.42 crore. If the film continues to be steady during the week, it will become a hit. Earlier, film critic and trade analyst Taran Adarsh had reported on the film's first weekend collections. He wrote, "Marjaavaan jumps on Day 3... Healthy weekend... Finds patronage from mass markets... Large chunk of biz from single screens... Multiplexes of Tier-2 and Tier-3 cities better... Mon biz is decider... Fri 7.03 cr, Sat 7.21 cr, Sun 10.18 cr. Total: Rs 24.42 cr. India biz."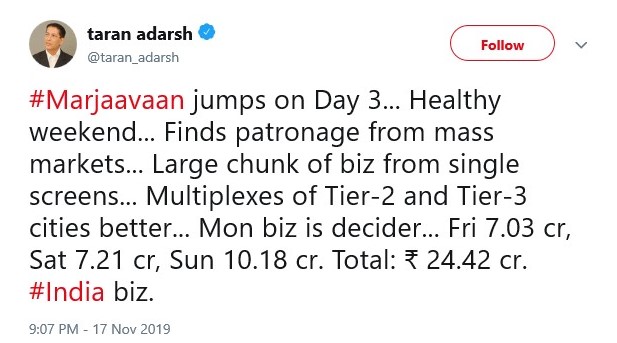 Marjaavaan follows the story of a goon Raghu (Sidharth), who becomes a target for his boss's son, the vertically challenged Vishnu. It also follows Raghu's love story with a mute girl Zoya (Tara). The film seems to have been accepted by the masses despite many negative reviews from film critics.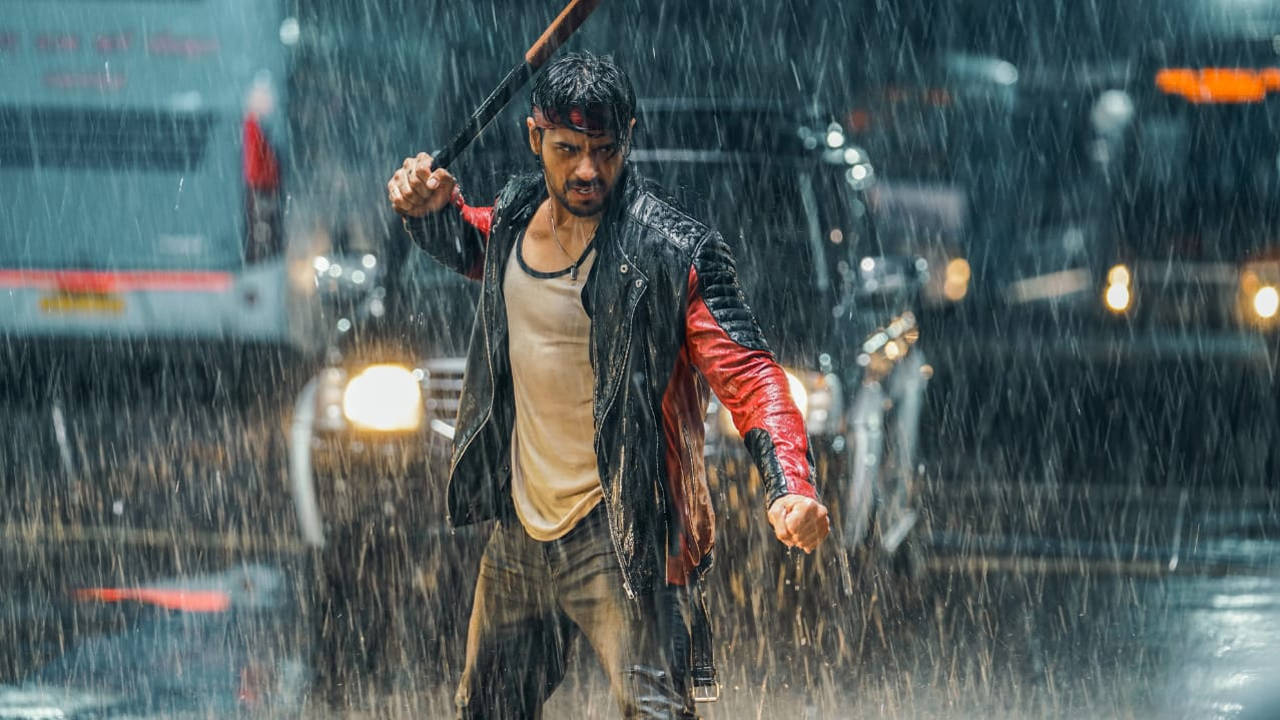 A still of Sidharth Malhotra in 'Marjaavaan'
Ronek Kotecha wrote in the Times of India that the film's plot was 'reminiscent of many potboilers straight out of the 80s, with barely any novelty in execution'. She added, "There is love, drama, action and revenge packed in an exhausting two and a half hours of narrative, full of clichés and stereotypes. Thankfully, Marjaavaan has a few good actors, who strive to make their characters work against all odds. Leading them is ironically, the film's villain Vishnu, played by Riteish Deshmukh. As a midget, who is obsessed with metaphors around height, Riteish doesn't exactly look dreadful but his performance instills some fear. However, as he constantly mouths over-the-top filmy dialogues, it blunts his villainy making it unintentionally funny."
For all the latest Bollywood News and gossip, follow us on Twitter & Instagram, like us on Facebook and subscribe to our channel YouTube. New videos up every day!
Comments