Local Fashion
Malaika Arora Shows Off Her Toned Midriff In Latest Pics!
There's very seldom a time that Malaika Arora doesn't look good and most definitely knows how to make a statement. Even while leaving the gym she is a breath of fresh air
If you're a Malaika Arora fan, then you'll know that she is the ultimate fitness fiend and continues to serve major fitness inspiration on a daily basis. And if you're in need of some fitness inspiration, then one quick scroll through Malaika Arora's Instagram account will give you all the inspiration you need to get up, head out, and hit the gym. The starlet's Instagram account is full of pictures from the gym, her workout videos and glimpses from her personal life which she shares with her fans from time to time. Malaika Arora always brings her A-game to her fitness regimen which is why she has one of Bollywood's most enviable physiques.

Not only is Malaika Arora known for her fit physique, but also for her style and fashion-forward looks. The starlet is often spotted and papped in her quirky gym attire and bold looks and shutterbugs can't get enough of her looks. Malaika Arora was recently spotted after her gym session and as per usual, she was serving major fitness goals.

For her day at the gym, Malaika Arora was clad in a black sports bra and ripped gym leggings. She had her black hoody tied around her waist and was serving some major goals. In order to work up a sweat at the gym, Malaika Arora always puts comfort before style. In order to achieve this, she had her hair tied back in a braid and sans makeup Malaika Arora is showing off her post workout glow.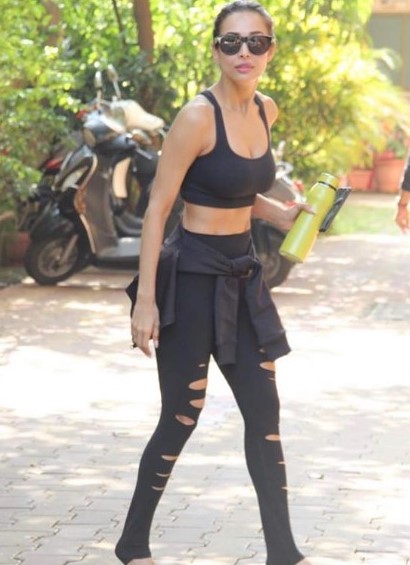 Malaika Arora has been making waves in the industry and often makes headlines. Ever since she made her relationship with Arjun Kapoor public, Malaika Arora is being watched closely by her fans. The two have become Bollywood's most talked about couples after coming out with their relationship which they kept tight lipped about for a long time.