Bollywood News
Malaika Arora On Arjun Kapoor: 'He is Perfect'
Malaika Arora gets personal and candid on a new episode of #NoFilterNeha Season 4 where she also discussed Arjun Kapoor
#NofilterNeha, the chat show hosted by actress Neha Dhupia often has stars confessing their deepest secrets to the pretty actress. Malaika Arora is no different and the latest episode of the show has the gorgeous star dishing out some rather heavy duty secrets. Malaika doesn't hold back and addresses all the controversies addressed at her and even ahem, ahem… talks about her beau Arjun Kapoor! Read on…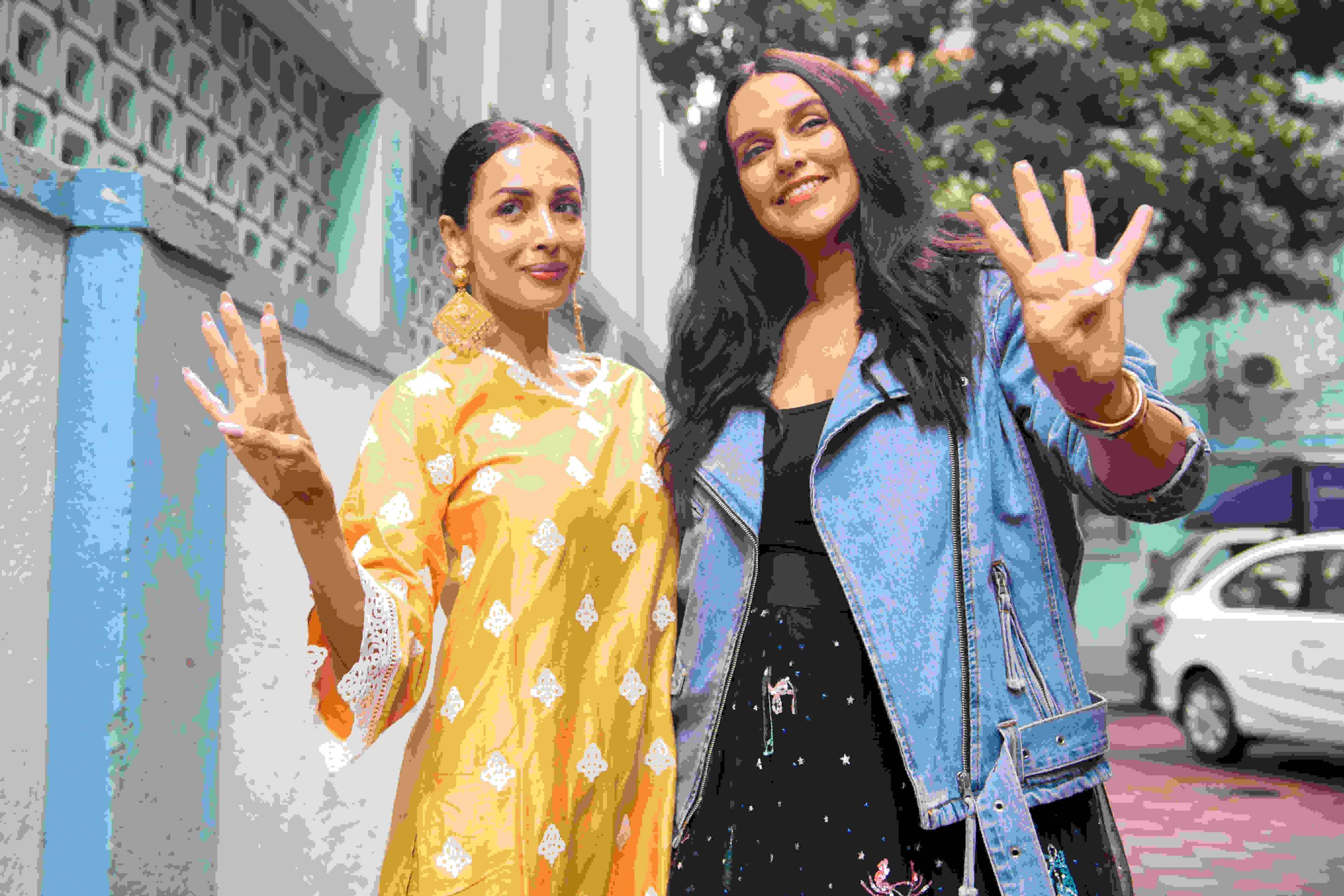 Did she throw her friends out of her apartment?
Maybe back in the day. Not thrown but I'm like okay let's just wrap this up because I couldn't have the chips flying around and cushions here and there. So yeah! But I think now I have really got that under control. I'm not so bad. They can stay for much longer but the minute they leave then I clean up. I can't sleep if I don't. Like there have been times when I'm like you know what I'll deal with it later. I get into bed and it just keeps bothering me, keeps going on in my head, I'll get up and I'll go put things back where they are
Arjun Kapoor hates Malaika's photography!
He doesn't like my pictures because he thinks I do a really crappy job at clicking his pictures. I think he just clicks way better pictures of me. So I think whatever pictures I click just kind of fail in comparison. 
The industry categorised her as dark skinned
I came at a time in the business when this whole thing about dark-skinned, fair-skinned was so prevalent and I was always put into the dark-skinned category so that was always there initially so ya that bias was always there 
How many of Arjun's films has Malaika seen
All of them! 
Malaika Arora on Arjun Kapoor
He is perfect.
Malaika Arora says she's a guarded person 
I'm not muffat as a person. I say my mind when I have to, I speak my mind more like it but otherwise, I'm very guarded.
Malaika says here's where she would want to plan her destination wedding
Destination would be a beach destination because I'm a beach girl. 
Who would she wear at this destination wedding?
I'd say Eli Saab. Just because I'm all about the white wedding, always liked that whole thing of a white wedding and bridesmaids would be my closest girls. My girl gang. 
Malaika's best woman at her wedding
My closest would be my friend Vahbiz.
Malaika's favourite boy
I guess if you're an animal person, I mean any - a dog person, a cat person or you know whatever, I think they just become family and for me Casper is. In fact, my son always says that he says you love him more than me, always says. He keeps asking me, 'Mumma you love Casper or me?' I say I have 2 boys and its both of you and I love you both equally. He keeps saying that 'Mom, can you not be diplomatic and choose me and say no. You're my number 1.' I'm like I can't say that. Arhaan is everything but my casper is also my everything. The kind of unconditional love that.. I can't believe we're sitting and talking about my pet here but yeah it's just unconditional love
Malaika worked before, through and after her pregnancy! 
You know this is so far back. My son is 17 years old. It's amazing to see so many women today you know who are mothers, who work right through their pregnancy and after because otherwise everybody thinks it's 'chalo pack up karke niklo'. So I guess back then when I actually worked throughout, it was pretty amazing, nobody actually knowing about it or talking about it because there was no such platform to talk about it but yeah I remember I first started off with full length, then I went mid, then I went 3/4 and then waist and then bust and then neck till then it was only one eye, one mouth, one lip, one ear. I have been through that whole process so yeah I think the best part about my pregnancy was the fact that I could just be. I was not sitting at home and crying and saying oh god! I'm in pain when will this be over and done with. I worked throughout and I think that's what kept me going. I worked before, I worked through, I worked right after, exactly 40 days after. I took that 40 days off of my baby because my mom was like 'No you have to!'. And Exactly 40 days after I was up and about and shooting and working. 
How well does Malaika know the Kapoors! 
Best Fashion sense according to Malaika? 
Anil Kapoor 
Best pout according to Malaika?
Anil Kapoor wins hands down 
Who does not enjoy the gym?
Sanjay Kapoor, he doesn't even need it, look at him 
Who according to Malaika cooks the best Punjabi food?
I think Rhea, she loves food and I think she's a great cook as well 
Who according to Malaika is the worst with their money?
I think Arjun
How many pairs of jeans does Malaika have? 
30 
How many white shirts does Malaika have? 
40. I'm obsessed, I've got this whole thing with whites if there's a little stain that doesn't go, it bothers me. 
How many belts does Malaika have? 
15 
How many red lipsticks does Malaika have? 
5 
How many perfumes does Malaika have? 
10 
Malaika cannot be a light traveler...here's why
I don't know how to travel light. I don't know anything. That's a problem. I suffer from not being able to travel light. I have this paranoia that what if I need something, what if I'm stranded. I always have that so no I can't. And don't wear half of what's in my suitcase. Most of it goes back just the way it's packed. 
Malaika Arora says she has good taste!
I'm a foodie. I can't help it. If you know me, you'll know I'm a foodie. I cook, I eat, I love cooking, I love shopping for food. Well I've just got good taste, my taste buds are really good. 
Malaika Arora cares a damn about trolls
Personally, I care a damn. The only thing that comes to mind is that I just feel bad for people out there who talk or behave a certain way. I mean you really got to have a lot of issues with yourself to be doing just because you have a platform. And you're faceless so you think it's your birth right. I look at it that way. I feel really bad for them
Why does Malaika abuse Wikipedia every year
I figured it out later. I didn't know what the deal was but there is another Malaika, Zayed's wife. So I think there is a mix-up and her birthday is on 23rd I think of August, so everybody thought it's me. So there is a bit of a mix-up. It's actually her, it's not me. My birthday is October 23rd. I have tried changing it and finally.. every year I have the same problem and I keep abusing Wikipedia every year