Bollywood News
Malaika Arora Flaunts Flat Abs with Stretch Marks. Internet Lauds Her 'Boss Attitude'
Malaika Arora posted a stunning picture of herself which showed some of her stretch marks. The internet lauded Malaika Arora's positive body image
Malaika Arora redefines hotness and beauty each time she steps out. Be it her yoga pics or her appearance on the red carpet, every image is appreciated and envied by her fans. She is an icon and an inspiration for every woman as she continues to break stereotypes in her personal and professional life. Malaika Arora redefines what it means to be a woman in 2019 with her devil-may-care attitude and positive approach to all aspects of life.
Over the last couple of days, Malaika has been positing pictures from her vacation in Maldives, most of which show her having a load of fun in the island destination. But her latest image has had Instagram talking. In it, Malaika is seen we crocheted hot pants  with a matching off-shoulder top. 'Au Revoir' @niyamamaldvies' she writes, probably bidding good bye to her vacation.
However, what was noticeable in the image, when one zooms in, are her stretch marks which peeks from the top of her hot pants. It was enough to set some trolls making disgusted faces.
But in a refreshing attitudinal change, Malaika has found far more supporters than detractors. Women, especially have lauded her confidence and her courage in flaunting her body the way it is. More importantly, in a day and age, when every celeb regularly goes the airbrush way for even simple selfie, Malaika's confidence in her body has won her more fans. Take a look at some of the heart-warming comments to find out why she is so popular.
• "I am so happy to see she is flaunting her marks with Boss Attitude
• "Thank you for not retouching the image and feel good about our bodies"
• "What is wrong with you people, talking about her stretch marks and all. Malaika is a 45 year old woman who has given birth to a child. Childbirth changes the body. How many 45 year olds manage to look as good as she does."
• "Stretch marks are natural nothing to be ashamed of."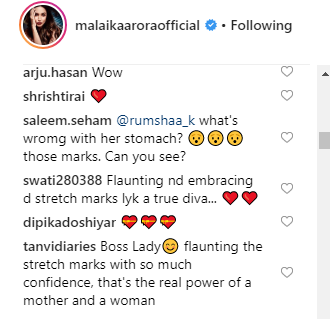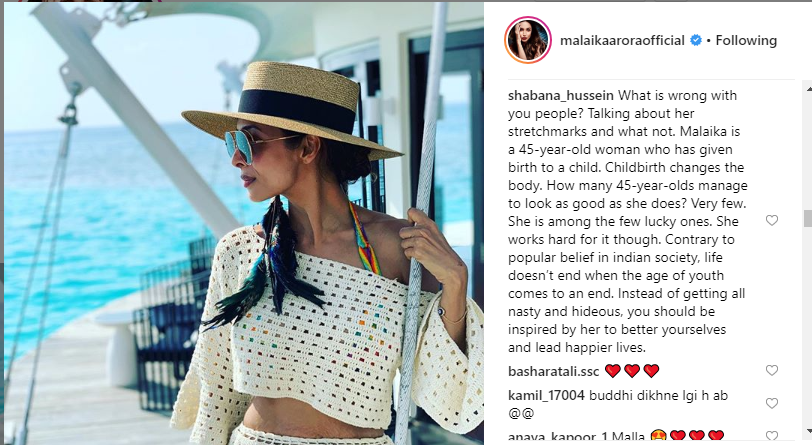 What do you think of Malaika's picture? Let us know in the comments.