Fashion
Malaika Arora Brings the Heat to the Ramp for Manish Malhotra at Lakme Fashion Week
Malaika Arora is a real head turner and has been serving some major style inspo as of late. Her latest look for Lakme Fashion Week will leave your jaws dropping as you watch her in awe.
Malaika Arora has been making headlines as of late and leaves heads turning whenever she steps out. She is often spotted in her gym attire and is always snapped by the paparazzi when she is heading to the gym or home from the gym. She made her relationship with Arjun Kapoor public this summer and the two jetted off on a romantic getaway to New York to spend some quality time together away from the public eye. Both Arjun Kapoor and Malaika Arora took to Instagram to share glimpses of their vacation with their fans and of course, they circulated on social media. And now, Malaika's latest look for Lakme Fashion Week has been going viral on social media.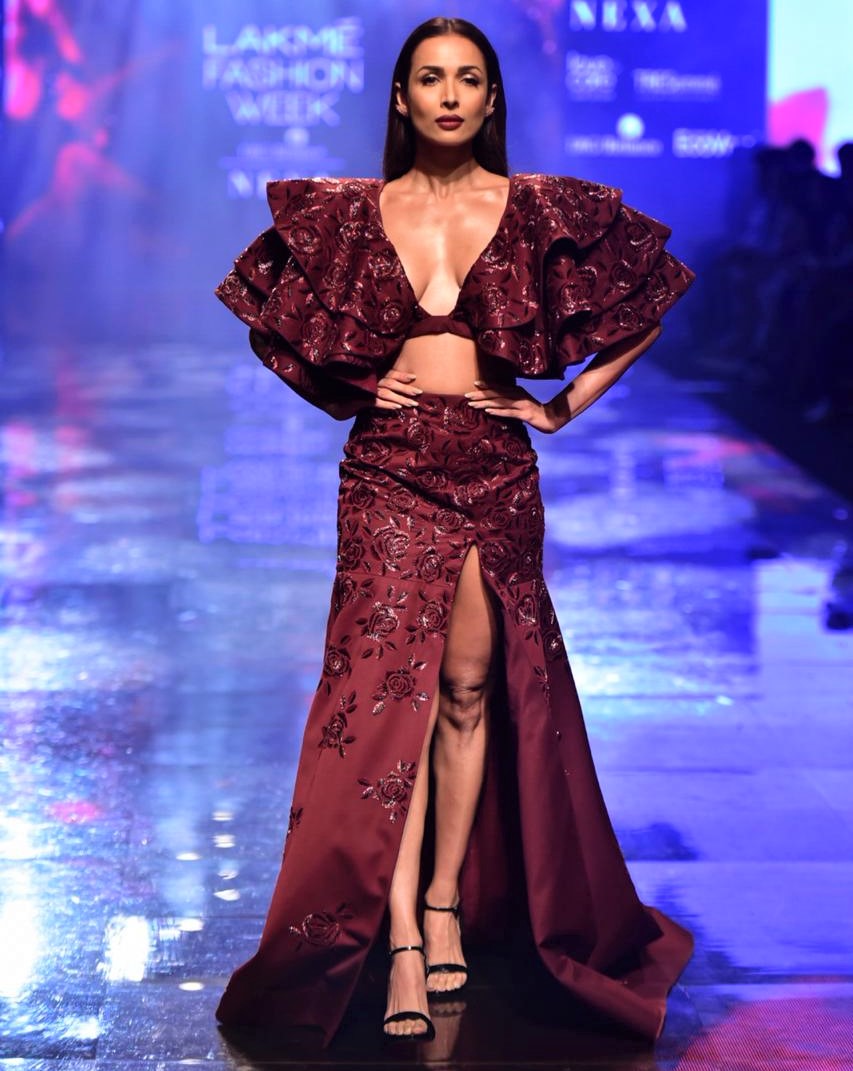 Lakme Fashion Week Winter/ Festive 2019 kicked off last week and Manish Malhotra opened the show with a fabulous showcase. Lots of celebrities showed up at the event and arrived in stunning ensembles. From Khushi Kapoor to Katrina Kaif to Karisma Kapoor; many starlets were in attendance of the show. The event has been a star-studded affair till now and many fashionistas have caught our eye. A number of Bollywood celebrities turned showstoppers for different designers and walked the ramp ever so graciously. One celebrity, who left jaws dropping however, was Malaika Arora.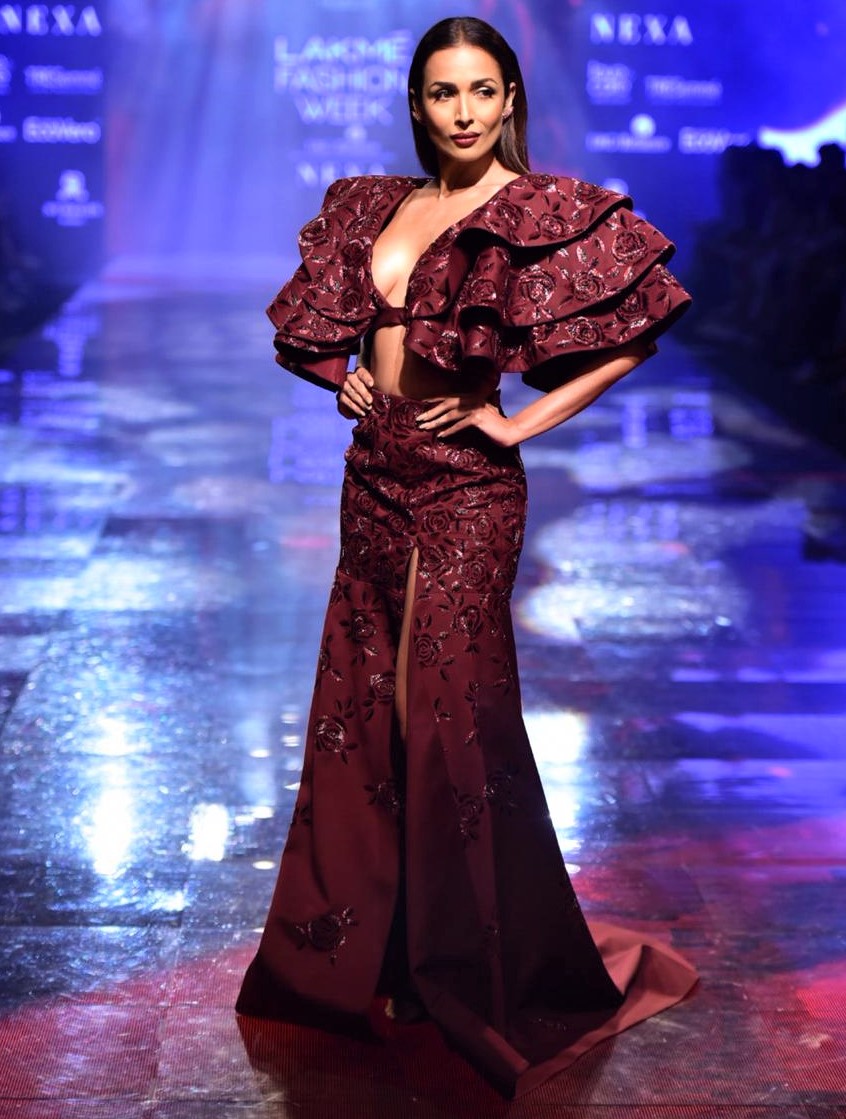 Malaika Arora, who has been serving some major style inspo lately, walked the ramp for designers Divya and Rajvvir; who made their Lakme Fashion Week debut this season.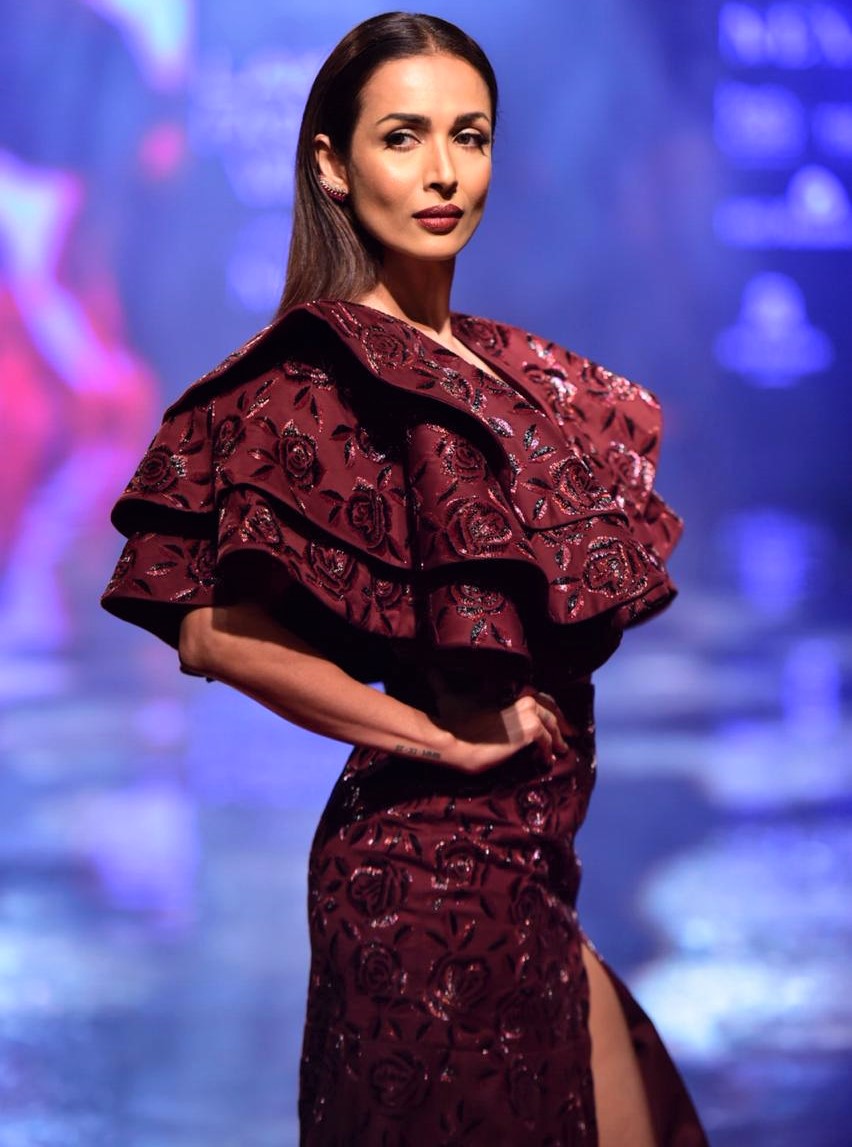 The starlet looked breath taking in a jewel-toned, embellished skirt with a thigh-high slit which was paired with a matching blouse with voluminous ruffled statement sleeves and a plunging neckline.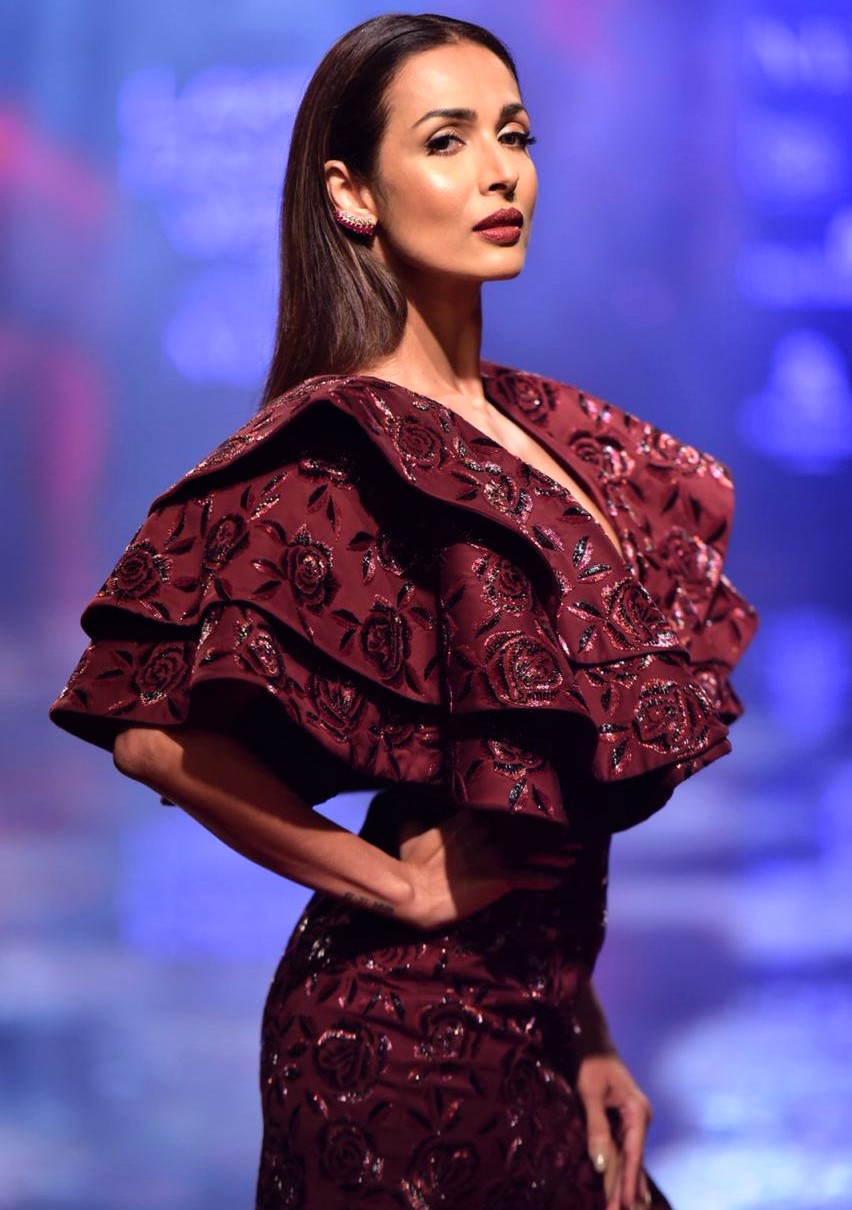 Malaika Arora, who was styled by Mohit Rai for her ramp walk teamed her ensemble with matching coloured court shoes and a whole load of sass. The skirt featured a long trail and the ensemble was embellished with sequins all over.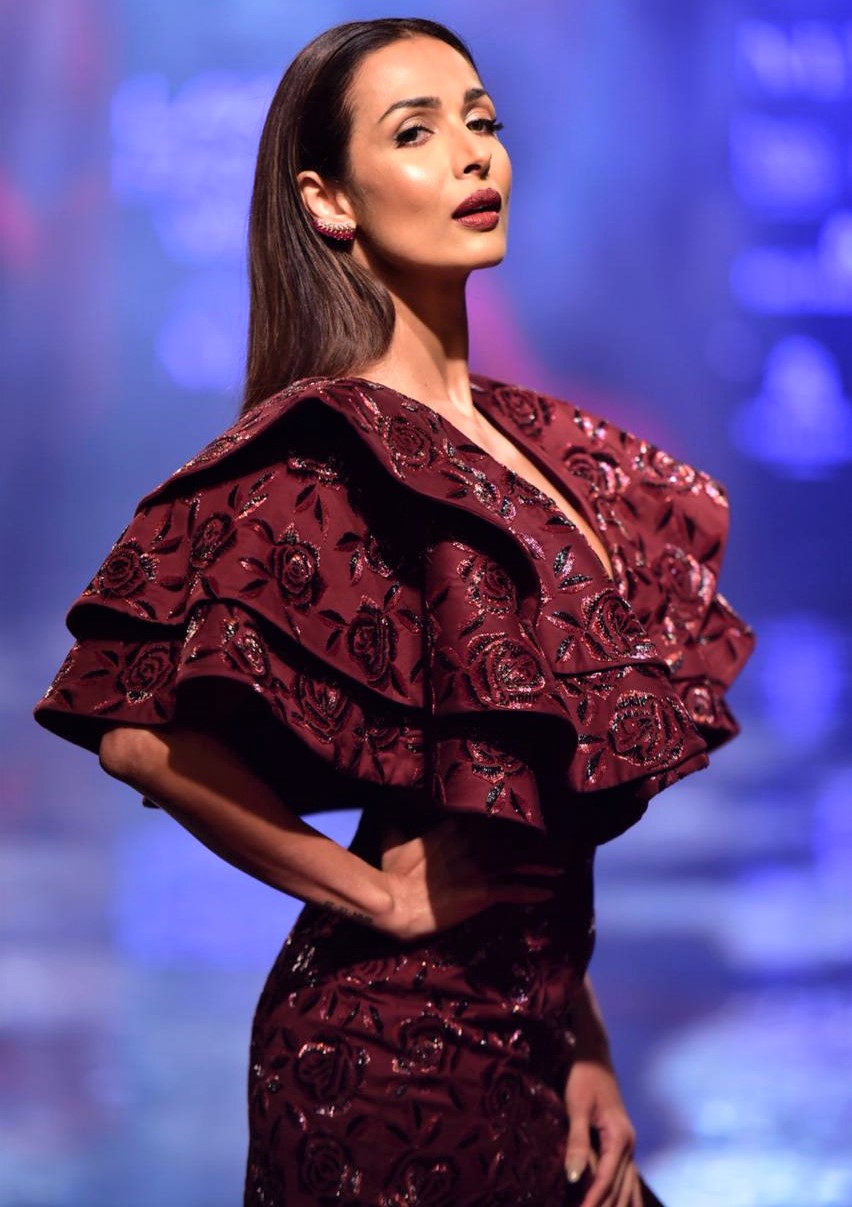 For her gorgeous makeup look, Malaika Arora opted for matching wine hued lips and shimmery eyelids. She wore a pair of sparkly earrings and had an overall bronzed glow. Malaika Arora stunned audiences as she glided down the ramp with so much ease and made the walk look oh so effortless.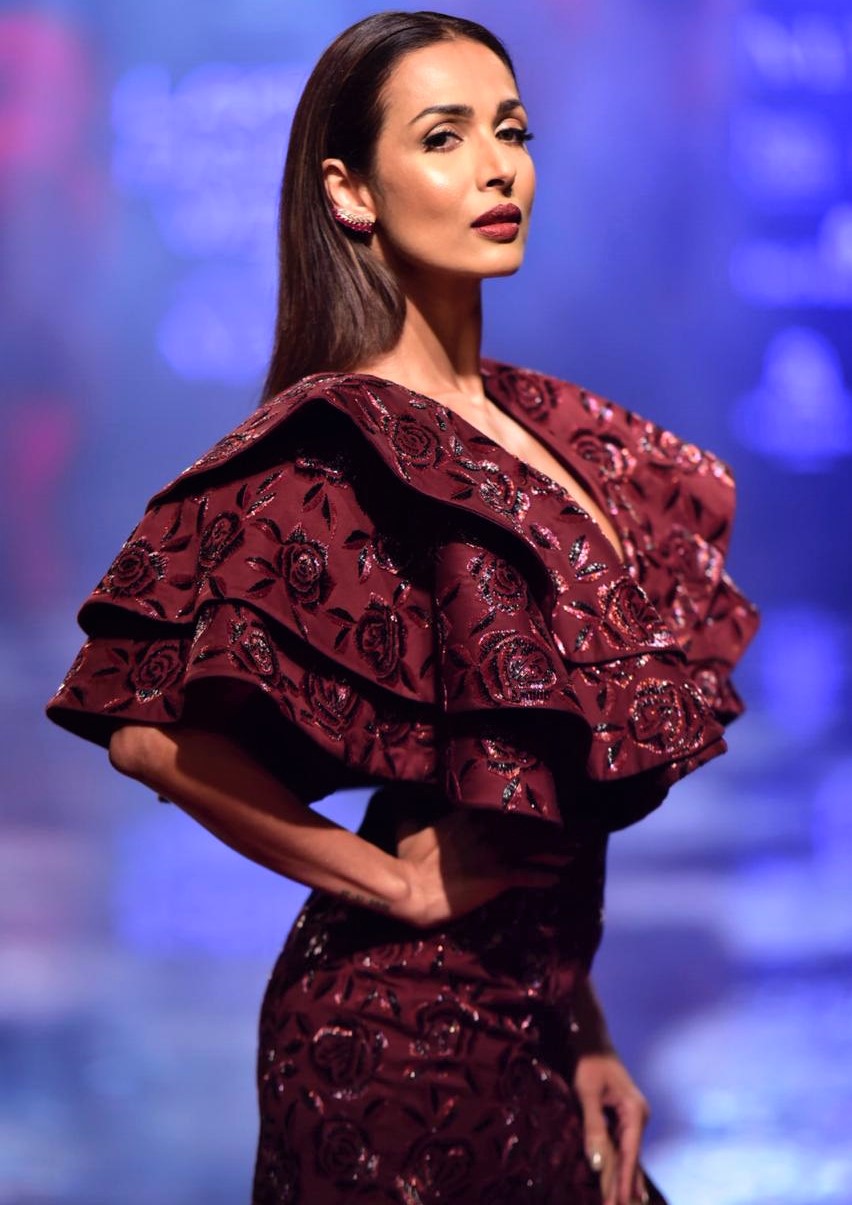 On the fourth day of Lakme Fashion Week, her beau, Arjun Kapoor too walked the ramp for designer and close friend, Kunal Rawal. He walked alongside his cousin, Jahaan Kapoor (son of Sanjay Kapoor and Maheep Kapoor), who made his debut on the runway. Arjun looked rather dapper in an ash grey deconstructed jacket with brown pants, while Jahaan wore a wine-coloured two-piece suit. Janhvi Kapoor, who could not make it to the show, cheered the Kapoor boys on via her Instagram story.
Arjun Kapoor took to his Instagram page on which he shared a picture of himself walking down the ramp with the designer. "We all have that one friend who's a pain in the ... !!! Yet eventually we end up giving into everything of theirs... ladies & gentleman I give u mine - @kunalrawaldstress," he captioned the post.
After Malaika Arora and Arjun Kapoor made their relationship public, fans are speculating that marriage is on the cards for the two of them. The two have opened up about their relationship on several occasions and put to rest the belief that they will be tying the knot soon. In a recent interview with an Indian entertainment portal, however, Malaika Arora cleared the air and fans and netizens can finally stop speculating about their marriage. "I think happiness is a state of mind and yes, why go into histrionics. Yes, I am happy, why have so much explanation, yes I am happy. In the business (showbiz), everybody is at the receiving end of all of this (speculations about marriage). No one is spared of these kinds of conjectures so to speak. Like we have said, there's no marriage on the cards right now," she said.
While the two have been going steady for quite some time, they are both on the same page when it comes to marriage. In an earlier interview, Arjun Kapoor too was asked about his relationship with Malaika and was quizzed on the topic of marriage. Speaking of his marriage plans with Malaika, the Gunday actor had said, "I am not getting married. Malaika and I have to still discover each other in public space and enjoy the comfort of being a couple. We need to ease. We need to take our mind off this pressure of getting married. Sometimes you just need to be in a relationship. You need to live it; you need to enjoy it for what it is, rather than what it should be according to people. We are at ease with each other."
He went on to say that both of them were happy on personal and professional fronts and that marriage is not on the cards for either of them for now. Arjun Kapoor claimed that he has always been open and when it comes to his marriage plans he assures that he will not shock the media or his fans and will inform everyone when the time comes. "I will inform you all and make you a part of it," he said.
With that being said, Arjun Kapoor and Malaika Arora's recent trip to New York created a buzz on social media and the two appeared to have had the time of their life. From matching in neon, to exploring the streets of the Big Apple, to visiting some family, their vacuum gave us a serious case of wanderlust.
During their trip, Arjun and Malaika also visited the former's uncle and his wife, Rishi and Neetu Kapoor. Rishi and Neetu Kapoor moved to New York for Rishi's treatment after he was diagnosed with cancer. While he has be cured of the illness, he is still undergoing some treatment and will return to Mubai within the next couple of months.
Now that the couple is back in Mumbai, they are busy with their routines and life together. Arjun Kapoor is gearing up for his much-anticipated film, Panipat, and Malaika Arora continues working on her yoga studios.