Bollywood News
Malaika Arora and Arjun Kapoor Spotted! Guess Where
Malaika Arora and Arjun Kapoor recently made their relationship public and have been spotted together regularly. The star couple is definitely a fan favourite and the paparazzi can't get enough either. Check out these pictures
Malaika Arora and Arjun Kapoor have been dating for over a year now and are still going strong. The two remained tight lipped about their relationship for quite a long time, however, very recently made their relationship public as they jetted off on a romantic getaway to the Maldives and New York City. Malaika Arora had taken to Instagram and shared a picture of the two and made their relationship insta official. Both Malaika and Arjun have been snapped together on a number of occasions and just last night were spotted leaving Karan Johar's house party.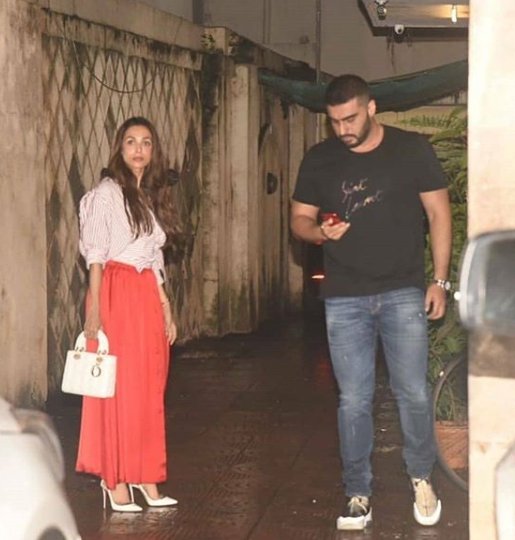 Now, pictures have surfaced on social media of Arjun Kapoor, Malaika Arora and Amrita Arora as they were snapped outside Malaika's parent's home. Malaika can be seen in a bright orange satin skirt which she paired with a striped collared shirt which she knotted at the front. She completed her look with a white mini lady Dior bag and matching pointed heels.


Arjun Kapoor on the other hand, opted for a basic casual look as always. He wore a black Saint Laurent tee and paired it with dark jeans and monochrome sneakers. Arjun Kapoor was sans his signature cap after he removed it on social media to reveal his look for upcoming film, Panipat. Amrita Arora too seemed to be twinning with her sister as she wore an orange over her outfit and paired it with black heels.

After making their relationship public, Arjun and Malaika have been seen together more regularly. In a recent interview Malaika Arora opened up about being a woman in India and that attempting to try a second chance at love is still considered a taboo. "It is a taboo because there are a lot of situations and issues that need to be tackled in our country, though I think the issue needs to be looked at with an open mind," she told an online portal.