Bollywood News
Pakistani Actress Ayesha Omar's Karachi Se Lahore All Set to Make a Splash in Hollywood
In an exclusive chat with Sadiq Saleem, Ayesha Omar talks about her upcoming romcom Karachi Se Lahore
It seems Pakistani film industry has finally gained its momentum as several films are releasing back to back not only in Pakistan, but also internationally. Just a few weeks ago, films like Bin Roye and Wrong Number hit the screens and were very well received despite being released with Salman Khan's much loved Indo-Pak project Bajrangi Bhaijaan on Eid.
The next one in queue is Karachi Se Lahore, which is scheduled for release this weekend. As the name suggests, it's a film that explores the journey of a couple who are on a road trip from Karachi to Lahore. Though it is not a plot that is unheard of, especially after blockbusters like Zindagi Na Milegi Dobara or very recently Piku, but speaking from a Pakistani point of view, this is the first roadtrip film which covers the 36 hours journey in real time and examines the characters and how they undergo a personal growth amidst their journey. The main characters in the film are played by Shahzad Sheikh and Ayesha Omar.
Masala! spoke to the very chatty Ayesha, who is one of the most sought after faces of Pakistani television and the fashion world. The actress shot to fame after the popular sitcom Bulbulay. She has also modelled for several designers, and has recorded a few albums including Khamoshi for which she even received the coveted Lux Style Award. Her attempt at singing a classical number for Coke Studio was also applauded by many. 
Karachi Se Lahore being her first film, Ayesha along with her team has left no stone unturned to promote it. According to her, there is a lot of hard work that has gone into the film. When we asked her to share her toughest moment, she recalls a dancing number, "I am dancing with a fractured toe in the song Tooti Frooti; the schedule was so packed that we could not delay it and by the end of the song my foot was all swollen. I have been so busy that I have yet not been able to visit to the doctor."
The actress further mentioned that the film has been invited for a premiere in Hollywood and the entire cast and crew will be present to promote Pakistani cinema there. "Yes, we all are leaving for the premiere on the 14th of August and it couldn't have been a better day to share our work on an international platform as big as Hollywood," she beamed. 
When asked she felt was the strength of the film, Ayesha had a list handy. "First and foremost, I think the script is amazing and is extremely witty. I personally don't like humour that is in the face and this film has many comic situations which are subtle. The dialogues have been written by the exceptional Yasir Hussain who has great plays to his credit in the Pakistani theatre circuit. There was not a single line which I wanted to change in the script and then it's a road trip, something which was never done before. So there is a lot of outdoor and you will get to see some really good sights of Pakistan. And last but not the least, I think the pure intentions of everyone who was part of the project is the strength of this film."
Speaking of Pakistan we checked if she had a chance to watch Bajrangi Bhaijan to which she replied,"I think it was fantastic. And I am sure the fever of Bajrangi is here to stay for long. The film has a much needed positive message which was lacking in many other Indo-Pak films. I thoroughly loved it".
The film is directed by Wajahat Rauf who happens to be a good friend of Ayesha's and therefore she had complete faith in the script. "I truly believed in Wajahat's vision. I knew there was something outstanding he was aspiring for. He and Yasir were working on the script for the last one and a half year and the final shape is fantastic. He is a close friend and a thorough professional."
Shahzad Shaikh, who plays the male lead, is also not new to the entertainment business. He has been part of several television projects and was last seen in Humayun Saeed's film Mein Hoon Shahid Afridi where he played a negative role. Ayesha is all praises for her co-star. "He is extremely patient, quiet but also very friendly. The film is very memorable for him because he became a father while the shooting was going on. He has worked really hard in the film''.
The plot revolves around a love-struck guy who drives all the way to Lahore to stop the marriage ceremony of the love of his life. He borrows his neighbour Ayesha's jeep who agrees on the condition that she along with her brother will also accompany him on this journey.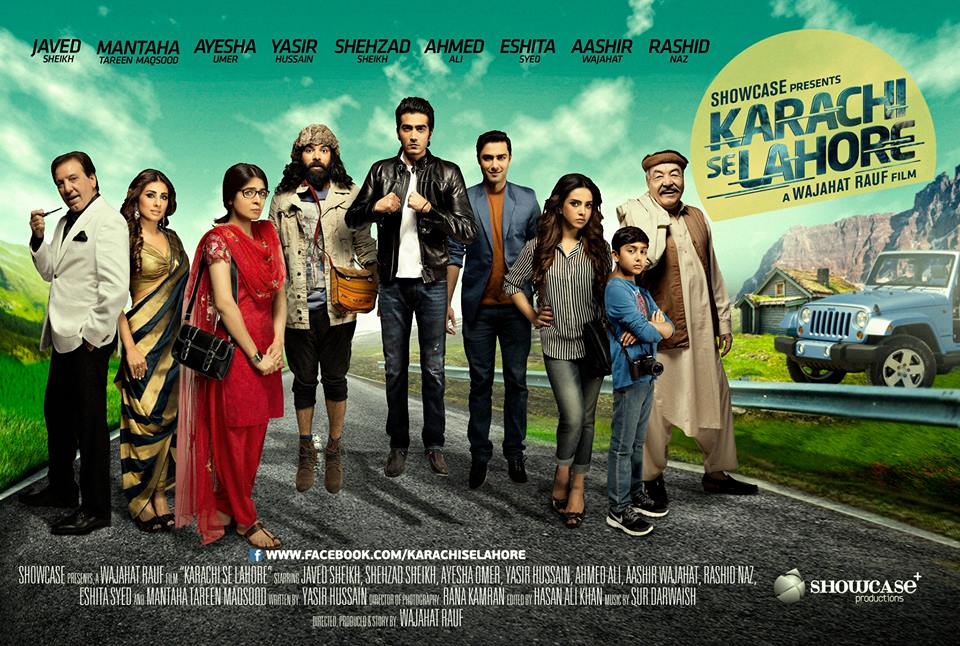 Now this surely sounds like one fun ride, literally!
Sadiq Saleem, a Chartered Accountant by profession, is a Dubai-based entertainment journalist