Bollywood News
Madhuri Dixit Shares an Endearing Video Holding the Guitar and Singing
Madhuri Dixit has ruled Bollywood for nearly thirty-five years now. It seems she is now set to try her hands at music.
Madhuri Dixit has always won the audiences' hearts with her ethereal smile and the dancing skills that are fit for the goddesses only. The actress par excellence has stayed relevant in the industry despite being a part of it for the past 35 years. While her acting and dance have made her immortal among the fans, it seems now is the time for Madhuri Dixit to explore a new field. Despite being an immaculate dancer, Madhuri Dixit never showed any inclination towards singing. But behold!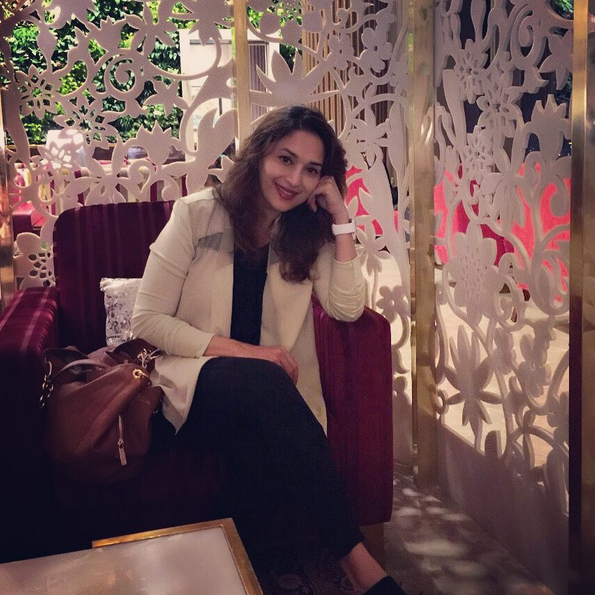 Madhuri Dixit
Madhuri Dixit shared an endearing video where she held the guitar and sang John legend's famous song 'All of Me' with husband Dr. Sriram Nene on the guitar. The musician Zac D'sSouza also  joined Madhuri Dixit and Sr. Sriram Nenne in this cozy Saturday night at home and spread some music in the air. Madhuri Dixit shared this video on her Instagram account with the caption, 'Family jam session! It was fun trying my hand at playing the guitar with @drneneofficial 'cuz "All of me, loves all of you..." #WeekendJam #AllOfMe @zacdsouzaa'
Like always, Madhuri Dixit looked flawless with her brown hair left open as she wore blue kurta and white pants.
A few days ago Madhuri Dixit had shared her birthday wish for the dance director Saroj Khan mentioning her as 'guru'. In the picture, both Madhuri Dixit and Saroj Khan were smiles as they posed for the camera. In the heartfelt birthday note, Madhuri Dixit wrote,
'Happy birthday to one of my favourite people @sarojkhanofficial ji. Our journey together has been amazing and I will always be proud of the legacy you have created. You are my Guru and will always hold a very special place in my heart'
Madhuri Dixit married the American Dr. Sriram Nene in the year 1999 when she was at the top of her career. She was attracted to Dr. Sriram Nene's simplicity. The cardiovascular surgeon had lived in the US all his life and had not watched Madhuri Dixit's films at all. This was a refreshing change for her as she had been used to people treating her as a film star for most of her life. The two soon got married. Together they have two sons.