Cars
Luxury Car Companies Stepping Up to Combat Coronavirus
Lamborghini, Jaguar and Land Rover have started their initiative to support emergency response partners to help combat coronavirus
According to a statement released by Jaguar and Land Rover, more than 160 vehicles have now been deployed globally to support emergency response organisations. 57 vehicles including 27 New Defenders from the press fleet have been put into service with the British Red Cross to deliver medicine and food to vulnerable people including the elderly across the UK. Another 65 vehicles are supporting the Red Cross Societies in Australia, Spain, South Africa and France with more vehicles expected to be deployed in the UK and other countries very soon, said the statement. 
Land Rover has a history of working with International Federation of Red Cross and Red Crescent Societies. Finbar McFall, Jaguar Land Rover Customer Experience Director, said: "The health and safety of our employees, customers and their families remains our priority.  Jaguar and Land Rover will do everything we can to support people in need around the world. Our partnership with the Red Cross goes back 65 years and we will work hand in hand with them to do all we can during this global health emergency. We will also provide help to those closer to home in our local communities. We can all play a part in helping the vulnerable during this global pandemic."
Simon Lewis, Head of Crisis Response, British Red Cross said: "This unprecedented global health emergency requires us all to pull together. As part of the British Red Cross response to coronavirus, we're delving deep into the heart of communities across the UK to help strengthen support for the most vulnerable people through delivering essential food parcels and medicines to those unable to get out."
In Sant'Agata Bolognese, Automobili Lamborghini is converting departments of its super sports car production plant in Sant'Agata Bolognese in order to produce surgical masks and protective plexiglass shields. The masks shall be donated to the Sant'Orsola-Malpighi Hospital in Bologna to be used in the fight against the COVID-19 pandemic. It will be producing 1,000 masks a day. The medical shields, says a statement from the company, will be realized in 200 units a day, using 3D printers within the carbon fiber production plant and the Research and Development department.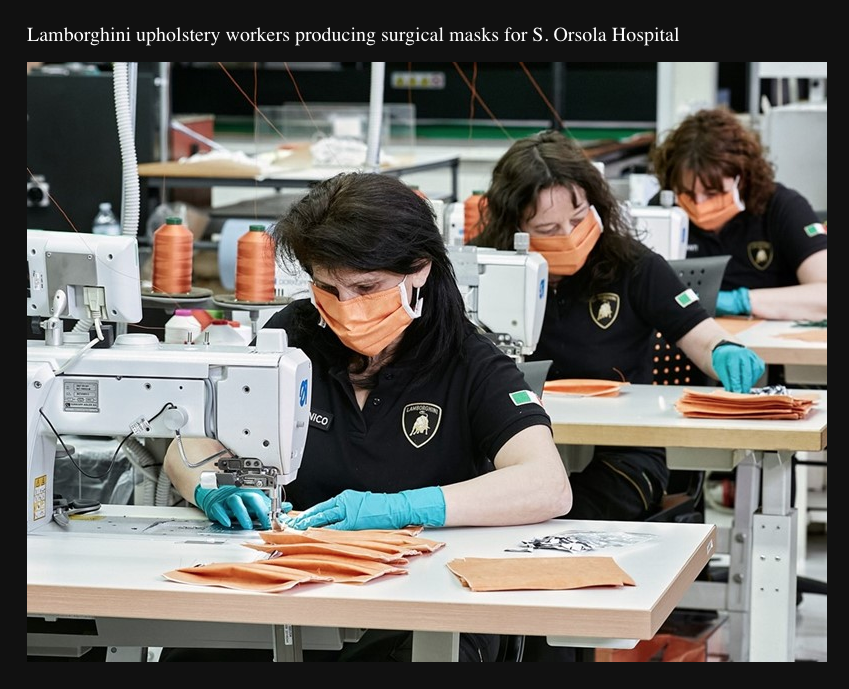 Picture courtesy, Automobili Lamborghini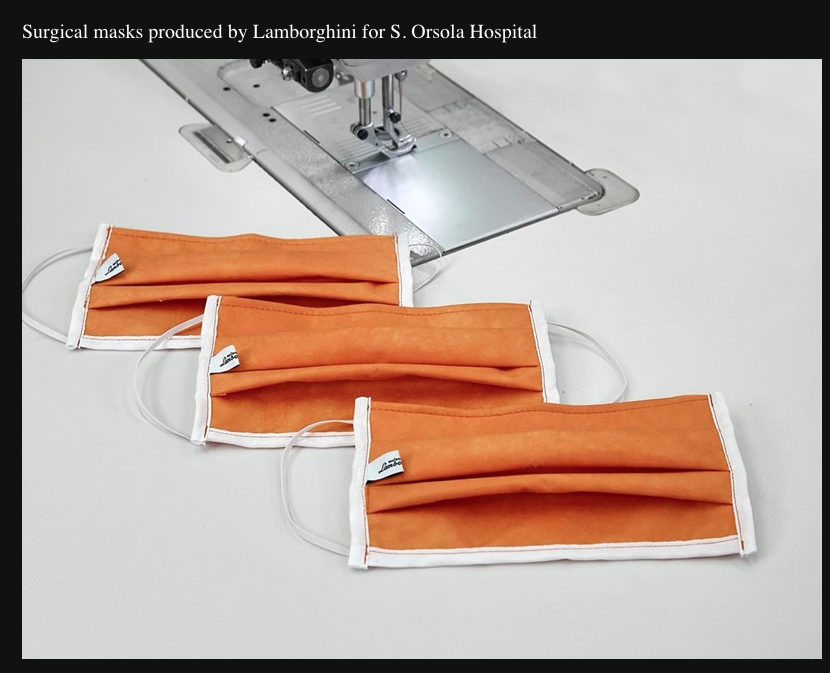 Picture courtesy, Automobili Lamborghini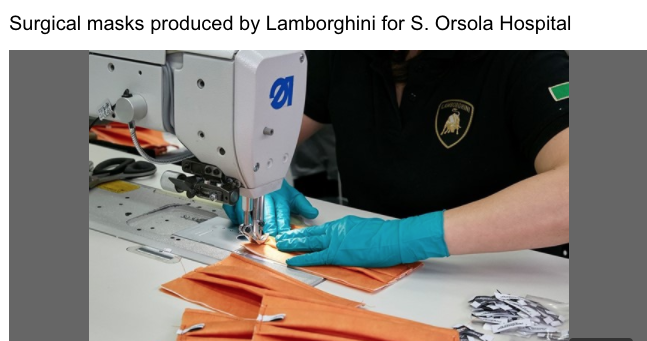 Picture courtesy, Automobili Lamborghini
Stefano Domenicali, Chairman and CEO of Automobili Lamborghini, statedd: "During this emergency, we feel the need to make a concrete contribution. The S. Orsola-Malpighi Hospital is an institution with which we have had a collaborative relationship for years, through both professional consultancy in promoting programs to protect our workers' health, and in research projects. We will win this battle together by working in union, supporting those who are at the forefront of fighting this pandemic every day."
Coronavirus has hit Europe quite hard with over 110,574 cases in Italy alone. The next hotbed of the virus is United States where it has currently infected 215,357 people. Various global events have been canceled in the light of the pandemic. The novel coronavirus is a respiratory infection that emerged from Wuhan, China, in December 2019. By the end of January it had spread all across the world. Currently it has 950,713 cases in the world with over 48000 deaths. The World Health Organization has termed this a pandemic.