News
Local Buzz: Masala! Chats With Food Blogger and Media Professional Dev J Haldar
The avid blogger, music lover, history buff and food writer talks about the food scene in Dubai...
Ask Dev J Haldar to describe himself and here's what he comes up with: 'media-bug, avid blogger, history buff, music lover, food writer, dedicated father and Batman worshipper'. The programming director of radio station Suno1024 is an incredibly funny man with many passions in life. Of all his interests, radio had had a huge bearing on his life, not in the least because he met his wife through it! But that aside, in a long career, he has been a visualiser in an ad agency, a voiceover artiste,  an RJ, a university teacher, an emcee and an avid blogger on food and parenting (he contributes to a UK based parenting hub). In a highly entertaining conversation with Masala! Dev talks about what's lacking in the food scene in Dubai, the crazy celebrity interviews he's conducted, being the voice for Amitabh Bachchan and the day he whatsapped a grilled dish recipe to a music legend. Read and laugh out loud! 
Your big loves in life are food, movies and music…what would you call your favourite? 
It's got to be food. And by food, I mean edibles and music rolled into one. There is not much difference between the two. Various genres of music fill me up, depending on what I am yearning for at that moment. Isn't that how we deal with food as well? I begin my day thinking of what I will be eating during the day. Food makes me happy! 
    My day also starts with some Indian classical music while planning my culinary map. The only place where I do not like food and music together, is in a restaurant. I feel it is a bit demeaning to the artiste who is trying hard to perform while people are busy polishing food off their plates and chattering. Cinema comes second. But I only understand cinema when I can move my right hand from the popcorn box to my mouth - that action has also helped me through some really unbearable movies.
So what's the best meal you have ever had? 
The best meal is a little unfair to all else I eat! Well, it will have to be my mom-cooked home style mutton curry and fish in mustard gravy that I gobbled when I saw my folks a month back. More recently it was another mum-cooked food! This time a friend's mother came visiting and I got to eat some brilliant idlis with 'gun-powder'. 
What's the strangest thing you have tasted? 
I don't have explorer tales of eating anything that comes by but once I sat at this obscure eatery in Ajman and had some 'bheja fry'. I didn't like it a bit. I felt I was sitting in my school's bio lab gobbling 'brains'! I think it was more to do with the appearance than the taste. I haven't eaten 'brains' after that. Not yet. 
You have discovered several hidden gems from the Dubai foodie scene. What would be your top three recommendations? 
I look at Dubai through my food-glasses. I never shy from trying local and obscure eateries. In Dubai, it would have to be a small shack selling fresh fish the way you want them - Bu Qtair Restaurant by Jumera Beach. It's lip-smacking, fresh catch, fried or curried! 
As a huge fan of Vietnamese food, I love Hanoi, a small, homey restaurant in JLT, serving everything from delicious chicken curries to bun dishes. The third place would be this hole-in-a-window shack on the outskirts of Dubai and Sharjah called Calcutta Fast Food for my Bengali food cravings like fish fry, mutton kosha and Calcutta biryani. 
What is missing from the Dubai food scene? 
I feel the authentic North Indian taste is missing. While one gets to have it in expensive restaurants, the mid-range is filled with very average fare. Recently I reviewed a few restaurants that got traditional North Indian recipes all wrong. 
The other thing that is missing in bits is the food truck. While the trend has just started, it is rather seasonal. Also, food trucks need to be travelling. They cannot be stationed at a certain place forever. Ideally, they should be hopping inter-Emirate to bring together people who enjoy a certain cuisine. 
You have had a close association with super chef Vikas Khanna. Can you tell us more about it? 
Initially, when Vikas walked into my radio studio, he thought it was going to be another routine show. While chatting over tea, I think he figured that we had a common passion - food. Food is linked to culture, history, art and pleasure. And then we got along like a house-on-fire. In fact, he invited me and my colleague to host his book launch in Dubai. I noticed something more to Vikas Khanna than the merry, witty, charming, world renowned chef that he is. He is very disciplined, respects deadlines and believes in human capital. This is what makes him a beloved chef.
You have done a lot of voiceovers in your career. How did that happen? 
I started out as a voiceover artiste first, much before radio. I thoroughly enjoy the experience of doing voiceovers. I popped into a studio for the first time when I was in class 6 to lend my 'talent' to a prince who loved to eat. I had to constantly cry 'I am hungry' and make 'eating sounds' without being served a chip in the studio. It was for a children's film. Unfortunately, the makers ran out of funding and the project didn't see light of day.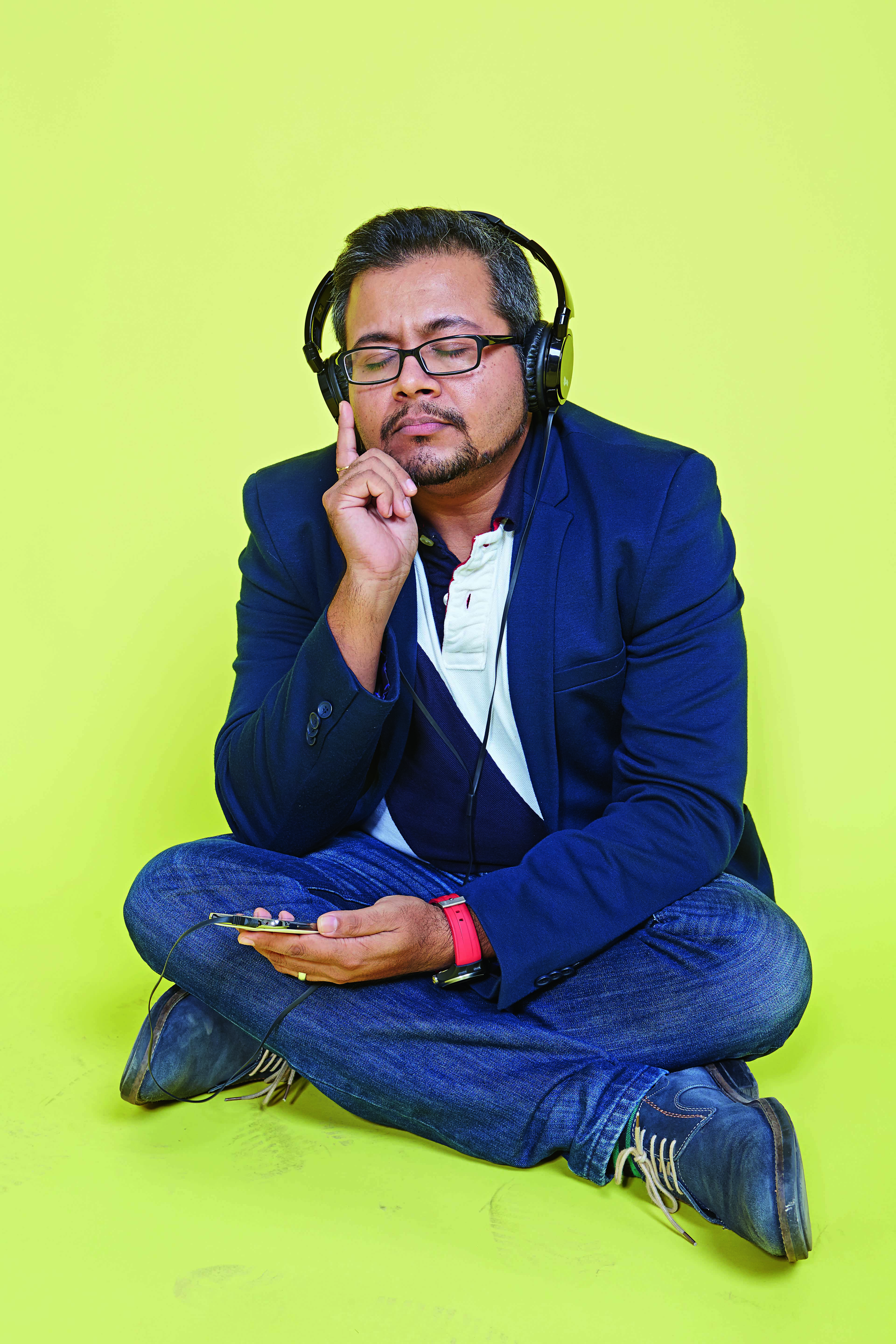 Years later in 1999, I did my first commercial for a reputed juice brand and the voice was that of a priest. I was all of 23 and had to sound like a 40 plus man! It was fun. Thereafter, there was no looking back. I dubbed for many FMCG brands, TV actors etc. Later when I came on radio and people started listening to my mimicry, I started getting more offers. I was the third back up for Mr Amitabh Bachchan and dubbed his New Year wishes. I was his voice again for NDTV's 'Spitting Images' called Gustakhi Maaf. I have also been the official voice of Bert (of Bert and Ernie) for Sesame Street India. 
Doing a voiceover is very challenging. You have to be and sound like somebody else and all that in 30 seconds. Voices need to be nurtured and cultured. In my voice-acting prime, I had an arsenal of about 7-8 voices ready. 
You have interacted and interviewed several celebrities from the music world, which celeb has surprised you and why?
My radio career allowed me access to a whole galaxy of stars. Fortunately, I was never star-struck. I think that allows an interviewer to think objectively. From the music world, the one person who totally surprised me was Shubha Mudgal. Shubhaji was having tea after a lecture-demonstration and a friend requested her to sing a certain 'bandish'. She immediately kept aside her tea, pulled the harmonium and lapsed into the 'bandish'. We were young impressionable students then and her sheer humility bowled us over. 
The other person is AR Rahman. While travelling, he got free close to midnight and his PR messaged me if I was up for an interview! I was in pyjamas and it was raining outside. Still I made a dash for it and it was totally worthwhile. Rahman is very unassuming, humble and rooted. 
Can you share any interesting anecdote from an interaction with a celebrity?
Once while interviewing Ustaad Shafqat Amanat Ali, we realised that we are devoted food lovers. Shafqat loves his food with passion. He will visit a certain restaurant in Dubai to have 'nihari'. So, one day, he saw a picture of a grilled dish I made at home. He was so impressed that I had to write out the recipe over WhatsApp to him. Now you know, a happy stomach gives off a happy voice! 
What made you blog on parenting? 
The entire process of becoming a father was an emotional one. My own father has been a huge inspiration. Also, when my wife was expecting, we noticed that there is a lot of information and POVs from mums. There was nothing really that documented the transformation a man must go through, to be a father. I feel that the journey of a father begins by understanding what mother and child need when they are one entity. So I started documenting my experiences. Parenting is a challenge in itself. However, the one challenge most families feel is the lack of physical familial support. That is something that comes with being expats.