Celebrities
Let It Snow Is A Perfectly Charming Holiday Rom-Com
Let it Snow may have a predictable story but the it has a unique charm that makes it the perfect watch this holiday season
Movie Name

Let It Snow

Director

Luke Snellin

Actor

Isabela Merced, Shameik Moore, Odeya Rush

Rating

Rating 3/5 Stars
What exactly are we looking for in holiday movies? Not a lot depth, if we're being honest. It's a time when people want to feel warm and cozy and be around their friends and family. So a film, such as Let It Snow, becomes the perfect escape.
The film is based on a book which is a compilation of three short stories: The stories include "A Cheertastic Christmas Miracle" by John Green, "The Jubilee Express" by Maureen Johnson, and "The Patron Saint of Pigs" by Lauren Myracle.
Let It Snow features an ensemble cast of some very well-recognizable faces. Mitchell Hope, Kiernan Shipka, Jacob Batalon, Isabela Merced, Shameik Moore, Liv Hewson and Odeya Rush are all young faces that we've seen on the big and small screens lately in shows and films like Sabrina, Spiderman, Instant Family and Lost City of Gold. Joan Cusack makes an appearance too. And what's amazing is that all these stars share great chemistry with each other.
A snowstorm has hit a small town and now all the residents are stranded wherever they are. Some youngsters are stuck at a diner where a party is taking place, while others are on the road, unable to get through because the roads are snowed in. Its's these circumstances that bring unlikely people together and that is what makes this film extremely warm and likable.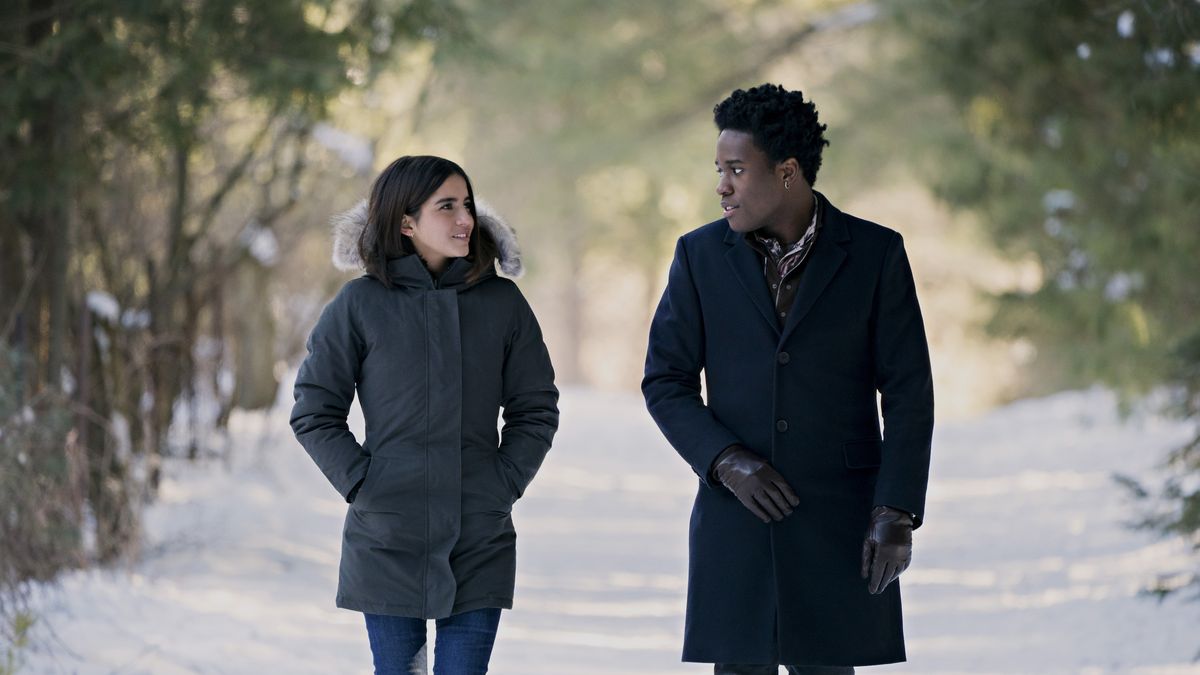 A still from 'Let It Snow'
Don't expect anything new: there are no new stories and no new plotlines. Netflix has delivered a very safe and predictable film but it's a perfectly endearing one that can be easily watched on a slow afternoon with a friend or a loved one, or even alone.
Other than talking about love and togetherness, the film also obviously talks about other challenges faced by young adults, but in a lighthearted manner. A young girl is struggling with her sexual orientation when she won't admit to her friends that she's queer, while another is facing pubescent insecurities because he has fallen in love with his oldest friend. Peer pressure, bullying and all the other fun things (please note the sarcasm) that make our teenage years what they are – all of them have been covered in Let It Snow without becoming dark, morbid or overbearing.
Of course, there are some performances more endearing than others and in our opinion, Shameik Moore steals the limelight for playing the extremely likable superstar who has by chance gotten stuck in a town while crossing through and has gotten to know a girl, (played by Merced) who helps fill the void in his life, not having a home or family to go to on Christmas.
The film is only 93 minutes long so it will literally whizz right by and it's the perfect film only if you're really trying to celebrate the holiday spirit. Otherwise it might bore or uninspire you.