Bollywood News
Kriti Sanon Reminds Kartik Aaryan of Luka Chuppi As He Promotes Love Aaj Kal
Kartik Aaryan and Kriti Sanon worked together in the film Luka Chuppi which was released in March 2019
Kartik Aaryan is currently busy promoting his upcoming film Love Aaj Kal with zeal and zest. Not only is Love Aaj Kal his first film with Sara Ali Khan but also his first time working with the master of newage romance Imtiaz Ali. Although the trailer of the film did not go as per the expectations, the fans are still elated to see the famous couple 'Sartik'(a combination of their names which the fans use) promoting their film together. Be it dancing to the dance numbers from the film or answering compatibility questions, Kartik Aaryan and Sara Ali Khan are doing whatever it takes to promote Love Aaj Kal.
Kartik Aaryan recently posted a picture in his signature pose (winking and putting a finger on his lips). Films come and go but Kartik Aaryan's pose remains intact. Obviously, why would Kartik Aaryan spare Love Aaj Kal promotions from his signature? As soon as he posted the photo, Kriti Sanon who worked with Kartik Aaryan in Luka Chhupi quickly reminded the heartthrob that this was Luka Chuppi pose. Fans were also speedy to respond to Kriti Sanon as it reminded them of Luka Chuppi times and her magical chemistry with Kartik Aaryan. Many asked Kriti Sanon for Luka Chuppi 2.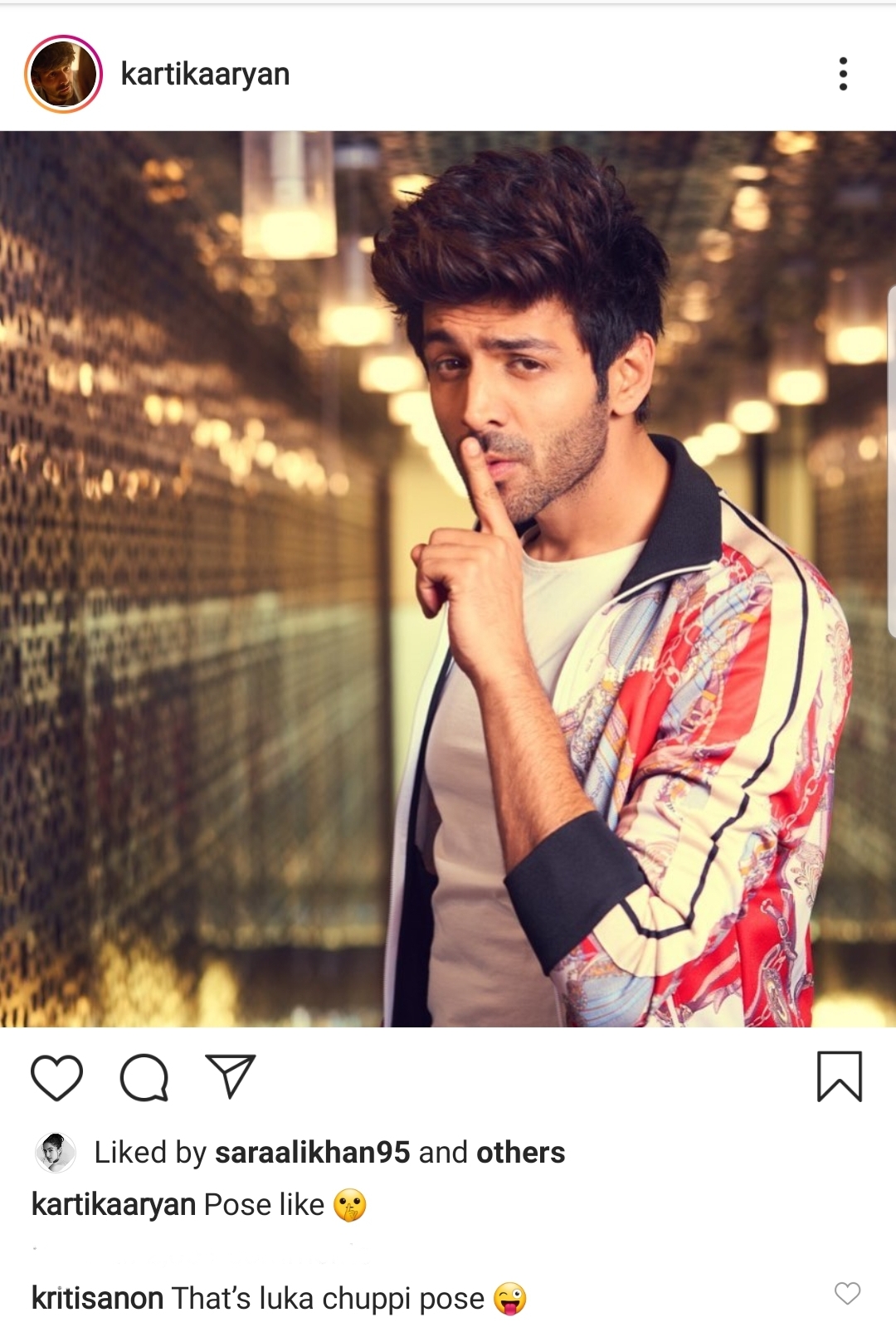 Kriti Sanon was somewhat right in the sense that this pose of Kartik Aaryan became popular during Luka Chuppi promotions.
By the way, Sara Ali Khan liked this post.'
Kartik Aaryan and Sara Ali Khan's film Love Aaj Kal is all set to release on February 14th, 2020. Although many people believed that it was a sequel of Love Aaj Kal (2009), the cast and director Imtiaz Ali clarified that it had nothing to do with the 2009 release except the name and the concept. According to Imtiaz Ali, he thought that if Love Aaj Kal was created in today's time what it would be like. Also, the director was in talks with Kartik Aaryan for another film but during the discussion, he built the concept of Love Aaj Kal. Sara Ali Khan, who is playing the role of a career-driven independent girl Zoe, would be starring in the third film of her Bollywood career.