Bollywood News
Kriti Sanon, Jacqueline Fernandez Wish Their 'Mentor' in Heartwarming Posts
Jacqueline Fernandez and Kriti Sanon posted similar messages on Instagram. They thanked birthday boy Sajid Nadiadwala for believing in them. The B-town beauties touched our hearts too!
Jacqueline Fernandez is not one to forget her roots. While she may be one of the most sought-after actresses in India today, holding several ground-breaking roles to her credit, she always makes sure to remember those who helped to make her into who she is today. Her mentor from the industry who has both guided and pushed her as an actor is acclaimed filmmaker Sajid Nadiadwala. On the occasion of the director's 54th birthday today, Jackie posted a heartfelt note on Instagram. She accompanied the post with an image from the sets of their blockbuster movie Kick. Not only did the B-town beauty touch Nadiad's heart but ours too!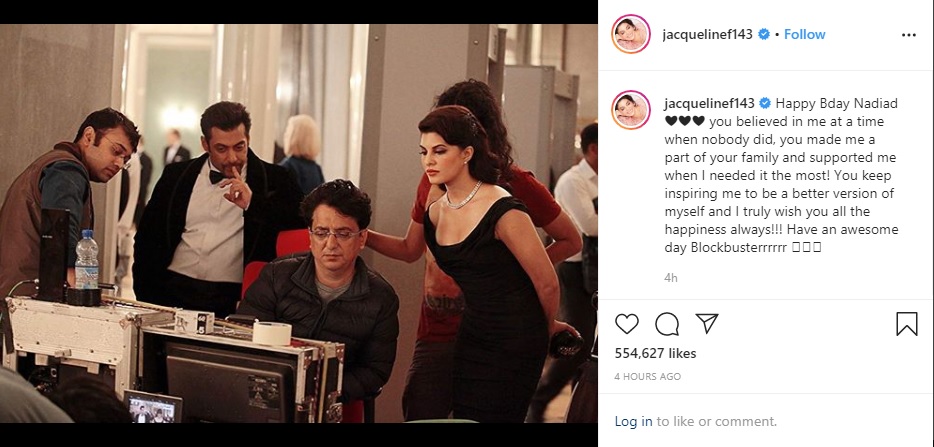 Jacqueline started off her post by wishing Nadiadwala. "Happy Bday Nadiad," she wrote. She then continued with rather emotional words about him, thanking him for being a great source of inspiration in her life. The Race star added, "You believed in me at a time when nobody did, you made me a part of your family and supported me when I needed it the most! You keep inspiring me to be a better version of myself and I truly wish you all the happiness always! Have an awesome day Blockbusterrrrrr."
Jacqueline starred in Kick alongside superstar Salman Khan, Nawazuddin Siddiqui and Randeep Hooda. The film centres on the story of Devi (Salman), a man who is not at peace because he is addicted to going on new adventures. He breaks up with his girlfriend, Shaina (Jacqueline), who is a Warsaw-based psychiatrist, just to pursue his daredevil ambitions. Kriti Sanon also took to the photo-sharing site and uploaded an image of Nadiadwala and herself. Wishing him on turning a year older, Sanon captioned her post, "Thank you for always being there as a mentor and as family! And for making my dreams come true!!"