Celebrities
Kate Middleton Recycles an Old Gown to Attend BAFTA Awards 2020
Kate Middleton attended the BAFTA Awards 2020 with husband Prince William in a white and golden gown which she had worn in 2012
Kate Middleton, the Duchess of Cambridge, is a picture-perfect example of what British royalty would like to be projected as; winning everyone's hearts without indulging in any controversy. The ever-smiling Kate Middleton has always been praised for her fashion choices and warm personality since she got married to Prince William, second in line to the British throne. Although she had been in the limelight even before that considering that the two had been in a relationship for long, it was her marriage that brought Kate Middleton in the public eye as a fresh wave in British royalty which had not been in the best space since Princess Diana's death. Her look is always fashionably correct and in accordance with the royal protocol, yet letting her signature style shine through.
When the invitations were sent out, the management of BAFTA had urged the attendees to dress in sustainable fashion by either recycling their old outfits or hiring gowns.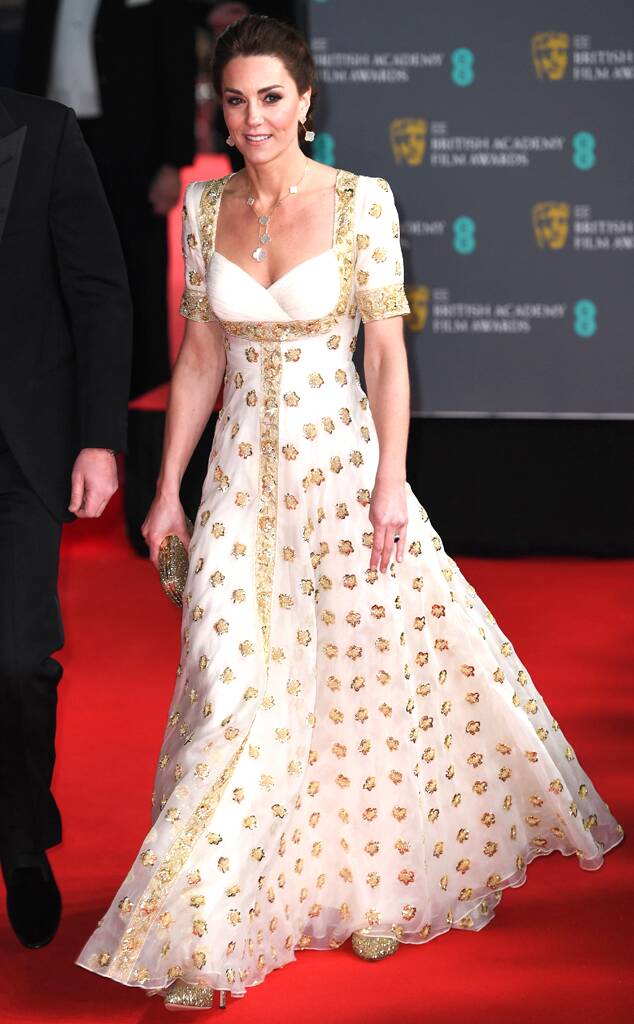 Kate Middleton recently attended the famous BAFTA Awards 2020 respecting the sustainable fashion theme this year. Although everyone was expecting her to wear her favourite designer Alexander McQueen this year, Kate Middleton recycled an old Sarah Burton gown which she wore for the first time in the year 2012 for a state dinner in Malaysia. Respecting the country's national flower, the gown had golden hibiscus embroidered throughout.
In the white and golden gown with her hair tied in an updo, Kate Middleton looked like a vision as she walked in the figure-hugging white and golden gown with a fitted bodice and a flattering broad neckline. She teamed up this fit for royalty look with Jimmy Choo pumps, Anya Hindmarch clutch, and jewellery from Van Cleef & Arpels. Kate Middleton walked the red carpet with Prince William who also looked dapper in a black tuxedo. Kate Middleton is known to repeat outfits in the past too. Unlike what one would expect from the Duchess, Kate Middleton also sports high street fashion more often than usual.