Kartik Aaryan Teaches Deepika Padukone the Steps of Dheeme Dheeme
By Saadia Ahmed Sunday, 01 December 2019
Deepika Padukone recently requested Kartik Aaryan to teach him the steps of his famous song Dheeme Dheeme.
Kartik Aaryan's upcoming film Pati Patni Aur Woh's songs have the entire country grooving to those. The songs Dheeme Dheeme and ' Ankhiyon Se Goli Mare' both have received rave reviews and people are already putting on their dancing shoes to dance to these just like Kartik Aaryan. Deepika Padukone could also not remain unaffected by the bug hence she asked Kartik Aaryan to teach him the steps of Dheeme Dheeme. Is there anyone in the world who would say no to her? So didn't Kartik Aaryan. He took Instagram to reply back that he was sure she would pick up the steps quick.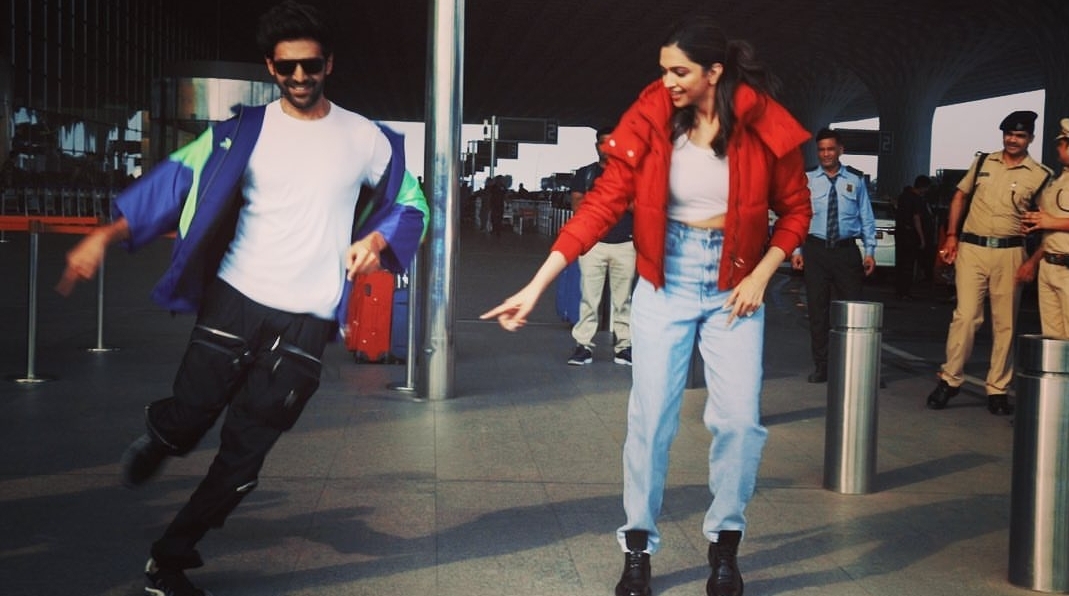 Deepika Padukone and Kartik Aaryan actually made it happen.
Deepika Padukone, who was to catch a flight, reached the airport where Kartik Aaryan also joined her.
Outside the drop-off area, Kartik Aaryan showed Deepika Padukone how to do to the famous steps of Dheeme Dheeme. As Kartik Aaryan had earlier predicted, she picked up the steps quick.
Right after this fun practice, Deepika Padukone set off to her flight and Kartik Aaryan went back home.
Deepika Padukone was dressed in a red puffer jacket and blue jeans and black boots while Kartik Aaryan was dressed in a funky purple and green jacket.

On the work front, Deepika Padukone's upcoming films include Meghan Gulzaar's Chhapaak and Kabir Khan's 83. Kartik Aaryan on the other hand as a lot going on for him. In less than a week, he would be seen in the film Pati Patni Aur Woh. He is also shooting for Dostana 2 and Bhool Bulayyia 2. In February 2020, Kartik Aaryan's film with Sara Ali Khan Aaj Kal will release. This film is  a sequel to Imtiaz Ali's film Love Aaj Kal in which Saif Ali Khan and Deepika Padukone played the lead roles.
For all the latest Bollywood News and gossip, follow us on Twitter & Instagram, like us on Facebook and subscribe to our channel YouTube. New videos up every day!
Comments