Bollywood News
Kartik Aaryan Clarifies Controversial Dialogue from Pati Patni Aur Woh
Kartik Aaryan is currently promoting his upcoming film Pati Patni Aur Who with co-actors Ananya Panday and Bhumi Pednekar.
Kartik Aaryan would soon be seen with Ananya Panday and Bhumi Pednekar in his upcoming film Pati Patni Aur Woh. While people appreciated the film's happy go lucky vibe and the entertainment factor, there was a dialogue in the trailer which did not sit well with the masses. In the particular scene shown in the trailer, Kartik Aaryan speaks to his friend Aparshakti Khurrana about how sex-deprived he felt, Kartik playing the character of an engineer Chintu Tyagi says, 'When a husband asks for sex he is a beggar and if he tricks her to have it, he is considered a rapist.' Err… here came the trigger.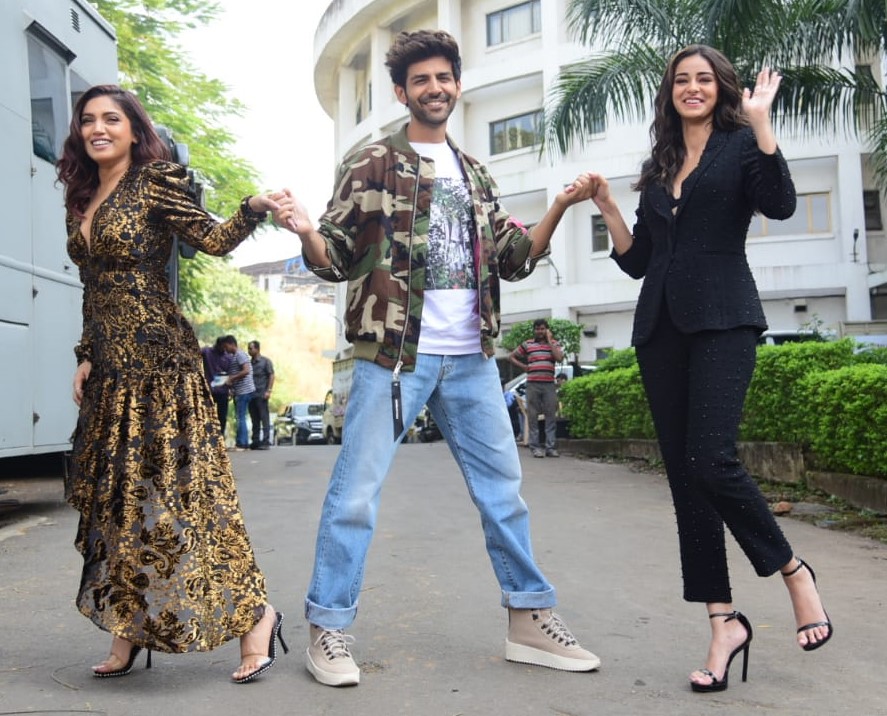 Pati Patni Aur Woh Cast during promotions of the film
Obviously, the rape joke did not sit well with the audiences. The director Mudasser Aziz and the team decided to pull down the problematic dialogue from the trailer and the film. According to Kartik Aaryan, the dialogue had been removed because people were 'hurt' after watching the trailer. He said that when the trailer came out and people reacted the team realized the mistake and corrected it. 'Usually this does not happen in films', Kartik Aaryan mentioned.
According to  Chintu Tyagi from Pati Patni Aur Woh, hurting the people or making fun of rape was never the intention. The filmmakers and actors did not realize their mistake while they were making the film. They had also shared it when many people but no one pointed it out. It was after the trailer that the reaction came and the problematic content had to be removed.
Pati Patni Aur Woh is releasing on December 6th, 2019. It is a modern-day remake of the Pati Patni Aur Woh released in 1978. While the original film starred Sanjeev Kumar, Rajneeta Kaur, and Vidya Sinha, the remake is starring Kartik Aaryan, Ananya Panday, and Bhumi Pednekar in the lead roles. The trailer and some songs have already been released. The cast of the film is actively promoting Pati Patni Aur Woh these days at various platforms.