Kareena Kapoor Khan Reveals She Would Love to Do a Double Role Like Sridevi in Chaalbaaz
By Masala! Bollywood Wednesday, 31 July 2019
Kareena Kapoor Khan has done a variety of roles in her career of two decades. Throughout her time in Bollywood however, she has never done a double role but would love to do one.
Kareena Kapoor Khan is the ultimate queen of Bollywood and has worked hard to establish her position in the industry. She has reaped success, one film after another in her career which spans almost two decades. She is recognized for her roles in hit films including the likes of Refugee, Kyon Ki, Udta Punjab, Jab We Met and Ki & Ka. She is known for her diversity and her ability to play an array of diverse characters. Kareena Kapoor currently has her hands full with many different projects however; she recently revealed that she has never played a double role.
On her dance show, Dance India Dance, Kareena Kapoor revealed that she would love to play a double role similar to that of Sridevi in Chaalbaaz. She also went on to reveal that she had seen the film over 35 times. "I have always wanted to do films like where I could play twins like Seeta Aur Geeta or Chaalbaaz", she said, adding that her sister Karisma Kapoor has been in many films like Judwaa and Saajan Chale Sasural where she had to deal with the chaos of playing two dopplegangers.
Unfortunately for Kareena, she has never been offered a double role throughout her career. "But I have not been offered a double role ever which is quite strange. I am dying to do one," she said. The film which Kareena claims to have seen over 35 times, Chaalbaaz, stars Sridevi, Anupam Kher and Shakti Kapoor. The film narrates the story of a set of twin sisters who had been separated at birth. One sister is brought up by her uncle and is ill-treated by him, while the other grows up to be a street-smart girl and fights the ingrained patriarchy in society.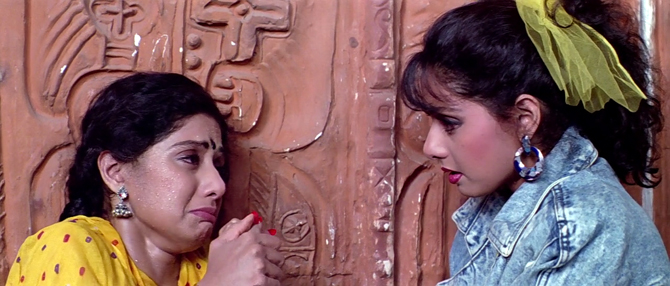 Sridevi in Chaalbaaz
Kareena Kapoor is currently spending her time between London and Mumbai and recently made her television debut with reality dance show, Dance India Dance.
For all the latest Bollywood News and gossip, follow us on Twitter & Instagram, like us on Facebook and subscribe to our channel YouTube. New videos up every day!
Comments