Bollywood News
Kangana Ranaut Slams Ranbir Kapoor and Alia Bhatt Again. Social Media Reacts
Kangana Ranaut has once again slammed Ranbir Kapoor and Alia Bhatt about their relationship and their ages. She also spoke about Rani Mukerji's performance in Black. Read more
Kangana Ranaut has yet again targeted Ranbir Kapoor and Alia Bhatt in her interaction with the media. She said that Ranbir Kapoor and Alia Bhatt should not be referred to as 'young' actors.
The media asked her why Kangana often chooses specific actors to target. To which she replied, "I do only that when I am rubbed the wrong way. And what is this thing of calling them young... Ranbir Kapoor is what 37 years old, young kid of the generation and Alia Bhatt just turned turned 27, my mother had three children at 27. This is absolutely unfair. Are they dumb or are they children? What are they?"
Kangana went on to speak about how actors don't speak up about national issues. "If we are asking about your sex life, that you are okay to discuss," said the Queen actress to the media, "put the pictures on Instagram, who I am f***ing, who I am not f***ing, that is fine but about the country, it's my personal choice."
Fandoms on the internet had their say about the matter. There were some voices against Kangana but there were also voices who supported her statement.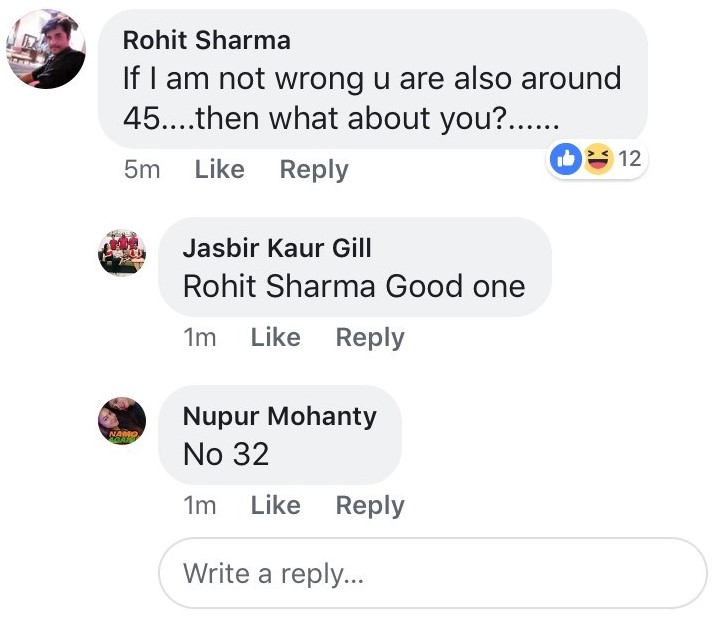 People questioned her own age and someone corrected them that she was just 32 years old.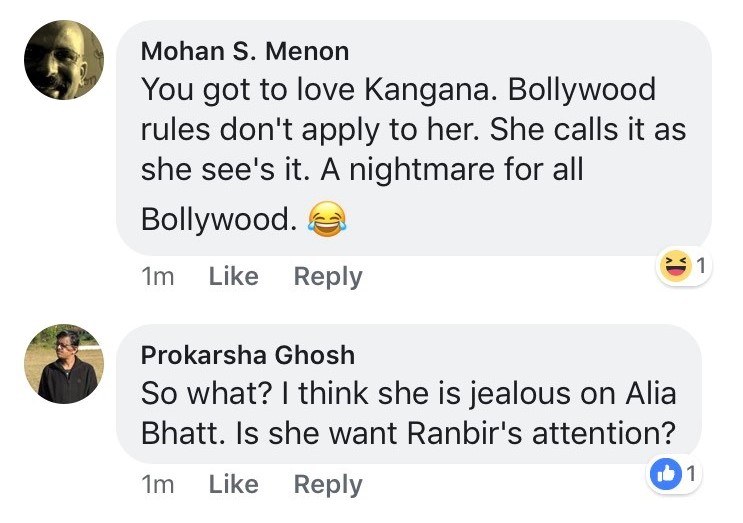 One user thought that Kangana refuses to play by 'Bollywood's rules'.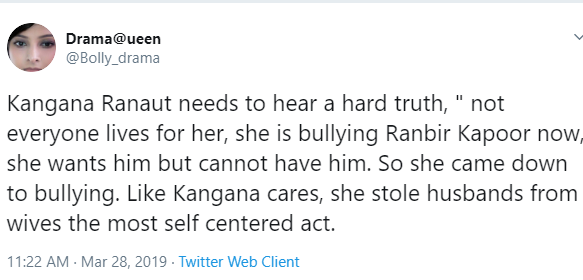 Another user said that, "Kangana Ranaut needs to hear a hard truth, " not everyone lives for her, she is bullying Ranbir Kapoor now, she wants him but cannot have him. So she came down to bullying. Like Kangana cares, she stole husbands from wives the most self centered act."
Some cracked jokes at her expense.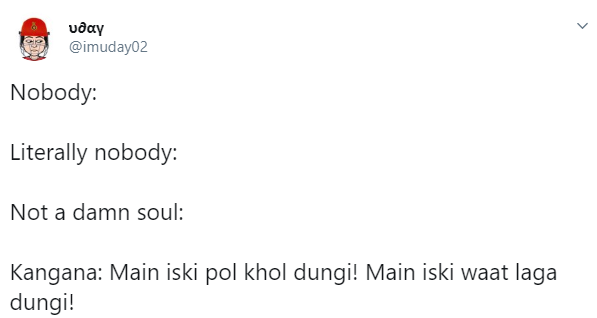 Kangana also spoke about Rani Mukerji's performance in Black and said that there was no big deal about her performance and she could do it too. "I remember going for Black," she said, "at that time, people around me from theatre were suggesting I do films, which I thought would be difficult. I went with my roommate and told me if we could act like that, we could also become like them. And I said, 'I can do this. What's the big deal?' She was like, 'Oh my god, look at you?'"
Kangana's fans did not give up and continued to support her.