Tips
Just Keep Buzzing: How to Dance Your Way to Happiness and Fitness
It's the best way to keep yourself healthy, mentally, emotionally and physically. Akshay Dhoke and Preeti Gadkary, founders of The Buzz Dance Studio tell you why it's essential to don those dancing shoes
Akshay Dhoke's dance journey began rather early. Like most children, his initial public performances were prompted by his parents at family functions and social gatherings. "As the appreciation grew, so did my confidence," he laughs. Back then, going for dance classes weren't so popular or mainstream but that didn't deter Akshay who knew that dance was his calling. From being a dancer, he eventually became a trainer and by 20, he had started running dance classes for children, helping them find their creative outlet. It was entirely a self-taught process, something he is rightly proud of, especially when he sees children shed their inhibitions, gain confidence and make new friends.
Akshay started living his dream after moving to Dubai from Mumbai and fortunately he found his partner and like-minded soul, Preeti Gadkary. Together the duo started The Buzz Dance Studio in Bank Street, Bur Dubai, a school offering training in variety of dance forms such as Hip Hop, Bollywood, Contemporary and lots more. The classes are especially beneficial for children and the studio held its first annual show Dance Vance 2019 that gave the kids a platform to shine. Both Preeti, the co-owner and MD and Akshay, co-owner and Head Choreographer, strongly advocate taking up a dance form for mental and physical health. Read on to find out why you should be putting on your dancing shoes soon, even if you have two left feet! 
Learn Dance, It's Beneficial!
The benefits of dance are as immense as the varied dance forms that exist. It's incredible when we see our young (and not-so-young) students learning social skills and self-love, along with the steps. It's a great way to de-stress from the pressures of routine life, make new friends, get fit and energetic and generally feel good about yourself. As a client once said, "Dancing makes me happy and helps me forget my problems. In today's fast-paced world, these two things aren't easy to attain." 
As for physical benefits, it keeps the body energised, flexible and most importantly, active. Most of us, be it kids or adults, lead rather sedentary lives. We're sitting in school or in our offices and getting regular physical activity can be challenging. Unless of course, we make time for it. Dancing in a group, with great music and fun choreography can be so therapeutic! We have recently had a couple of clients who took up dancing to come out of depression. We have seen their journey, it's not been easy but neither is it impossible. The way they show up in class every single session is truly inspiring. And the rewards are for them to cherish and enjoy.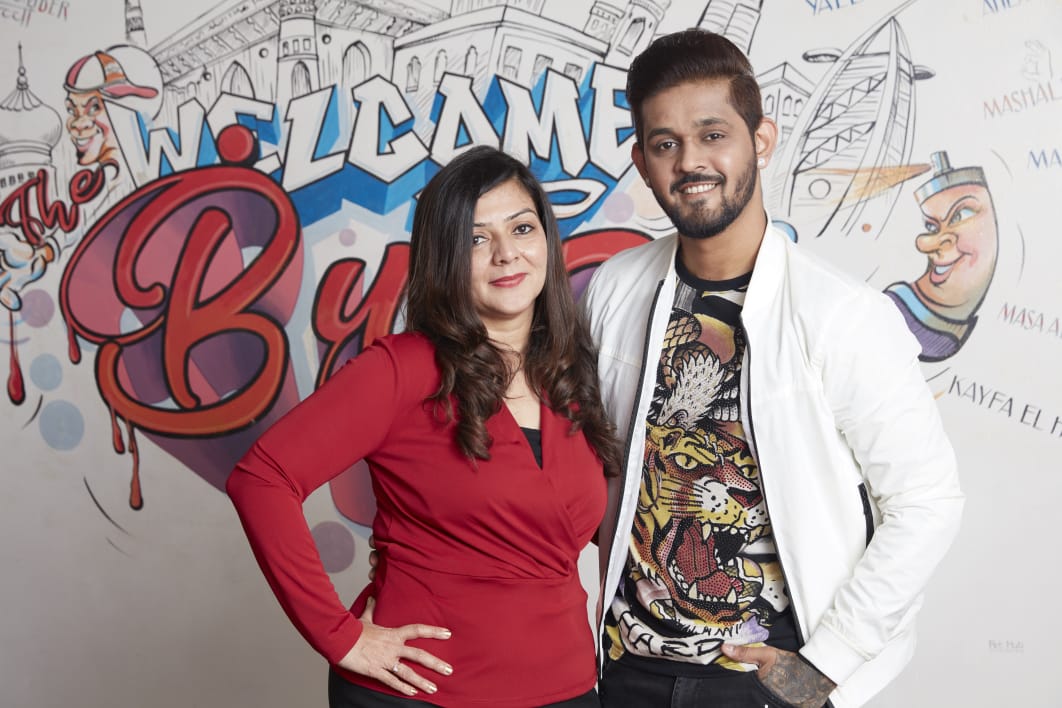 Preeti Gadkary and Akshay Dhoke, founders of The Buzz Dance Studio in Bur Dubai 
Just go and dance, it will help you in your work
Dance is looked upon as an active form of art. However, unlike other forms, this must be learnt actively. You have to immerse yourself fully -- physically and mentally to learn and enjoy dance. With growing awareness of lifestyle and health, people are finding their own unique ways to stay fit on a daily basis. Corporates in Dubai have a busy life. With dance classes, they see a boost in energy levels, their mood is uplifted and they maintain better immunity and overall health. 
Our belief - 'a healthy mind makes a healthy body' helps one to focus one's energies and engage in more productive work. Music is a very important component of a great dance/fitness experience and it helps one relax better.
The students at their show 
Dance can help get rid your inhibitions and make you confident! 
Get rid of your shyness and inhibitions
The beauty of dance classes is that it's always a collective effort. Inhibitions wear off faster in the company of others. When you see others of the same age/gender/body type do things you wish you could, it fills you with the will to push yourself harder. And with time, your confidence builds. The basic requirement for enrolment in a dance class is the will to do it - your educational/ethnic backgrounds, previous experience hold little importance. So the doors are open for people from all walks of life be it a child, teenager or adult. It is an amazing networking event and that too, more than once a week!  
The little ones enjoy too
The benefits for children are innumerable but what and how much they transform truly depends on the trainer who trains them. Children learn 70 per cent from what they observe and 30 per cent from what they are taught. Dance is a great combination of both. 
Get your kids to enroll at a dance studio and watch them blossom! 
In the process of matching one's step to a beat, a child's mind and body coordination is strengthened. Constant practice to get the step right increases their concentration and instils discipline to do things the right way. Children have lots of energy, dance helps channelise that energy into something productive and rewarding. Confidence is another virtue which builds within them as time passes. Learning dance instils a certain kind of discipline and a healthy respect to a teacher and classroom ethics. And also brings about a sense of harmony and togetherness between children from different backgrounds, creating a sense of acceptance. 
I strongly believe every art has its own magic which can transform anybody at any age.
INFO: The Buzz Dance School is in Bank Street, Bur Dubai. For bookings call 043512706 / 0505747283