Bollywood News
Juhi Chawla's Birthday, Aamir Khan's Sweet Gesture For Her
Juhi Chawla and Aamir Khan starred in many films together such as Qayamat Se Qayamat Tak and Ishq, and their on-screen chemistry was loved by fans
Bollywood of the 90s was home to some of the best actors and actresses in the industry so far. Likewise, one such star, Juhi Chawla is a force to be reckoned with. The actress started her career in 1986 but only rose to fame after Qayamat Se Qayamat Tak in which she starred opposite Aamir Khan. She went on to work with the actor in several films and their on-screen chemistry was loved by many. As Juhi celebrates her 52nd birthday today, she recalled some of the memories of her past birthdays.
Aamir Khan and Juhi Chawla
Speaking to Hindustan Times, Juhi Chawla shared, "Aamir came over to wish me and said, 'I have got a gift for you'. I was super excited and he took out a small chocolate and gave me and I was like, 'What? This is the gift?' It was funny but a sweet memory that remained with me as a special memory." The actress added that she threw a grand birthday bash after Qayamat Se Qayamat Tak and a lot of people from the industry showed up, however, she now likes to keep the celebrations low key. She continued, "It had its own charm but now I like to celebrate it with my close friends who come to visit me at home."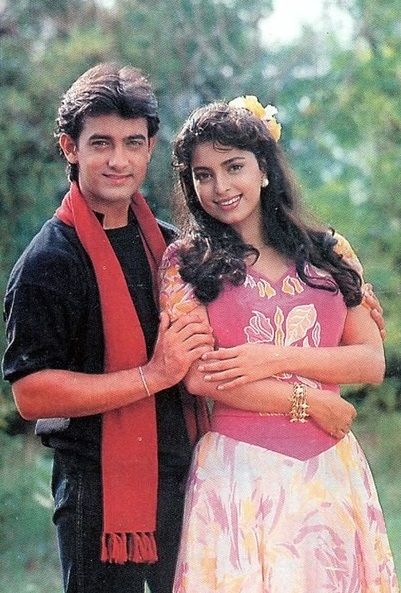 Aamir Khan and Juhi Chawla
Reminiscing on her birthdays from her childhood, Juhi Chawla told, "I remember when I was a kid, there would be colourful buntings and balloons put up and my brother would take a pin and burst them. And we would get into a big fight. Every time, the bell would ring, I would rush to the door to open it, welcome my friends and take the gift. I would wish for anything but not a book. After the party, there would be a tiny mountain of gift wrappers created in the room." Now, Juhi likes to give back to the people. For her 52nd birthday, she will try to feed at least 200 poor children.