Bollywood News
John Abraham on Pagalpanti: 'Let it Spread Happiness'
John Abraham speaks about his upcoming film Pagalpanti, the comedy genre and how he balances his serious, intense movies with slapstick humour
John Abraham believes that certain films cannot be critiqued. His upcoming movie Pagalpanti certainly belongs to that category. The first trailer revealed some uninhibited lunacy between the actors (John, Arshad Warsi, Pulkit Samrat, Saurabh Shukla and others) which indicated what genre the film belonged to – the Aneez Bazmee (Welcome, No Entry) genre that essentially houses movies that believe in the 'don't ask questions, just laugh your heads off' maxim. But John promises that the second one (released recently) will give a better idea of the plot.  Plot? In an Anees Bazmee film? The actor insists the film has it all – fun and a good script.
John, who was last seen in the much-acclaimed Batla House, adds that there there is method in the madness, even if the trailer indicates otherwise. "If anybody can do this genre well, it is Anees Bazmee. Pagalpanti is a film for everyone to enjoy, it's clean, doesn't have any foul language or unnecessary exposure and won't offend anyone. At the end of the day, you should watch a film with no negativity in it and come out happy," he says.
He is clear why he signed the movie, especially after a string of intense flicks like Batla House, R.A.W, Parmanu etc that won him critical acclaim and commercial success. "I want to spread happiness, I had fun doing it and hope the audience reacts the same way. After a stressful day, you can just watch a film like this and have a good laugh. I personally liked the way Anees narrated it, I put myself in the audience's shoes and realised I enjoyed it."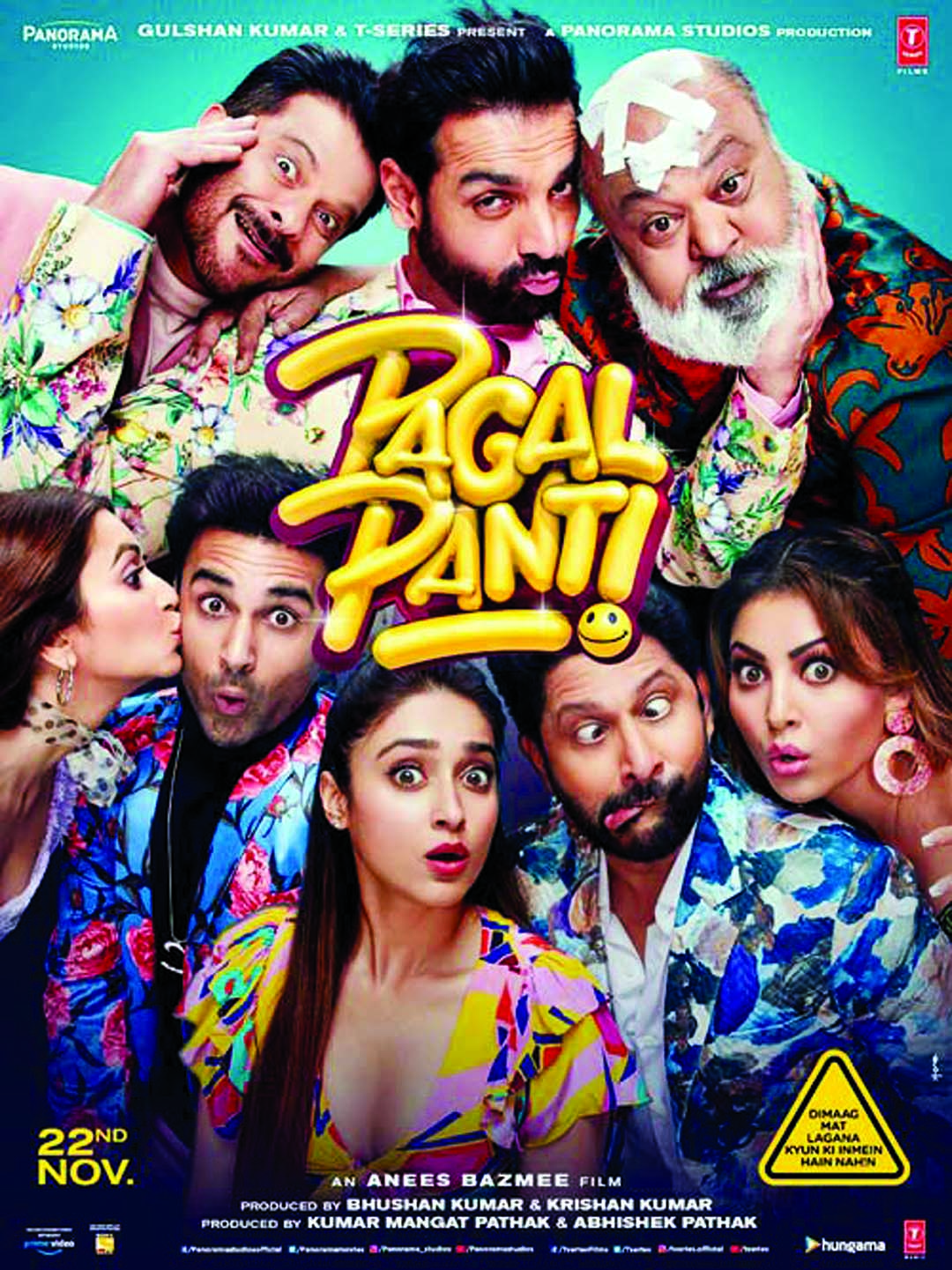 Pagalpanti poster
The actor isn't a fan of the way critics operate, despite most of his recent movies being very reviewer-friendly. "Critics do have an agenda, they bring a certain mood to the theatre. Take a look at Housefull 4. It was panned by every critic but it was a slap on the face when it became such a big hit. I don't think a review can change the trajectory of a film, it can't affect it for sure. But word-of-mouth is far stronger. I would just want Pagalpanti to be allowed to 'be'; let it spread happiness and let people decide whether they enjoy it or not." He also has a grouse against the social media reviews and the 'star rating' system where a movie is judged purely on the number of stars it receives. "It has actually killed movie reviewing, everyone these days considers himself to be a critic. What's more, everyone looks at ratings of a film. I have had people come up and tell me, 'Your film was great – 4 stars and 100 crore worthy film'. There is no talk about the technicalities or the nuances," he says.
However, much as John speaks against mindless criticism of slapstick comedy in Bollywood, he feels his own production house might not be able to do a Pagalpanti. "We spend years researching a film. Batla House had three years of research behind it. Even my upcoming films will get into a lot of layers and details, something like Pagalpanti, with an ensemble cast and lavish scale isn't our forte. However, I won't say no to comedy. But if I produce one, it will be with a twist and something very different."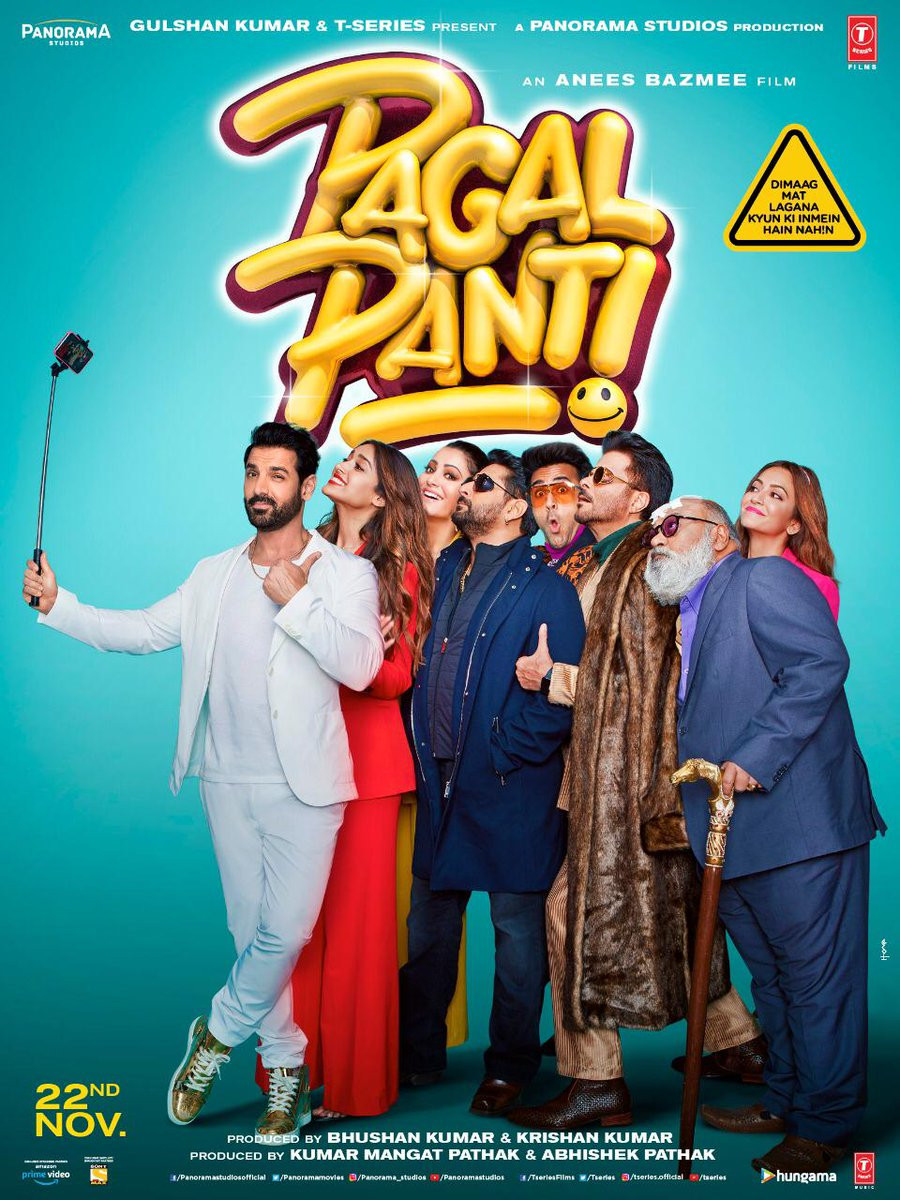 Pagalpanti poster
And speaking of ensemble cast, John shares screen space with a lot of talented actors in this one including Arshad Warsi, Anil Kapoor, Saurabh Shukla who are known for their comedic timing. He admits to being a bit lost initially, coming from the space of a Batla House. "My last film was energy draining. So going for that to this was pure havoc for the first two days. I wasn't sure what was happening. Moreover, as a lead actor, I wanted to ensure others were clued in and that we all settle in to a rhythm. After a few days, it was okay."
"I feed off a lot from my co-actors," he continues, explaining how he changes gears from serious action flick to crazy comedy. "The camaraderie between the actors have to come across on screen and the timing between all of them have to be perfect. Otherwise, I just leave it to the director. If it's my production like a Madras Café or RAW, I get involved deeply and curate the script. A lot of time is spent in studying the character, getting the nuances right etc. In this case, I just jump into the deep end of the pool, leaving it to the director to guide me."