TV/Streaming Reviews
Jo Tu Chahey Episode 32: Mashal Continues to Pine Over Hashir
Imran Abbas and Alizeh Shah headline "Jo Tu Chahey," a show that has a less than clear storyline, a love triangle of sorts in a family setting
Movie Name

Jo Tu Chahay

Director

Ilyas Kashmiri

Actor

Alizeh Shah, Imran Abbas, Zarnish Khan

Rating

Rating 1/5 Stars
"Jo Tu Chahey" is a show has been running in circles since it began.  I was questioned about the show recently by a friend and asked to summarize the story – and not sure how to do so.  If one analyzes the show's graph from beginning to present, very little has actually happened or changed in terms of story and/or character development.  With the exception of Aapa Ji's (Azra Mehmood) death, the story is in exactly the same place as it was in the beginning – barring where Mashal is living.
In episode 32, Mashal (Alizeh Shah) continues to pine over Hashir (Imran Abbas) while he continues to see her as a little sister.  Seeing the kind of performance Alizeh Shah is capable of, her performance as Mashal is as though she's sleepwalking through it.  Now is that her fault or is it the fault of the terrible characterization?  The character of Mashal does not offer much other than complaining and crying over her kismet, so Alizeh is actually doing exactly what is expected of her.  Hashir continues his pursuit of Bisma (Zarnish Khan), the two deeply in love and committed.  However, things have to happen for our whiny Mashal who cannot possibly find a man who isn't already in love with someone else (also…..why can't she look at men who aren't her cousins?), so suddenly the ever-loyal Bisma appears to be taking a mild interest in getting to know her to-be fiancé.  Why?  There isn't any valid reason for it.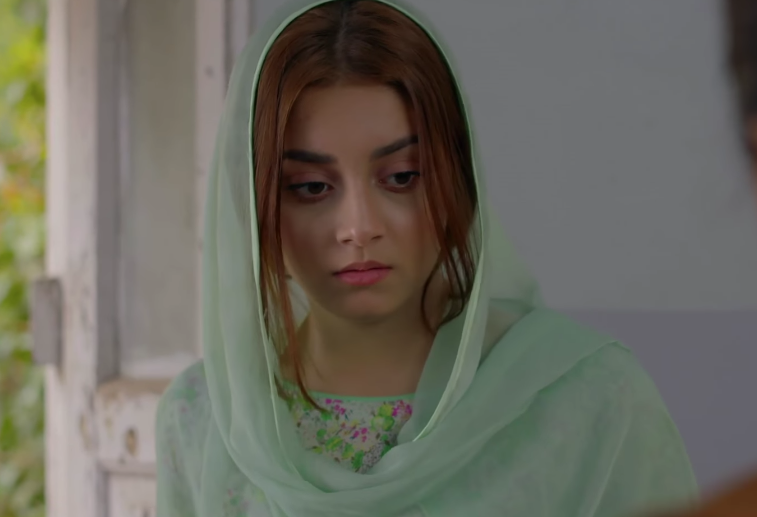 Alizeh Shah in Jo Tu Chahey
In Dubai, Areesha (Areej Mohyuddin) and Armaan (Ahmed Taha Ghani) prepare to leave Dubai for Pakistan.  Areesha is furious when she discovers Armaan had purchased a phone for his "girlfriend" and so she confronts her in a gathering, in front of her mother and ensures that her reputation is destroyed.  At home, she makes sure Armaan is aware of her actions and shames him for spending his money on a woman other than Areesha.  What's irritating to watch here is how Armaan excuses his behavior by telling Areesha that men only stray for a reason.  This is, yet again, an example of a man displaying inappropriate behavior and a woman just having to put up with it, because – what exactly?  If Armaan and Areesha cannot get along, then Armaan should leave her.  But the fact that this character tries to excuse cheating on his pregnant wife because of her character flaws – this is not okay and is yet another part of the plot that leaves viewers scratching their heads. 
Unfortunately, Jo Tou Chahay suffers from a lot more than just a title-change halfway through (Initially titled Kun Faya Kun).  It also suffers from nonsensical characters and – even worse – the complete lack of a path.  What is this show about?  What is the message?  What is the point?  That's unclear and, unfortunately after 32 episodes, it's unlikely that this show will manage to pull it together to redeem itself.