Celebrities
Jennifer Lopez Is Swaying Women Into Pole Dancing As Fitness Routine
Jennifer Lopez, after her much raved about Super Bowl halftime show, is inspiring women to take up Pole dancing as a fitness routine
She surely gave us goosebumps with her jaw-dropping performance in Superbowl halftime show. Our hearts skipped few beats while she effortlessly pulled off gravity-defying pole dancing stint while belting out her hit numbers. And while the Hustlers star was enthralling her audience with her flawless moves and beautiful voice, we couldn't help but imagine what makes her literally flawless, without even a hint of showing five decades of living. Featuring pole dancing on such a mainstream platform could also be an indication of its recent surge in popularity. Lopez first began pole dancing while prepping for her role as Ramona in Hollywood blockbuster The Hustlers and now a growing number of people are turning towards pole dancing as a form of fitness routine.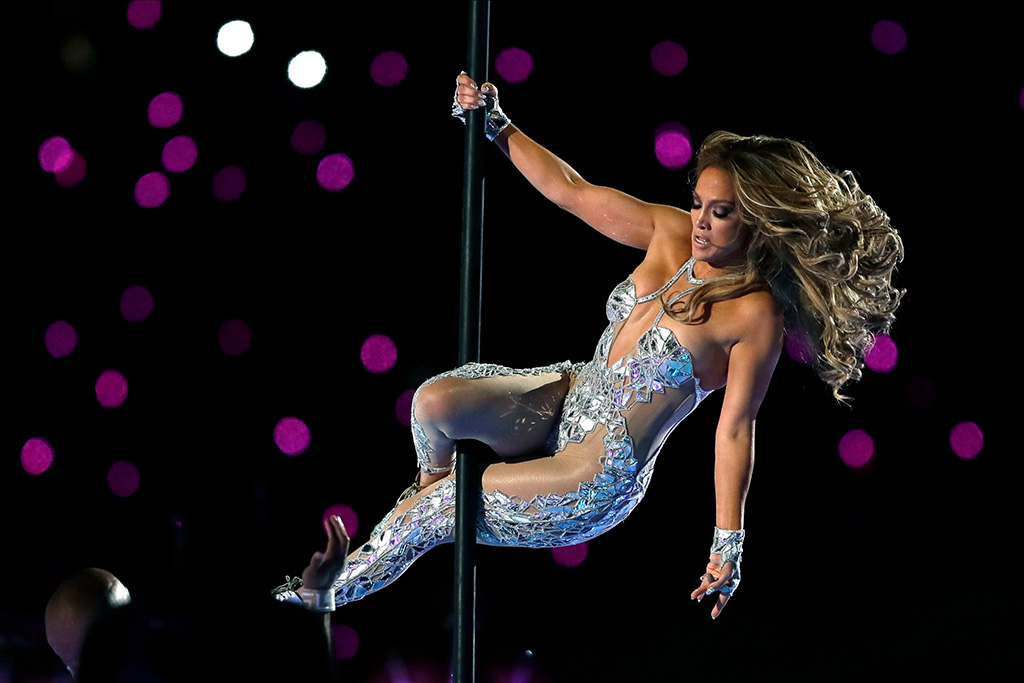 Jennifer Lopez pole dancing at the Superbowl 2020
Pole Fitness And its Amazing Benefits:
Pole fitness has been surging high for all its varied health benefits. pole dancing is a medium-high intensity form of exercises that targets large and small muscle groups all over your body.  Let us guide you through it to know more about the Pole fitness routine.
1.    It Strengthens Every Muscle In The Body:
For fitness lovers who want to strengthen and not skinny, pole dancing might be the best option for you. It literally strengthens every muscle in your body. Unlike other workouts that use weights to gain muscles, in pole dancing, you use complete bodyweight to develop the muscles. Pole dancers gain upper body strength incredibly quickly but with advanced tricks, your whole body sees the impact especially the core.
2.    It's A Complete Body Workout:
Pole fitness is a complete body workout that offers a unique way to combine dance, athleticism, movement, and acrobatics. There's a huge range of exercises and moves which work your whole body together, not as isolated movements. Not only are you using your own bodyweight to build strength as you spin, climb and invert on the pole, but pole lifts, climbs, spins and static moves are fantastic for resistance training. And as you link moves together into routines, you'll get fantastic cardio work out too.
3.    It Helps In Losing Weight Quickly:
Probably why the popularity of Pole dancing in fitness circuits is soaring high is because it helps in losing weight quickly. An hour of pole dancing burns 250 calories that is exactly similar to losing weight in the gym. As you learn more advanced and challenging moves, you get to work out more muscle groups and get to burn more fats in those areas.
4.    Reduces Stress And Anxiety:
Alongside this newfound body confidence, the endorphins released by exercise will reduce your overall stress levels. If you do have a stressful day, a hardcore pole workout is a great way to relieve stress! This is because adrenaline builds up when we get stressed. A good workout session using the pole will work every muscle in your body such a perfect way to release all of that extra adrenaline. You'll definitely be in a calmer state of mind after your pole dance workout.
5.    Boosts Confidence:
Probably it has got to do with moves that play a major role in pole fitness, confidence building becomes a given. It is predominantly the confidence you gain from learning a new skill and the gradual toning of your body brings about positive changes both to your mental and physical outlook.
If you are looking for a more long term way of keeping healthy, but you hate going to the gym then pole dancing is a dynamic sport that challenges all parts of your body in a lesser space of time.