Celebrities
Jennifer Aniston Reveals Rachel And Ross' Current Relationship Status
Jennifer Aniston recently joined Instagram and garnered a million followers in a matter of a few minutes, breaking the last record
Hollywood star and fans' favourite, Jennifer Aniston also popularly known as Rachel Green from the hit TV series Friends, recently joined Instagram. Fans couldn't be more ecstatic as the first image she shared was that of her co-stars from Friends, Courteney Cox, Lisa Kudrow, Matt LeBlanc, Matthew Perry and David Schwimmer. She had also very aptly captioned the photo, "And now we're Instagram Friends too. Hi Instagram." However, fans didn't notice her account till she commented on one of Matt's photo saying, "You don't have to # me anymore." And that's what got the ball rolling.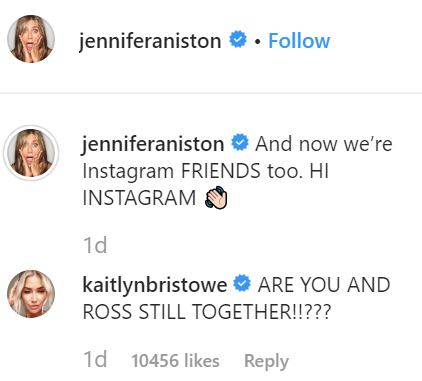 While many flocked to like the actress' first post on the social media platform, some even asked her about the state of her character, Rachel and David's Ross Geller's relationship status. The final episode of the show saw the two characters finally reunite after 10-years of on again off again relationship. Under the comments section of Jennifer's post, Bachelorette star Kaitlyn Bristowe asked if Rachel and Ross were still together. Jennifer replied to her saying, "Well, we're on a break." - taking cue from the show's season 3 episode titled, The One Where Ross and Rachel Take A Break. Looks like that's cleared up for fans.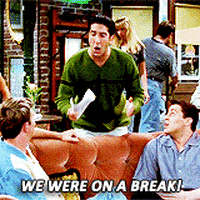 After making her debut on Instagram just 2 days ago, Jennifer has already gotten about over 11 million followers. She also broke the Guinness World Record of world's fastest one million followers on the internet. Jennifer's character Rachel from Friends was famous for her candidness and drive. She evolved from an inexperienced daddy's girl to a strong career woman. Rachel Green's character was considered one of the key reasons for the show's pilot's success. Jennifer made the character immortal with her spontaneous acting and comic timing. Till now Rachel's style is followed by young girls around the globe.