Celebrities
Jennifer Aniston brings her dog to work and everyone is melting
Jennifer Aniston is known for her iconic role Rachel in the famous television show Friends. She is also famous for her quirky sense of humor.
Jennifer Aniston, the famous Rachel from Friends, recently shared a picture with her dog Clyde as she walked towards work. Jennifer Aniston flaunted her well-toned legs in a printed and fitted pink dress as California sun shone brightly on her. Jennifer Aniston also shared a selfie with silver-haired Clyde with the caption, 'Girl's best friend... bring Clyde to work day.' Hence, it's not diamond is not a girl's best friend but a dog that will always love her.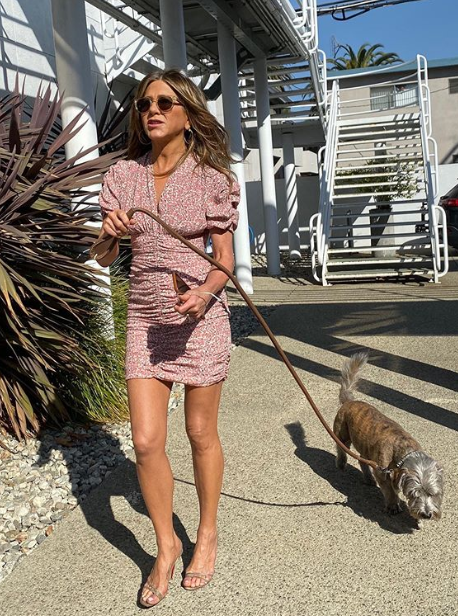 Jennifer Aniston and her dog Clyde, picture credit Jennifer Aniston's Instagram
It is important to remember that Jeniffer Aniston is one of those people who made a record of having the greatest number of followers as soon as they joined the internet. Since Jennifer Aniston seems to be loving her Insta game and posting every now and then, everyone is looking forward to her posts. Needless to say, as soon as Jennifer Aniston posted the adorable pictures, the internet MELTED! Jennifer's ex, Justin Theroux also commented on it. That's how cute the dog was.
Jennifer Aniston's ex Justin Theroux also commented on Clyde and Jennifer's photo
While a lot has been said about Jennifer Aniston gaining followers in no time of joining the Instagram, it is important to mention that Jennifer Aniston made a Guinness world record with her smashing entry to the world of Instagram. She broke Pope's record of having the fastest one million followers mark reached by any celebrity. Her Instagram profile, in which she has described her in one sentence 'My friends call me Jen' , has over 19.2 million followers at the time of writing.
Jennifer Aniston will always be the Rachel from Friends no matter where she goes and what she does. Although she did many films and other projects after it, her fans still associate with the twenty-five-year-old sitcom. Although she did a great deal of work after Friends, her identity has always been Friends. She was recently awarded People's Choice Award and her acceptance speech brought tears to many eyes. She reflected not only on her career but also on 'the iconic show, with an iconic cast, and an iconic haircut.' Jennifer Aniston's character Rachel was known for its style sense and haircuts. No wonder why Ralph Lauren dedicated a capsule collection to Rachel.