Bollywood News
Javed Akhtar Pen, An Exhibition and a Theme Party – All About Javed Akhtar's Big 75th Birthday Plans
Shabana Azmi is planning a massive party for Javed Akhtar's 75th birthday that will include a lot of events over a week-long celebration
Shabana Azmi is  currently in  Budapest  shooting for Steven Spielberg's web series. But the acclaimed actress' heart is clearly in Mumbai  where  in absentia, she's orchestrating a week-long birthday celebration  for her beloved Jadu aka Javed Akhtar.
Javed Akhtar turns 75 on January 17.
Masala.com has managed to find out all the events planned for  the occasion. Huge celebrations have been planned for Javed Akhtar's Platinum Jubilee. Firstly there is  "The World of Javed Akhtar" - an exhibition of photographs, posters and paintings curated by Pradeep Chandra and SMM Ausaja. This will be inaugurated by Zoya and Farhan Akhtar. The Date: January 15.Time: 5:30 pm. Venue: Nehru Art Centre . In addition, Abhishek Haritwal and Symmetry will launch a limited edition of  The Javed Akhtar Pen.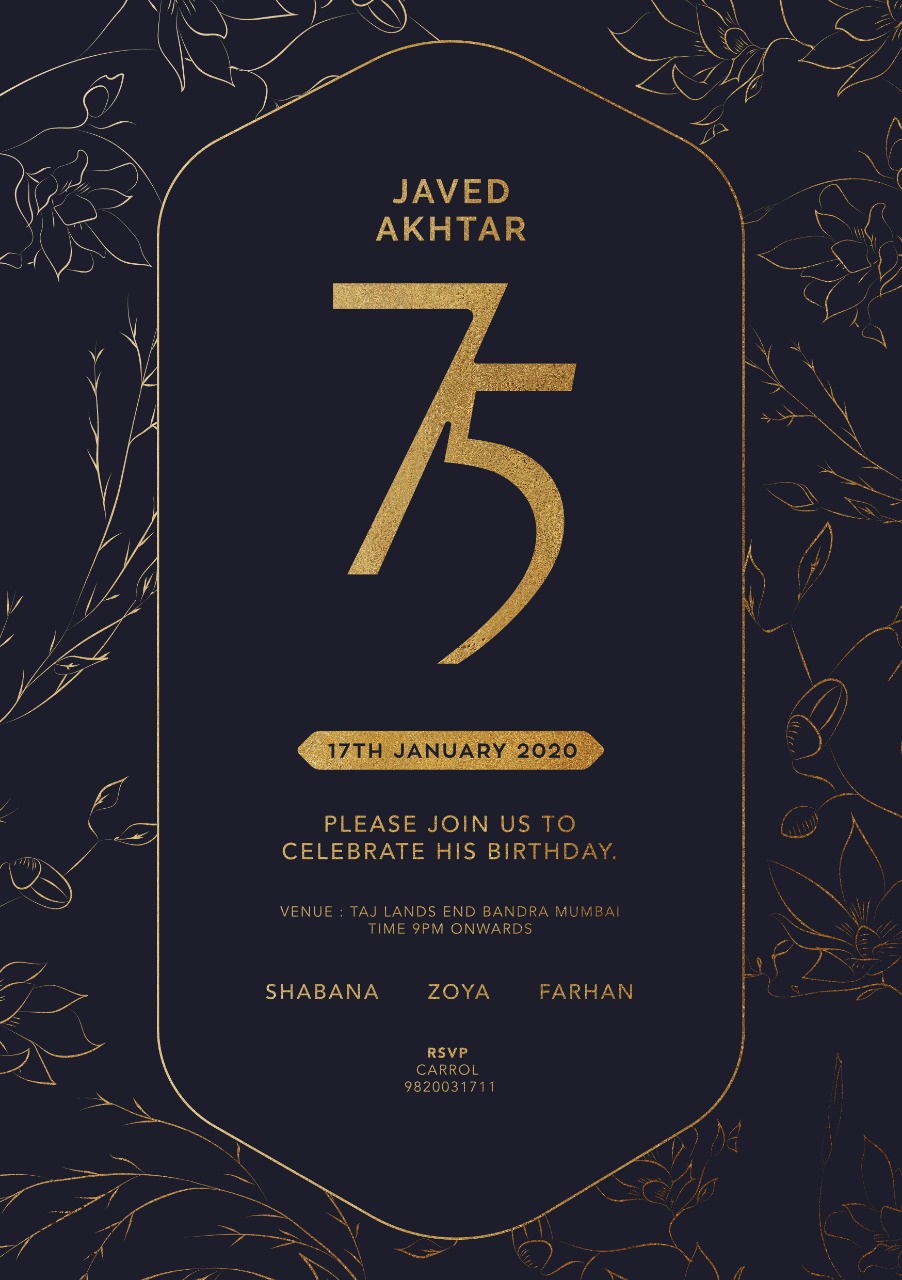 This will be followed by an interactive dialogue with  Javed Saab under the title 'A Pen Can Create History, a Conversation Can Create Memories…Looking back Looking Forward….Javed Akhtar in conversation with Nasreen Munni Kabir'.
Then on January 15 at 6.30 pm, Nehru Art Centre, an exhibition of writings, artifacts and memorabilia, related to Javed Saab will be open to the public 16-20th Jan 2020 from 11am to 7 pm.
On 16th Jan, a 1970s' Bollywood theme private party is being planned by Shabana, Farhan and Zoya for family and very close friends at home. Frantic costume fittings and hairstyles are being tried to win the prize for best look.
Finally, on 17th January, a big party with the film world's who's who at Taj Lands End hosted by Shabana Zoya and Farhan.