Bollywood News
Jacqueline Fernandez's Epic Comment on Farah Khan's Throwback Picture is Super Lolworthy
Jacqueline Fernandez left an epic comment on Farah Khan's throwback pic seriously made us lol. Farah Khan posted a picture of herself dancing with Hemu Sinha in a Dirty Dancing pose and asked if anyone could pick her up today
Jacqueline Fernandez is one sassy gal. Not only is she gorgeous and multi-talented (great dancer, super fit!), her recent comment on Farah Khan's photo has us in fits. Farah Khan, who has long been related to the film industry posted this picture on her Instagram where she is being lifted up by 'Hemu'. In a Dirty Dancing homage where she and Hemu Sinha are recreating the iconic dance from Patrick Swayze and Jennifer Grey. Hemu Sinha used to be Farah Khan's dancing partner in the 80s.
When she posted the picture she got a lot of likes and also got a heart from Sweta Bachchan. Aditi Rao Hydari and Shilpa Shetty Kundra also sent out heart emojis but it was Jacqueline Fernandez who got us laughing.
Patrick Swayze and Jennifer Grey in Dirty Dancing
"Dare someone to try this lift with me today," Farah had posted, adding "retrotuesday #dirtydancing #hemusinha". Sanjay Kapoor's wife, Maheep Kapoor added, " Call me when someone does try ! I want see!"
Jacqueline Fernandez commented, "I'll do it, I carried John Abraham once". LOL.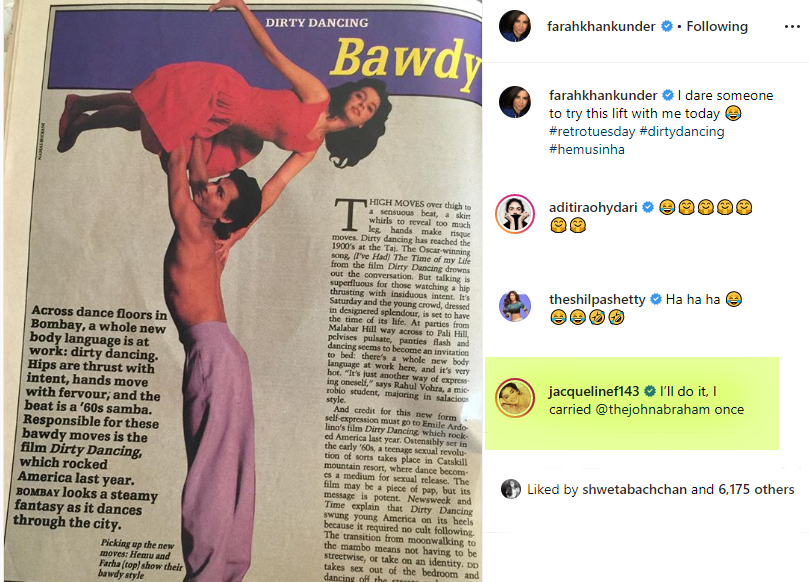 Jacqueline Fernandez's hilarious comment on Farah's pic
When Jackie Picked John:
Jacqueline Fernandez had picked up John Abraham in a promotional activity for their film Dhishoom three years ago. It was a public activity where Varun Dhawan had also been challenged to pick up John. John had said to the crowd that he weighed 94kg. Varun then passed the challenge to Jacqueline who picked up John after wrapping her arms around John.
Jacqueline Fernandez picks up John Abraham during Dhishoom promotions
We knew Jacqueline was fit but wow. Also, we're definitely rooting on Jacqueline to pick up Farah Patrick Swayze style.
On the work front, John Abraham would soon be seen in Batla House releasing on August 15. He was recently seen in the spy thriller Romeo Akbar Walter. Jacqueline Fernandez will soon be seen in Mrs. Serial Killer which Farah Khan's husband Shirish Kunder is producing. She was seen as Jessica Gomes in Salman Khan's Race 3. She was all set to appear in Karan Johar's Drive with Sushant Singh Rajput but the film has reportedly been pushed to 2020.