Bollywood News
Jacqueline Fernandez Becomes First Female Celebrity To Make It To a Commercial at Kingdom of Saudi Arabia Airport
Jacqueline Fernandez's image of promoting KSA tourism has been going viral on social media. She has shot for the ad 'Hala KSA'! Read on for full story
Actor Jacqueline Fernandez has been making waves world over. In interesting news, Jacqueline has become the first female celebrity to get visibility at the Kingdom of Saudi Arabia (KSA) airport, meaning one of her commercials has now been put up there. An image that has been going viral on social media shows Jackie promoting Hala KSA in an advertisement displayed on one of their screens. Jacqueline enjoys a strong fan following on all social media platforms and has several followers on Instagram, Twitter and her YouTube channel. Saudi Arabia has recently begun offering visas for the first time to non-Muslim tourists.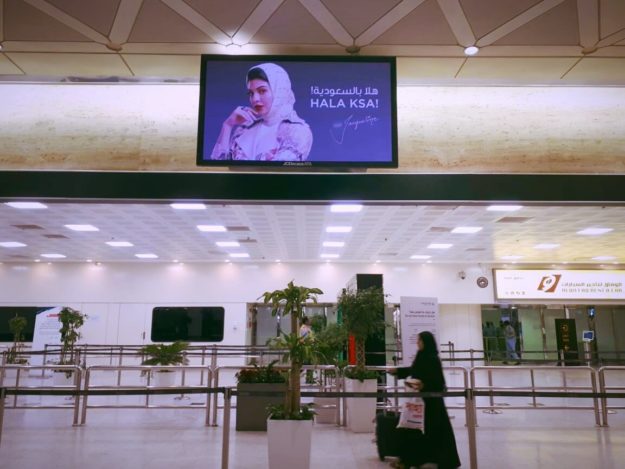 She recently released her YouTube channel and nearly 264k people have subscribed to it and there have been more than one million views for all her videos to date. The starlet recently completed shooting for a song from her upcoming film Drive. She revealed that she was extremely unwell while filming. Jacqueline disclosed that she was so drained that she fainted on the sets of the Netflix project, which also stars Bollywood actor Sushant Singh Rajput. "At the time I was right in the middle of shooting for a lot of projects. I had an injured leg and I had to fit in all these rehearsals," she said.
Jacqueline continued, "The rehearsals required me to dance in pretty high heels and my knees both went for a toss." Jacqueline was shooting for the action sequence and gearing up for the dance number at the same time. However, the busy schedule affected her health greatly. She will also be seen in another upcoming project titled Ms. Serial Killer and has already begun working on the Netflix project.  Jacqueline is also ready to appear on the big screen in Kick 2 and recreate her sizzling chemistry with Bollywood superstar Salman Khan.