Bollywood News
"It is a Pleasure Being Beaten up by Rajinikanth": Akshay Kumar
The superstar speaks about Padman and his upcoming film 2.0!
Akshay Kumar is currently popular for making films on social issues -- be it a topic on rescuing Indians during the Gulf War or taking up an issue like open defecation (in his film Toilet Ek Prem Katha). The Khiladi Kumar has now touched the most sensitive issue of Menstrual hygiene through his film Padman based on the life of Arunachalam Muruganathan. The actor says he is not here to preach about certain issues but says that he is making the audience aware of topics which are not otherwise spoken about freely.
Here the star speaks about his journey, his movies, Padman and his honest intentions.
How do you look back on your journey, you completed  27 years in the industry, done more than 100 films and received a  National Award recently?
My journey so far has been amazing. I have been a lucky man. My journey has had a lot of ups and downs but it has been lovely and enjoyable and I have no regrets.
How have you managed to sustain so long in the competitive industry?
The trick is that I have constantly reinvented myself. I did a lot of action films previously, because of which, producers and directors did not offer me any other kind of roles. I had started feeling that I was not capable of doing anything more than action.  At that time I did a film called Hera Pheri. I played a comic character and I didn't have an actress opposite me in the film and from that day I started testing my ground. Priyadarshan was kind enough to give me that role. I started experimenting and taking up different roles which meant even doing a negative character in Ajnabee. Then I went on to try out romantic roles with films like Dhadkan and Ek Rishta. It was way back then that I first did a film with a social subject. It was titled Khatta Meetha, and was based on corruption on road construction. The film didn't do well at that time, but if I release it now I am sure people would love it.
Let me tell you of an incident. I was travelling by my car and sitting in the back seat. A cop stopped us and told my driver to show our papers. He wanted to know if we had paid road tax. I poked my head out and told the police man and said "show me where the road is? He started laughing.
You have constantly worked with new directors, what keeps your faith in them?
I have worked with 22 new directors and around 17 debutant heroines.  I enjoy doing films with new directors. Whenever I listen to their narration, I see the greed in them to tell their story through their films. They are all charged up. That is what I honestly love. That is what an actor looks for in creativity. My ratio success with new directors has been much better than with the ones I have worked in the past.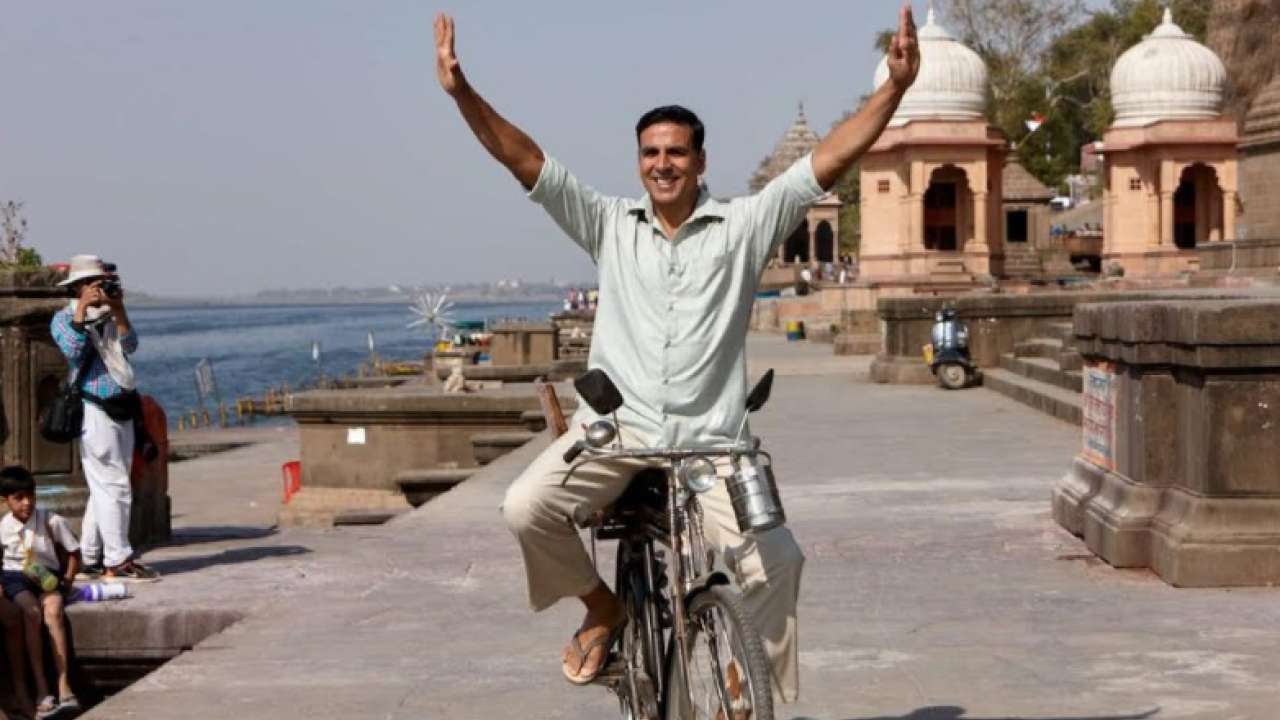 You have been known for your discipline on the professional front, when did you develop it?
My dad was in the Army and he was a wrestler and later on (employed) in UNICEF and hence I have always been disciplined as a kid.  He never stopped me from doing anything. I got so much freedom that I didn't feel like exploring further.
Why did a subject like Menstruation interest you?
I didn't know much about it when I was growing up.  My mother or sister never discussed it in front of me. I was 15 when I first learnt about it.  I had seen a sanitary pad  but never touched it until a year ago. But in the last two years I have realised that menstrual hygiene is a huge issue in our country.  I realised the depth of the issue only two years ago when my wife explained the seriousness of it to me.  82% women don't know how to maintain hygiene, they use mud, ash and leaves to stop the bleeding. They cannot enter kitchen or the temple during that time.  They are also not allowed to touch anything and are asked to sit in a separate corner, which is really sad. However, now, men have started talking about pads. That was when I realised that we have to make a movie on this topic, and we met Arunachal Muruganathan. I came to know how much he cared for his wife and he invented a machine, that cost only Rs.60,000 to make sanitary napkins.
How much change will the film on Padman bring about globally?
Even Hollywood has not made a film on this topic yet. They've made movies on condoms and sperms. It's a global taboo subject where 82 percent of women don't use sanitary pads, simply because they can't afford it. They suffer illnesses like cervical cancer. Everything is so hush hush in our society, and I think it's high time we spoke about it openly. It should be understood that it's a natural process that helps a woman give birth to a kid.  When I made Toilet Ek Prem Katha a love story it brought about a change.  It gave reasons why they should build a toilet for their mother or wives.  When I did Padman men are discussing about it on social platform and that itself is a victory for me I don't care whether the film does well or not or what business it does. 
Any incident you can recall during shooting?
I was shooting with local actors. For two days they shot with me very nicely and then there was a scene where they were asked to hold a sanitary pad in their hand. They didn't say anything and ran away from there when we called for them they said they will not hold a sanitary pad in their hands as it is a grave sin.
Do you feel that the government should abolish GST rates on Sanitary napkins?
It's not the need of the hour. It's the need of everyday and every country. I am talking about something deeper. I want it to be distributed free of cost.
Do you think films like this make an impact on the audience?
A film does create an impact. I was always aware that films make a huge impact but I didn't have the money to make such films. So when I had the money I started them.  If it is supported by the government it makes a greater impact, just like Toilet did.  I hope they understand this film and take it forward. I have been meeting and understanding women who are affected by the issue.
What made you choose R Balki as the director of the film?
He's sensitive, creative and sensible, even in the way he writes and directors.  I could not give the topic to a frivolous director. I wanted to make a sensitive film. It's a simple story with the biggest love story too, about a man who feels for his wife's hygiene. He could not understand why she is not buying sanitary pads. He could not understand why she is saving the money to buy food for her family.  She will not eat a morsel but will feed her family first.  The concept of sacrifice came from the Hindi films.
Any other issues you want to tackle in your future films?
I am doing Housefull next. I want to do different kind of movies.  I am not here to do only social issue based films. I want to entertain people.  However, I have come to understand that if the films are entertaining the impact of the issues is much larger.  Look at Toilet Ek Prem Katha, it has created a lot of change in the rural areas.  The government has done a lot for Toilets. These days instead of showing documentaries they are showing my movies. They are biopic films but done in a commercial space. I am not her to make a documentary. I am making a film with song, dance, romance and fights. Open Defecation was 66 percent before we made the film. Now it is 33 percent. I got these stories when I met different people. When I had been to Pune recently for promotion of the movie I met an interesting man and I liked his story.  I will call him and make it  into a film someday.
Do you think being a superstar creates more impact on such issues?
It does have an impact but you have to do it seriously.  I am playing a villain in my next film but that does not mean that you have to  turn negative in real life.
It's First time a Bollywood actor doing a south film?
It is a pleasure being beaten up by Rajnikant.
Will there ever be a biopic on Rajesh Khanna or do you want to make a biopic on your life?
The family does not want that. Their father is father and they don't want it.  I am not interested in making a film on my life.