Bollywood News
Is Kangana Ranaut's Sister Blaming Hrithik Roshan for her CDR Scandal?
Rangoli Chandel strikes again!
Kangana Ranaut's sister Rangoli Chandel, was lying low, but that was only until someone decided to mess with her sister. In the midst of the CDR (call detail record) scam, that Kangana is currently embroiled in, Rangoli released a rather cryptic tweet that clearly points fingers to a certain celebrity who according to her is responsible for what's happening.
Kangana was questioned by authorities for giving illegally procured details of Hrithik's call records, to advocate Rizwan Siddiquee during their feud in the past. While Rangoli and Kangana both trashed the authorities for 'baseless assumptions', it seems like the sisters have decided to raise their voice louder. While the investigators hoped to get as much information from Rizwan, who was in their custody since the past few days, the celebrity lawyer refused to reveal anything about his clients.
Following his released today, something rather unusual happened! Both Rizwan Siddiquee and Kangana's sister Rangoli, put out tweets where they indirectly blamed Hrithik for dragging Kangana into this scam.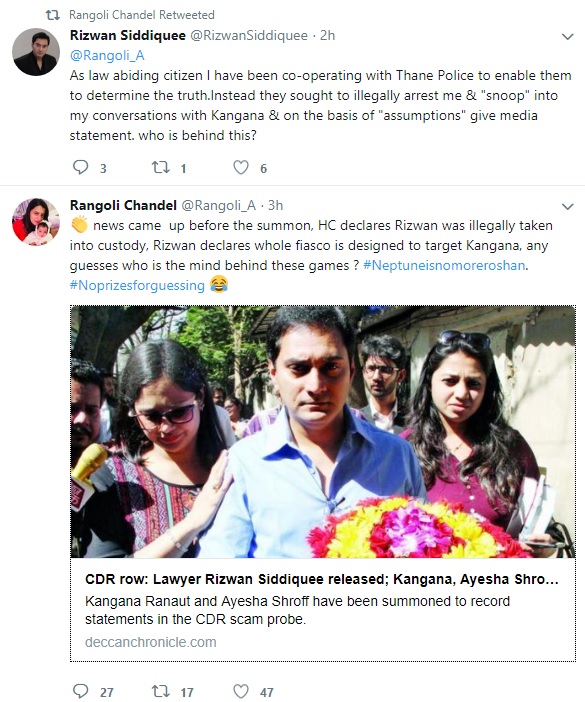 One glance at both the tweets and it's easy to understand who they're speaking about. Upon being released, Rizwan revealed the whole fiasco was created to target Kangana, and Kangana was soon to point a finger at the only person who would stand to gain from the negative light on Ms. Ranaut. The hashtag #Neptuneisnomoreroshan directly shines the spotlight on Hrithik, who she assumes is behind all this.
What do you think? Can Hrithik be behind this, or is Rangoli simply blaming the superstar?