Celebrities
Iran Plane Crash: Boeing 737 Jet Crashes Near Tehran Killing Everyone on Board
Iranian news agencies have reported that a Ukrainian passenger plane crashed in Tehran, shortly after takeoff, killing everyone on board.
A Boeing 737 plane, bound for Ukraine's capital Kiev, crashed in Iran shortly after take off on Wednesday morning at 6:22 am local time. According to Iran's Fars News Agency, the passenger plane, belonging to Ukraine International Airlines, crashed due to technical problems, encountered a few minutes after take off from the Imam Khomeini International Airport in Tehran. Website flightradar24 revealed the tracking of the flight had ended after six minutes, at about 8,000 feet and at a groundspeed of 275 knots (316 miles-per-hour).
#Breaking First footage of the Ukrainian airplane while on fire falling near #Tehran pic.twitter.com/kGxnBb7f1q

— Ali Hashem علي هاشم (@alihashem_tv) 8 January 2020
There were around 170-180 people on board, who have all been killed, according to the reports. Head of Iran's Emergency Services, Pirhossein Koulivand told state television channel, "We may be able to save some passengers." However, Iran's Red Crescent later said there was no chance of finding survivors.
An investigation team has reached the site of the crash and rescuers are trying to collect the remains. Civil Aviation Spokesman Reza Jafarzadeh said, "After taking off from Imam Khomeini International Airport, it crashed between Parand and Shahriar. An investigation team from the national aviation department was dispatched to the location after the news was announced."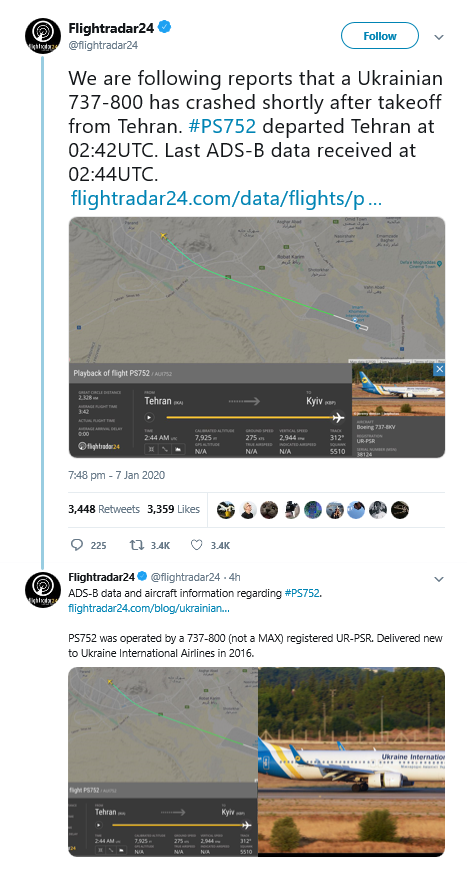 In a statement by Boeing Co., spokesperson Gordon Johndroe said, "We are aware of the media reports out of Iran and we are gathering more information." The US manufacturer is already in crisis due to crashes in October 2018 and March 2019, which killed nearly 350 people. Those crashes involved the 737 Max jet, which has been grounded globally for ten months. However, the 737-800 hasn't been grounded. As per international laws, Iran would be leading the investigation for this incident. According to the rules, the country where the plane was manufactured can also be involved in the investigations. However, Iran's current political turmoil with the US may complicate this process.