Iqra Aziz and Yasir Hussain's Engagement at Lux Style Awards 2019 – Scripted, Spontaneous or Simply Sweet?
Iqra Aziz and Yasir Hussain recently got engaged at Lux Style Awards 2019 and everyone had a lot to say about it. Check out all of the various reactions social media had below
For many months now, Yasir Hussain and Iqra Aziz have been dominating social media waves about their relationship. At first, they appeared to be hanging out as friends, but as their pictures and videos grew, audiences began to assume the obvious: oh, they're together. Cool. Yasir Hussain who is a noted comedian, actor and talk show host, later landed in the hot water over some transphobic comments on one of his instastories and girlfriend Iqra Aziz, celebrated and critically acclaimed television actress, came to his defence. Confirmed. The couple recently got engaged in what was one of the most public ceremonies and here's what happened.
At Lux Style Awards 2019 on July 7 at the Karachi Expo Centre, Iqra Aziz won awards for Suno Chanda as the Popular Choice as well as Critics' Choice Award. Yasir, at one point in the show, asked Frieha Altaf, the showrunner, to 'play the song'. Frieha played 'Happy Birthday to You' to which Yasir quipped, 'Hey not this one, another one'. And subsequently a romantic ballad began playing. Yasir went down from the stage, the screen cameras zoomed at Iqra. She seemed slightly flabbergasted but Yasir came down, sat on one knee and proposed to Iqra. Iqra continued looking astounded for a moment, said yes. Yasir kissed her as she began crying. The camera zoomed in on the happy couple and since then social media continues to be in a furore over this. Here are three main hot takes on the event:
The Ultra Conservative:
The Ghairat Brigade, as we call them, went quite ballistic on Yasir Hussain kissing Iqra. They found it 'disgusting' and morally reprehensible.



But…
In a country where women are killed in the name of honor, isn't it great that a man is happily portraying his love for a woman so publicly?
The Feminist Viewpoint:
When Yasir proposed to Iqra, he called this her 'third award' which meant that he was referring to the first two awards that Iqra had already picked up. Many felt that this was misogynist and a way to sabotage Iqra's own achievements and her own career. Some also felt that Iqra is just too young to get married.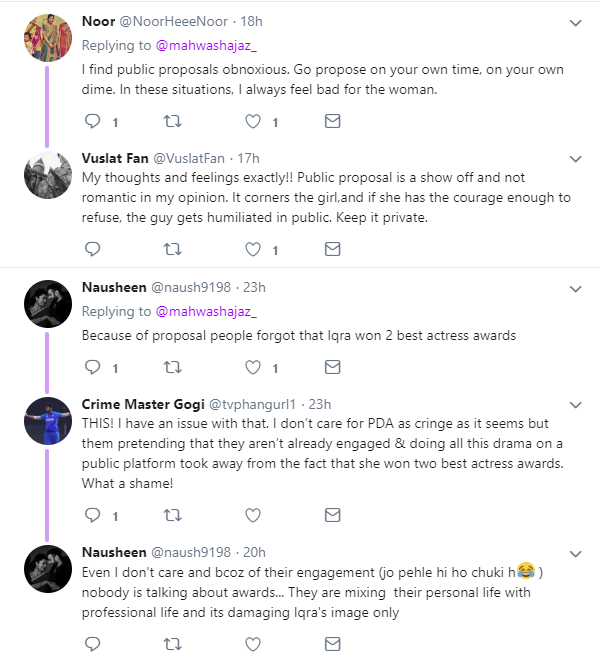 But…
Marriage shouldn't take away from any woman's achievements. If you find someone who loves you, supports you and helps you become a better version of yourself, love is love.
The Cynic:
Various individuals felt that the whole stunt was orchestrated and planted and planned way before. It was called a PR stunt and done simply for the sake of being in the buzz.









But…
What if it was all real? And we're too jaded to see it?
Let's make love. Not war. Eh?
While there is much to be said about the 'impromptu nature' of the proposal (I guess I'm a cynic) but the moral brigade's outrage is fun to watch because of how 'prevalent' PDAs have been. A long time ago, a social activist in Karachi, named Sabeen Mahmud, who was shot by fanatics in the city, had held up a slogan that said, 'Faasla Mat Rakhiye, Pyaar Honay Dijiey' (don't keep distance, let love happen). While we can always talk about how celebrities use platforms such as award shows to gain mileage for whatever they do, we can always talk about the couple's problematic comments in the past and how we hope they learn to be better in their language, for the time being we can all wish them happiness and good luck for the future. PR stunt or not, love is always sweet when celebrated.
In an inherently patriarchal mindset, where men aren't celebrated for expressing kindness and affection, Yasir's open display of love for Iqra offers a welcome offset to the prevalent toxic masculinity. Iqra Aziz is a phenomenally talented actress and she has much to achieve in her life and we can only hope that Yasir supports her and loves her for the many years to come.