Bollywood News
#IndiaStrikes: Mixed Reaction from Pakistani Celebs as Bollywood Celebs Go All Out
As India Strikes Pakistan, the reaction from Pakistani celebs has been mixed whereas Bollywood celebs have gone all out in expressing solidarity for their troops and the action in Balakot
Bollywood celebs on social media have expressed solidarity for their troops while the reaction from Pakistan on the Indian strike on Pakistan has been mixed.
According to Reuters India, an Indian airstrike killed 300 suspected militants.
Muneeb Butt, the Pakistani actor, posted on his facebook lauding the Pakistani Army.

Whereas Pakistani-Canadian actress Armeena Khan said, "I'm watching SOME of these "Bollywood" acconts in dismay, glorifying war (people should take note) In the Ufture, these particular individuals shouldn't be allowed to preach peace to the world. Artists are supposed to be sane, pacifying voices. #theinternetneverforgets"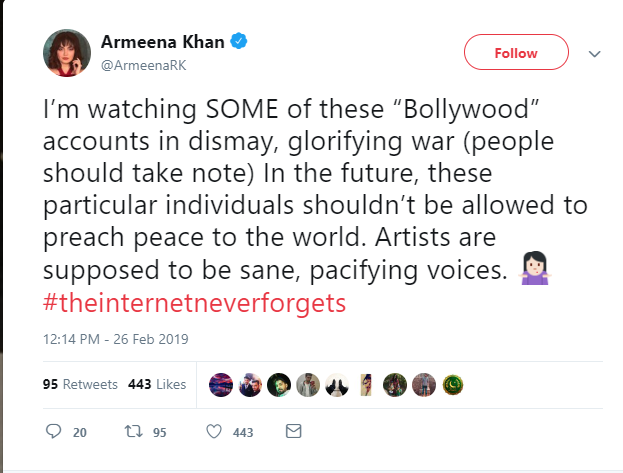 Pakistani director and filmmaker Nabeel Qureshi posted this image on his Facebook, laughing at the reports from Indian media.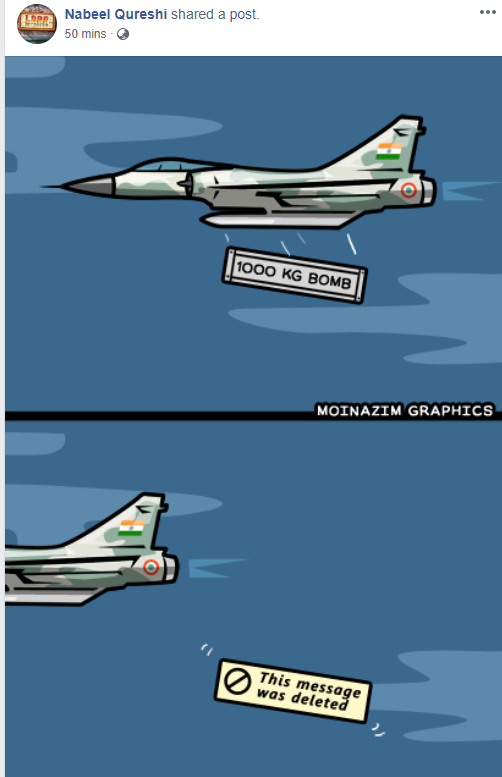 Pakistani actor and comedian Shafaat Ali also sarcastically commented on the airstrikes.

"Never knew they count caterpillars as militants," tweeted Shafaat while quoting a news article from Reuters India which said that the Indian air strike had killed 300 militants in Balakot.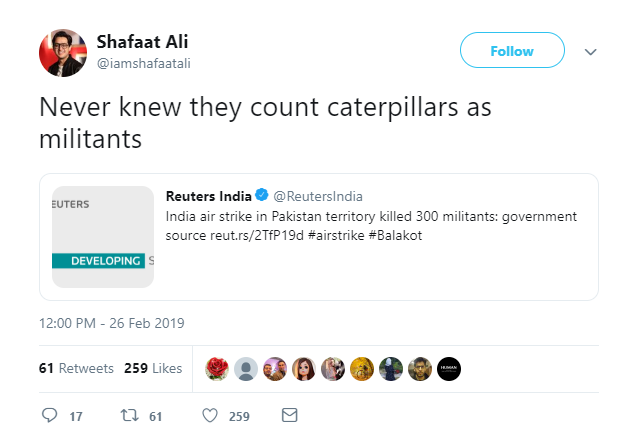 Largely, A-list Pakistani celebrities have chosen to stay mum and have not issued any statements, whether in the press or on social media, in response to the Balakot attack.
Indian twitter was filled with messages of support and applause to the Indian Air Force.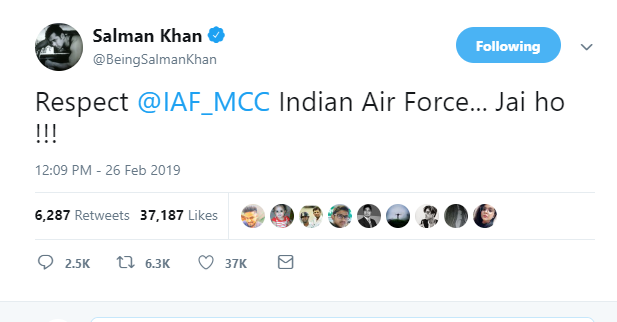 Pakistani actress, Mawra Hocane, retweeted Pakistani activist and writer, Fatima Bhutto, that said, "There is nothing uglier than people cheering for war".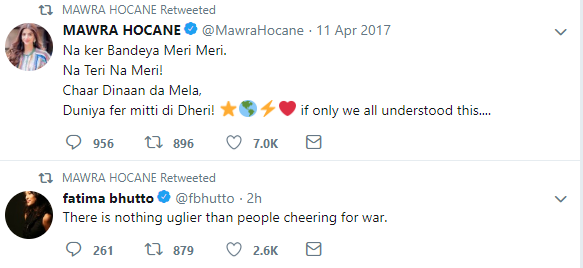 Actors such as Raveena Tandon, Abhishek Bachchan, Ajay Devgn, Varun Dhawan, Akshay Kumar and Salman Khan have lauded the attack by the Indian forces on Balakot. The attack comes in response to the death of 40 CRPF personnel in Pulwama where a suicide bomber had exploded into the convoy on February 14th this year. Many Bollywood actors had supported the ban on Pakistani artistes and had refused to release their films in Pakistan as well.