Bollywood News
'I'm a Big Fan of My Wife': Abhishek Bachchan
The ever-so-charming Abhishek Bachchan has a lot of plans up his sleeve. What's he so excited about? Masala! finds out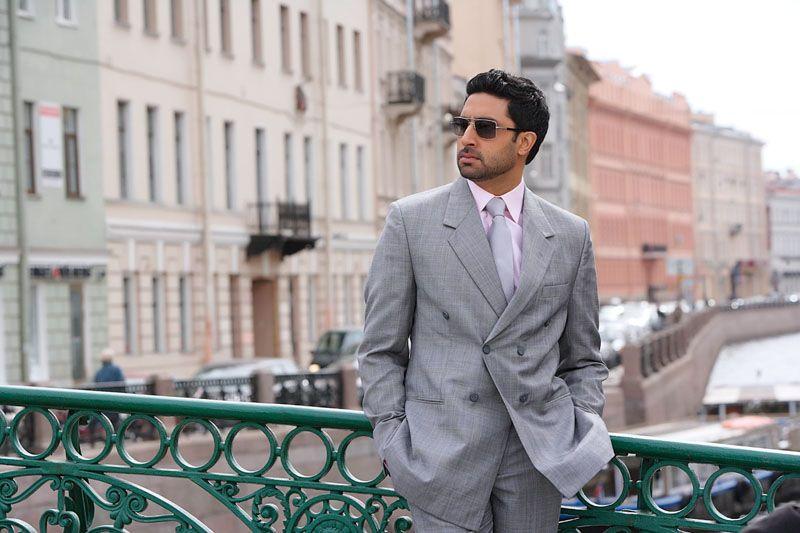 Stylish, confident and uber-sexy Abhishek Bachchan always makes for an interesting interviewee. He is proper and precise. He is polite and erudite (after all he is a Bachchan!) but he can also be outrageously funny. With Happy New Year's release, Bachchan Jr. is naturally excited. However, what he is more thrilled about are his sporting adventures. From Kabaddi to football, Abhishek has his hands full thanks to his involvement with the Pro Kabaddi league and Indian Super League (ISL). Sports have indeed become his favourite subject of late - excluding Ash and Aaradhya of course! Masala! has a heart to heart with the charming Bachchan on his lovely wife's comeback, films and the need to explore unchartered territories.
You were pretty excited in Kolkata during the launch of ISL recently...tell us more about it.
I was like... wow! It's a huge moment for Indian sports isn't it? And especially for Indian football. So I was very excited. I thought it was a great opening ceremony.
How does it feel to be a kabaddi and a football team owner?
Well, it was very emotionally rewarding when my team won the kabbadi league. Honestly, we didn't expect it. On paper, we were the weakest team but the boys just played brilliantly. I can't take any credit. It was completely theirs... they were fantastic. Now our next season starts in March. I am equally thrilled about the football league. I've been a lifelong soccer fan and I am very excited that I get the opportunity to be part of something that will hopefully change the face of Indian football. The opening ceremony was fantastic, the match was wonderful. I thought the quality and standard of the game was very good.
What was it like to work with Shah Rukh Khan in Happy New Year again? What is he like as a producer?
Awesome! He is a pleasure to work with. We had great fun during KANK (Kabhi Alvida Naa Kehna) and a lot of fun here too. As a producer, he isn't too kind to himself because he is rarely happy with what he gets; he wants everything to be bigger and better. However, he is a lot of fun and you also get to learn a lot from him because of his experience and attitude.
What is your opinion of Farah Khan as a director?
I joke around with Farah but she is someone I have a lot of respect for. After having worked with her, my respect for her has grown. She's very well-prepared, really on the ball. It can't be easy to make a film like Happy New Year with its lunatic characters; she has to ensure that its light-hearted tone isn't compromised. As a director she had to don several hats and pulled it off seamlessly. I am genuinely proud of the film, it's a great, quintessentially Bollywood film.
You have worked in multi-starrers as well as made special appearances. What makes you take up a project where you know the credit will be shared?
I do special appearances for friends. Ashwin Varde, the producer of The Shaukeens, called me and asked me for a soundbyte for the film. I immediately said yes. I do that for friends. After a point, you can't do everything for your career! (Makes a face) I have grown up here, these are my friends. You can't take yourself too seriously either, it gets terribly boring. When people request you to do cameos, they are not trying to ruin your career with one shot. That is what your career is built on. And when it comes to multi-starrers, a film is a film! You have to do films you believe in and those that excite you. If you are spending 100 to 150 days making a film you better enjoy it! You can never predict which films will do well and which ones won't but you can make sure the process of shooting is fun and that the film is one you want to do.
What have you learnt about yourself in these past 14 years?
In the past 14 years? I am quite resilient! (Laughs) I've learned that!
What was your experience of being featured on your dad Amitabh Bachchan's reality show, Kaun Banega Crorepati (KBC)?
As per KBC rules family members are not allowed to be in the hot seat. This time we played for the Prime Minister's relief fund. The team of Happy New Year went to raise money for flood victims in Jammu and Kashmir, Orissa, Meghalaya and Assam. So because it was for charity, they allowed us to participate.
How would you rate your performance?
We did very well, don't you think? We are very smart. Don't believe what people say about actors, they are highly intelligent souls (laughs out loud).
I call Boman (Irani) my 'phone-a-friend', friend. Whenever I am stuck, randomly in the middle of the night, I'll call him. I say, 'Boman what is the answer to this'... (He calls across the room to Boman to say, "Bomzi, I am saying nice things about you!" To which Boman replies, "You have no idea how I've been lying about you too!" (Followed by incessant laughter!)
Your wife Aishwarya Rai-Bachchan is finally making her comeback in Jazbaa. How do you feel?
She hasn't started shooting for the film yet. I think they will start shooting at the end of this year. I am very excited. I am huge fan of hers.
Do you think you will go on set with her?
I'd love to. If she allows me to, I'd love to. (Smiles)
What about your daughter Aaradhya; does she watch your movies?
She's too young... she's two-and-a-half... (Smiles)