Bollywood News
IIFA 2018: Pakistani Legend Nabila is the Official Hair and Make-up Partner at Bangkok
Nabila, the woman behind the famous 'Zero Make Up' palette will be doing the hair and make-up of nearly 400 people at IIFA this weekend
Pioneering stylist and make-up artiste Nabila has always been ahead of the curve, proved aptly by the success of her path-breaking make-up palette, Zero Make-up and her brands, NGents and the eponymous, Nabila. Now, she has gone where few Pakistani artistes have gone before – becoming the hair and make-up partner for the upcoming IIFA (Indian International Film Awards) at the Siam Niramit Theatre, Bangkok this weekend (June 21-24). Yes, in a huge coup, Nabila has been announced as the official hair and make-up partner after IIFA's 16 year association with MAC. What's more, this also will signal her entry into the Indian market – yes, her products will soon be launched in India soon, marking yet another milestone in a remarkable four decade old career known for celebrity makeovers and introduction of cutting-edge breakthroughs in hair and makeup.
But right now, the focus is on IIFA where she and her team of nearly 70 artistes will be providing in-room salon services for MIPs (Most Important People), an in-hotel salon for the VVIPs and a backstage salon for the dancing troupes, assistants and fashion segments. The IIFA's technical awards as well as some of the dances and fashion rock segments where designers collaborate with musicians are scheduled to take place on 22nd of June. The more mainstream awards and dances are slotted for the 24th of June. Nabila and her team will be collaborating with choreographers and designers while devising hair and makeup looks for the participants.
Ahead of her big gig at the largest and most glamorous awards function, Masala! chatted her up on trends, brands, celebrities and the art of reinvention…

Congratulations on becoming the hair and make-up partner for IIFA. How did it happen?
I am still dazed! A common friend put me in touch with Andre Timmins (Founder of Wizcraft, IIFA organiser). He asked me if I would be able to handle around 400 faces, including stars, dancers and musicians. Having done Lux Awards and fashion weeks galore, we are quite used to creating assembly line looks with army-like precision. Also, we have done a lot of trend videos and worked with top beauty brands. I was confident of handling it, only the geography changes!
What is the process that goes on behind such events?
There is a lot of preparation required. Designing the layout and flow at the backstage salon is very important. Trend-wise, I don't impose my vision, I look at what a star likes and then suggest how to take it forward. We have been working on the Lux Awards for the last 15 years and most Pakistani stars are very comfortable with us. We have more than 70 people from my team working for IIFA. To have uniform delivery, we need similar equipment and techniques. We have been studying the faces, skin, personality, colours and likes and dislikes of the celebs so that I don't suggest anything that they don't like. A lot of hard work goes on behind the scenes. 
What will be your biggest challenge at IIFA? 
When a door opens, it's easy to get your foot into it. But to be seen, respected, accepted and invited again is the real challenge. I would be more interested in getting it again next year. I want to show the world the difference between regular hair and make-up and hair and make-up with a vision. Vision mixed with science and technology gives magical results. More than results, I also want to enjoy the process; I hope it will be a great experience for me.
Which Indian celebrities have you worked with so far?
We have worked with only those celebs who have visited Pakistan. Like Shabana Azmi and Pooja Bhatt who had come to Pakistan for work a few years ago.
Is there a difference in styling and make-up between Bollywood and Lollywood celebrities?
Yes. Indian celebrities are really fit and have amazing bodies. Their style is a bit more glamorous and over the top than those of Pakistani celebs.
Which Bollywood actress' style impresses you the most?
I like Deepika Padukone. I really wanted to try my Zero Make-up with Her. I remember this movie Bajirao Mastani where she looked lovely despite opting for very natural make-up. The look I love can be described in simple words – correct, don't cover. It should look effortless even if glamorous.
What is the ideal red carpet look for an actress?
There is no ideal look as such but I feel it should be well thought out. Red carpet is a prestigious moment for an actor or actress, they are in the limelight and are expected to set trends. My advice is: have your individual touch. It takes a lot to know what your personal style is. It needs to be larger-than-life yet elegant and classic. When I watch it 20 years later, I should feel it was done in style. It should be timeless and effortless.
How do you rate the looks of our top actresses – Deepika, Aishwarya, Priyanka and Mahira – at the most talked-about events like the Met Gala, Royal Wedding and Cannes?
I am not a fan of Aishwarya's style at Cannes. She is such a gorgeous woman, how does she go so wrong and that too repeatedly? Priyanka's Ralph Lauren dress at the Met Gala was amazing. I love Deepika too, she was effortless. Mahira Khan did well, she was safe and didn't goof up. Though, if you are in that position, I would go all out. I would make a statement and get it right.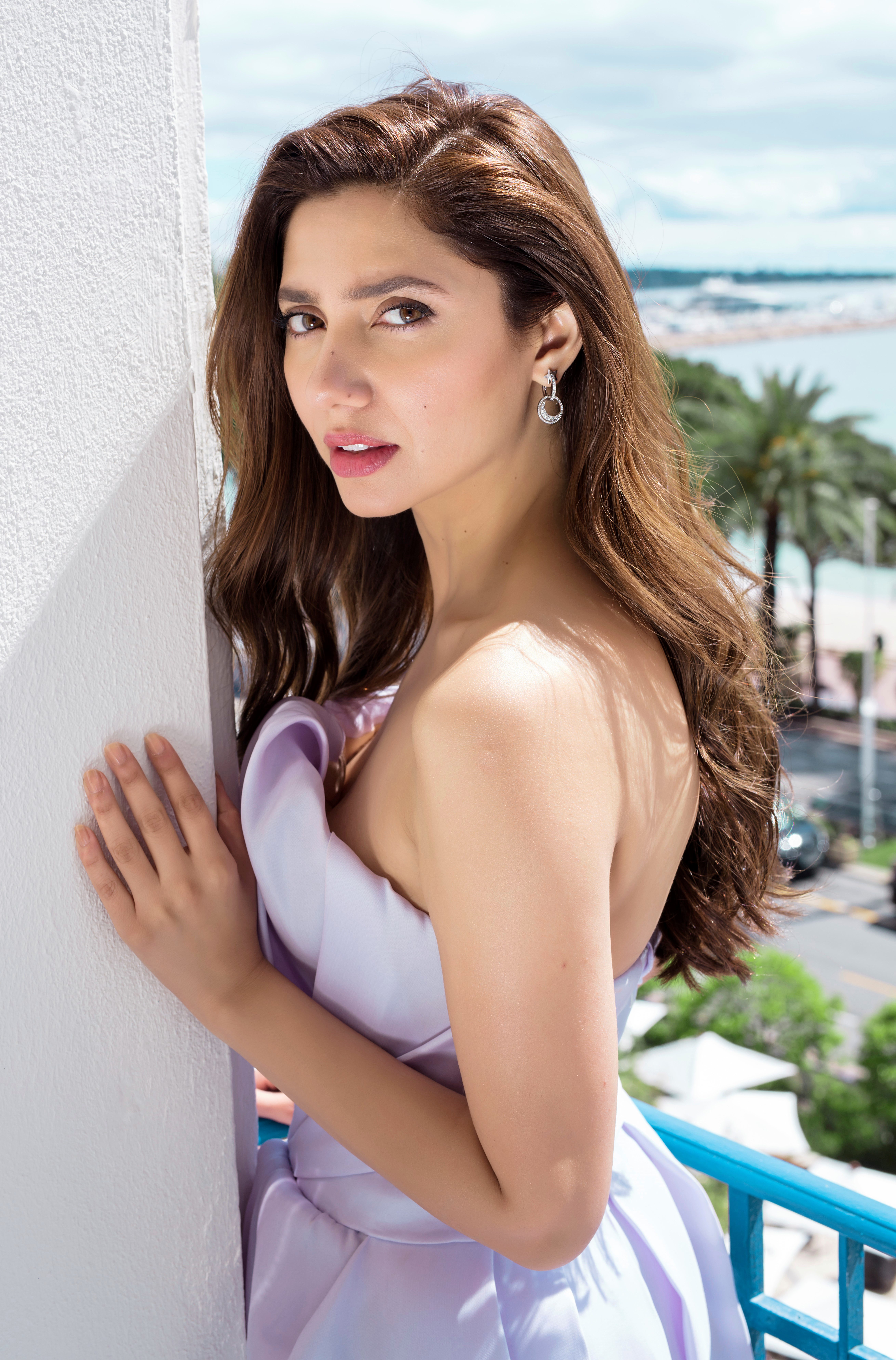 Mahira Khan at Cannes
What are your plans with Zero Make-up?
Zero Make-Up is going international. We will be launching in India too, this year, in Delhi. The response so far has been amazing. We were partners at Abu Dhabi Bridal week and for the first time, I had my hands on local women. Our distribution network is also growing in the Middle East.
Zero make-up palatte
What is the difference between Hollywood and Asian celebrities in their approach to make up?
Did you notice Meghan Markle's make-up at the Royal Wedding? You could see her freckles! But she looked so lovely as it was so simple yet beautiful. You don't need to do more just because it's your wedding. Less is more as far as make-up is concerned, if you have a fit body, glowing skin and shiny hair. I would again say, 'Correct don't cover'. The West gets it right. But I also like to see how make-up is so experimental right now. Glitters, liners and body art…there is fantasy happening in make-up. But it has to be balanced in a way where one or two elements make a statement while the rest is effortless.
Your personal style and individuality is important. Knowing yourself, your stature, height, weight, fan base, realising what to show and what to hide is necessary.
You keep talking about the 'Decade Jump'. Can you elaborate?
Basically, you are not the figure or face you were 20 years ago. Hence reinventing yourself is essential. Every decade you need to reinvent yourself. If you change your looks constantly, you won't be compared to how you looked years ago, you will just look different.
Who, do you think, in Bollywood has reinvented herself or himself well?
Amitabh Bachchan is great, he looks amazing with his beard and glasses. Neetu Singh is another woman I can think of, who is elegant and stylish at all ages. On the other hand, look at Rekha. She really can look more lovely if she changes her style. Shahid Kapoor and Ranveer Singh, among the younger ones, constantly revisit their looks too. 
How can you develop the skill to reinvent?
You can't. Style is something you are either born with or without. You may not be able to develop it but you can certainly discover yourself. And yes, don't ever be uncomfortable, period.
A number of celebrities are launching their own make-up line. What are your views on it?
These collaborations are great and the celebs are smart but the credibility with make-up comes only if you have touched 2000 different types of faces. Celebs don't have that kind of experience, so how can you expect them to know the cosmetics? If Kim Kardashian is launching a new line, I would value the opinion of her make-up artiste more than her as he has worked with over 1000 faces. Maybe she would know what looks good on her own skin but that of others? But be it Kim or Rihanna or Cindy Crawford, this is the trend at the moment and good luck to them! But among all the celebrities, I really admire Mickey Contractor and his collaboration with MAC. I respect his vision, work and contribution to the Indian make-up scene