Bollywood News
'I Felt The Need to Go Out There And Find My Purpose': Shweta-Bachchan Nanda
The shy and unassuming Shweta Bachchan-Nanda recently turned designer. Now she will be out with her first fiction book. Indu Mirani meets the stylist who has a way with words…
As you enter designer Monisha Jaising's store on Pali Hill Bandra your attention is drawn to two black and white enlargements featuring women dressed in the label's garments. The lady on the left is easily identifiable as the elegant Shweta Bachchan Nanda but it is the face on the right that you can't take your eyes off. This is Navya Naveli Nanda, Shweta's daughter, so exquisitely beautiful that you are immediately drawn in.
When we ask her if Navya was the muse for her new label MxS, started in partnership with Monisha, she says no, "every girl and every woman is", explaining that Navya features in the portfolio only because she was in the country during a break from her studies when it was being shot.
We watch Shweta as she speaks and though she mentions several times that she is shy, there is a pleasant animation about her as she talks about her twin beginnings, the fashion line and a book called Paradise Towers set in a Mumbai apartment building. Which begets the question…
How does someone who grew up in homes across the world understand the dynamics of a Mumbai housing apartment?
I have a lot of friends who live in multi-storeyed buildings. I've gone over to their homes a lot to spend the day or to play, in the process observing how things are. Living in a building has always fascinated me. When I was in college abroad, I lived in a building and though I understand it's not the same, you do get the flavour. My cousin lives in a multi-storey building and she's always telling me about stuff that's happening there…a fight or a meeting…You just imbibe these things from others.
Two beginnings at the same time; your fashion line with Monisha Jaising and your debut novel Paradise Towers. Which was tougher and why?
The fashion line was tougher because it's not something I've been trained for but I've been writing pretty much all my life. It's one thing to see fashion on a rack, wear it and decide what's good for you but to design it for somebody else, another body type and another skin tone is difficult. I'm so happy it's a collaboration with Monisha because she's been at this for 28 years and she's a wonderful teacher. She's really taught me and helped me along the way.
Did some of it come naturally because you've always been well turned out?
Everyone has a sense of aesthetic, people have been kind enough to say that they like mine. It's about using your aesthetic, looking at cuts, putting ideas together, getting inspired by regular stuff on your travel and things you see and then coming up with an outfit. Thereafter, Monisha sketches and fleshes it out and we decide on the fabric and embellishment. So it's been an adventure. I wouldn't say it's been difficult because I have a very good partner.
How do you, a mother of two, find the time to do all this?
I'm 44, I had my children when I was 23, so I am now lucky that they are away. That is also why the desire to do something came about. I found myself sitting at home with not much to do. I was a stay-at-home mom and once they went away, I felt the need to go out there and find my purpose. That's how the book and MxS came about. Actually, I'm always there for the children. When they are in town, they are my priority but as I always say, don't underestimate women. They are very capable of multi-tasking; that's how I'm managing.
Tell us about your fashion line. What are the fabrics you love? Does Navya influence your design?
I like soft fabrics, anything that's comfortable and easy to wear. I like flannels, cottons, pure fabrics; Blends and mixes are not exactly my cup of tea but if they're cut and presented beautifully, I would love to wear or design them. That is my style aesthetic but everything depends on my mood on a day. I wake up one day and I want to be very simple or I wake up, feeling like wearing jewellery or a pair of funky pants and sandals. It all depends on what I feel on a certain day.
My daughter is now in New York which is a huge fashion hub with many fashion influences. So she'll come back home wearing something cool and I'll go 'wow'. I wouldn't say she influences me but she exposes me to different fashions that I may not be aware of, like what young kids are doing or labels they are buying.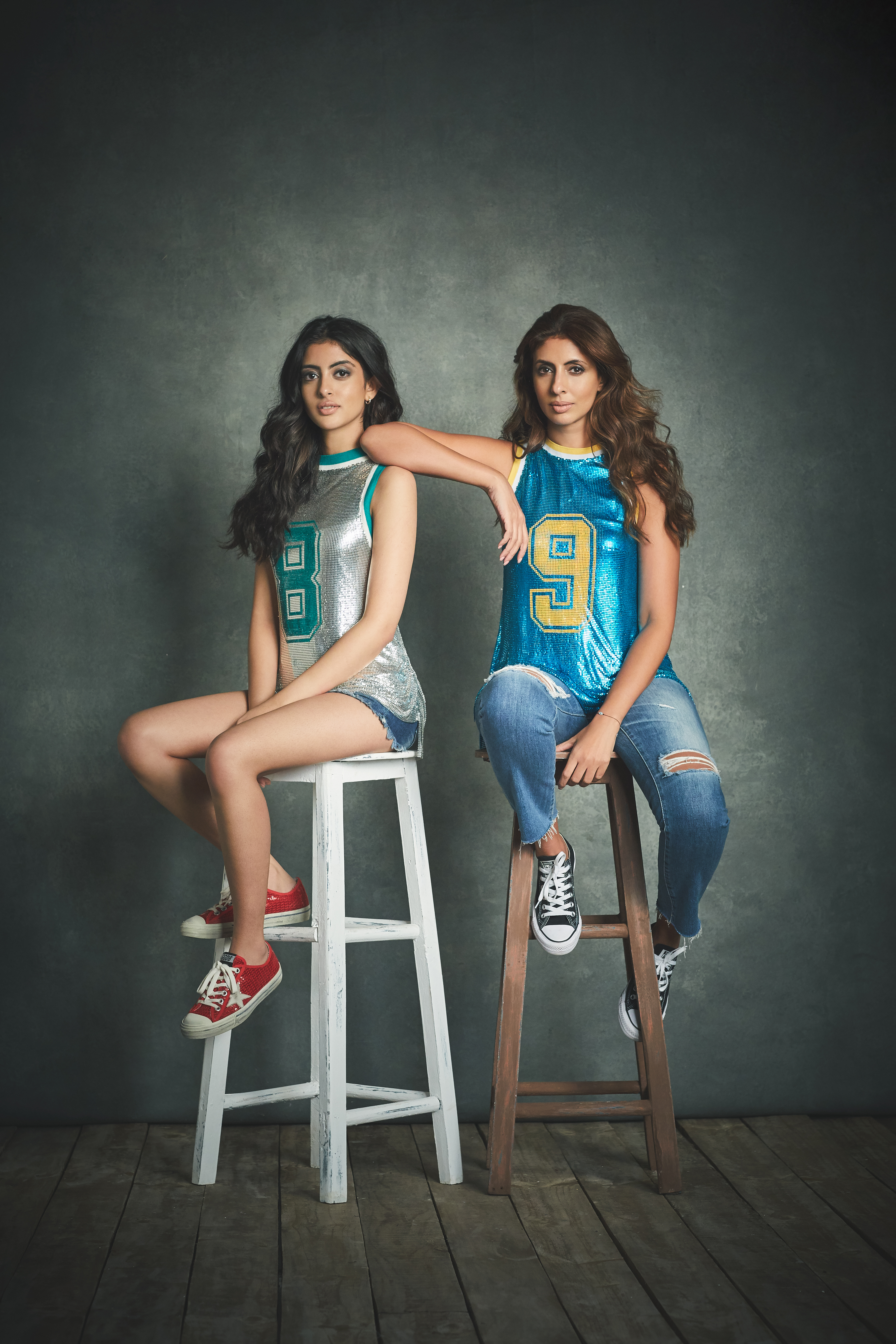 Shweta Bachchan-Nanda with her daughter Navya 
What is your favourite casual outfit?
You cannot go wrong with track pants and a T-shirt and a sweatshirt and sneakers.
Do you ever borrow an accessory from your daughter?
No, she borrows very heavily from me! Often when I open my jar in which I throw in all my fun stuff, I'll find stuff missing and after figuring that it's obviously with Navya, I'll have to take three flights to go get it back. At least she can as me but she simply says, 'Sorry I was wearing it and I ran off with it'. So yeah, she borrows from me.
Have you ever worn anything from your Mom's or Dad's wardrobe?
From Mom's all the time. I live between Delhi and Mumbai and a lot of times when I am here, I don't have the appropriate clothing when we need to go somewhere. So I borrow my mom's pyjamas which come to my knees and I have to wear them down my waist but I'll wear them anyway! I borrow my dad's T-shirts when I work out. They're down to my knees but very comfortable because they're old, soft stuff he is discarding.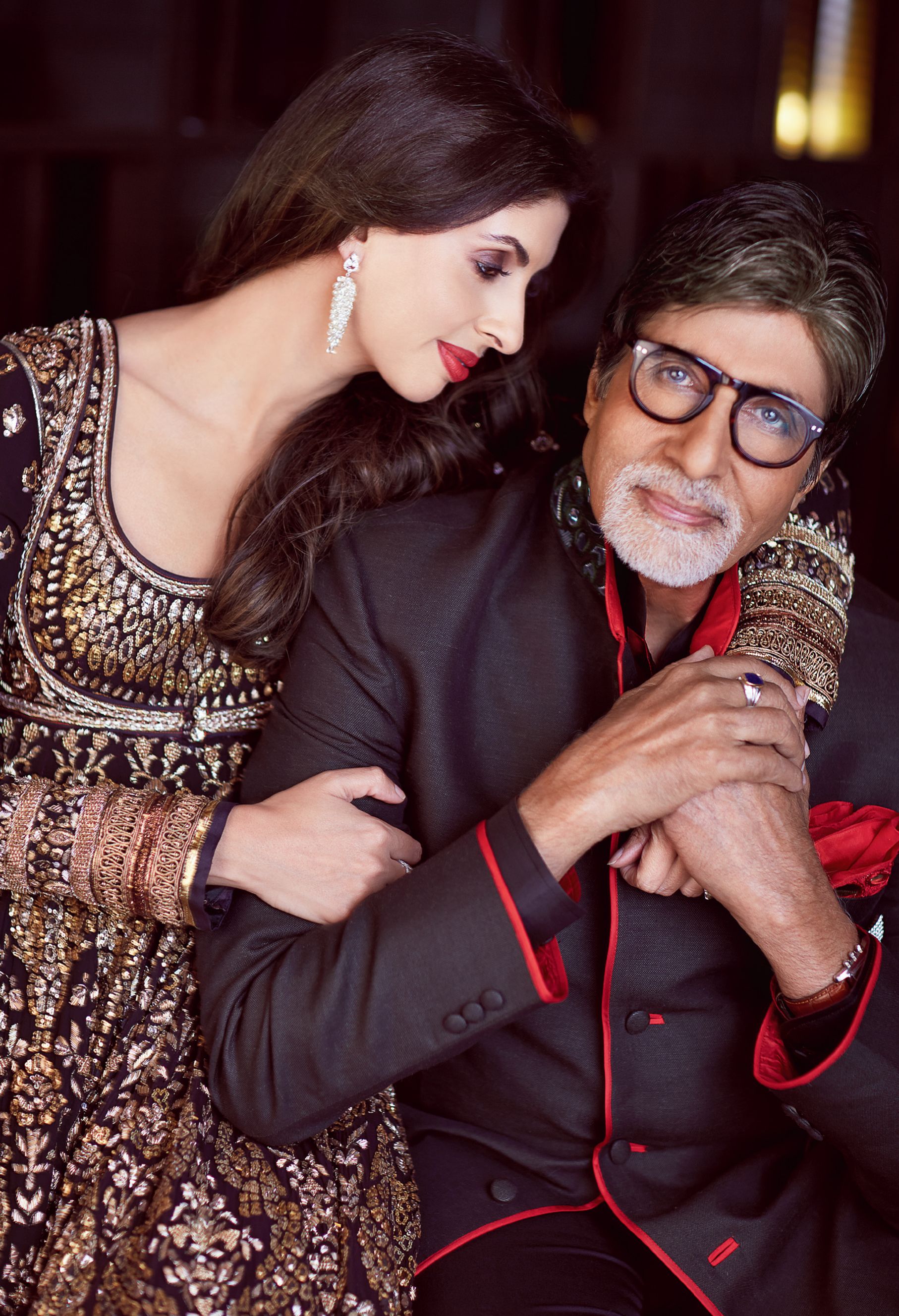 Shweta Bachchan-Nanda with her father Amitabh Bachchan
How would you rate your father's style sense? He tops best-dressed lists even now.
His style is definitely not classic because he experiments with a lot of colours. He's a bit of a clotheshorse. You can put stuff on him that would look outrageous on someone else but he'll be able to carry it off. There's just something about him, he understands what he can carry off, like a purple suit he wore the other day which might have looked odd on someone else.
What is your first writing memory and what did you do with it?
When we were very young we would write letters to my father who was in the hospital recovering from his Coolie accident. It is my first writing memory. He was in the hospital for two and a half or three months, so every Friday, we would write get well soon letters and cards telling him everything was going to be ok, I'll look after the house or I'll look after mama.
I know Paradise Towers is fiction but are any of the stories true stories that you either observed or were told to you by a friend?
No, not, in particular, it's very much a figment of my imagination.
How thrilled is your dad that you show the family talent of writing?
He's very excited especially for this because it's truly the family legacy. More than anyone else it's my grandfather's legacy and dad's really happy that someone from his side of the family is out there and publishing.
Abhishek once told me that he writes poems…
Abhishek does? He's never showed them to me! I must go and ask him about it.
Maybe he was just pulling my leg…
No no no, if he said he's writing poetry he probably is, he's just not showing it to anyone, but the cat's out of the bag now (laughs).
What is your process of writing? Does a story come to you completely, or do the characters come first and you then weave their stories?
The whole premise comes to me as a whole and then as I'm writing it, the characters are just born. I have a very fertile imagination. I'm very shy and as a child, I spent a lot of time on my own quietly and when you do that, you dream all the time. I was constantly making up dreams and scenarios in my head.
Do your characters live and grow with you even after you have put them down on paper?
No, they remain characters and they remain in the pages of my books. I don't take them anywhere with me.
Is this the first step towards writing for films?
I don't know. My mother who is the only one in the family who has read my book, told me I have a very visual way of writing and I should try my hand at a screenplay but I don't even know how to go about it. But let's see, I don't want to say no to anything.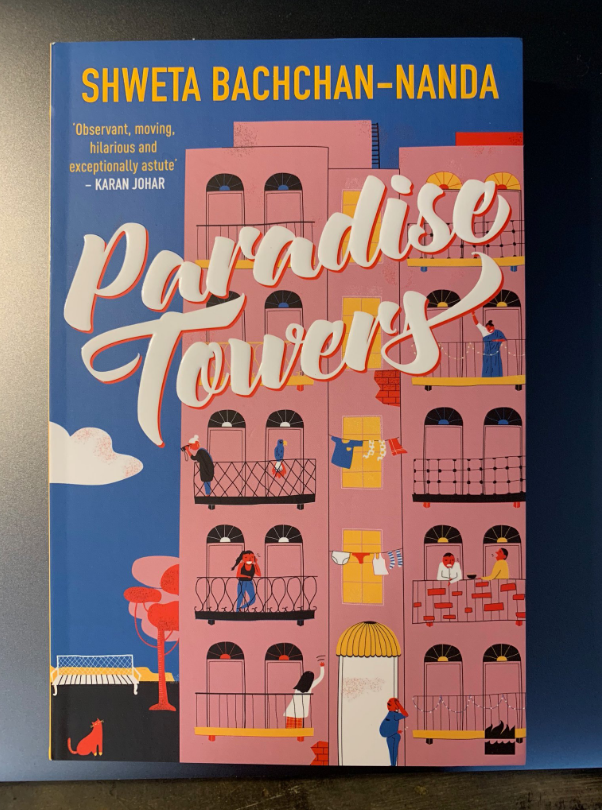 The cover of Shweta Bachchan Nanda's book Paradise towers
Are there any characters in the book that represent the essential you?
No, actually none. They are all very removed from who I am and what I am. I'm sure every one of them has some aspects of me but none of them that embodies me as a whole or anyone I know.
Both your children are descended from movie greats from both sides. Does this make them eventually joining the industry a given?
Absolutely not. They have to finish their education and then when they're old enough to decide what they want to do and if they feel they can do it then we'll see. So it's not a given.
How hard was it for you to resist the temptation to join?
I just felt I didn't have the desire, the talent, the looks or the grit that it takes to be in the movies. I'm too shy to be out there like that.
How have you taught your children to cope with the constant media attention?
Actually, I haven't! They're lucky because they're away so they escape a lot of it. There have been one or two unfortunate incidents but they're going to have to just roll with the punches. Nothing teaches you better than experience. They're careful about what they post and who they accept as friends.
Were you and Abhishek hounded?
No, we had a very normal but protected upbringing. Even within the confines of our home,  we were very protected.