Bollywood News
"Hrithik's Divorce Was The Nail in The Coffin": Sunaina Roshan
Hrithik Roshan's Sister reveals how she won her battle with obesity to Anil Sadarangani
Irony, it seems, is the central theme of film producer Sunaina Roshan's life. Born into a family in the business of selling dreams. Daughter to one of Bollywood's most successful filmmakers, Rakesh Roshan. Sister to one of Bollywood's leading heartthrobs, Hrithik Roshan. Ex-sister-in-law to interior designer Sussanne Khan.
Sunaina Khan is also an obesity survivor. She was 130 kilos and lost a dramatic 60 kg after undergoing bariatric surgery at the hands of famous bariatric surgeon Dr. Muffazal Lakdawala. Today, she says she is, "At peace."
If this is not enough for the premise of a dramatic screenplay, wait till you read the details. "I was always yo-yoing with my weight," she says. At one point she had lost some weight but no one noticed because, "I was working with dad and hardly stepped out due to the volume of work."
Then, the domino effect happened!
First, her ill-fated marriage went out of the window. Then, her grandfather, to whom both she and Hrithik, have always been close to, had to be hospitalised. Before he was out of the hospital, Hrithik had to undergo brain surgery to remove a clot caused by a head injury during Krrish. Then came the shock of Hrithik and Sussanne's divorce. "This just crushed me, it was the nail in the coffin," she says. Before all this, she had battled cancer.
For Sunaina, her world was caving in and depression seized her mind. "I could not speak to my parents about how these things were affecting me or what I was feeling because they were going through their own pain. I wasn't dating anyone either. There was nobody I could talk to. I didn't want to add to anyone's stress. I have always been a foodie so I just buried my feelings in food. I started eating like there was no tomorrow. My depression had become so bad there were days I could not even get out of bed. I developed sleep apnea, anxiety, panic attacks and finally diabetes," recalls a candid Sunaina.
The diabetes diagnosis hit her like a bolt out of the blue. "I started crying when I got to know. I never imagined I would have diabetes. It is the worst disease anybody can have. I had so many sweets, it is unbelievable. I would eat a four kilo cake in one go. I would sneak sweets into the house and hide them in corners so that my parents would not see me eating," she says. With the detection of diabetes, her survival instincts kicked in. She had already punched cancer in its face. She had to kick butt on this one too, she told herself.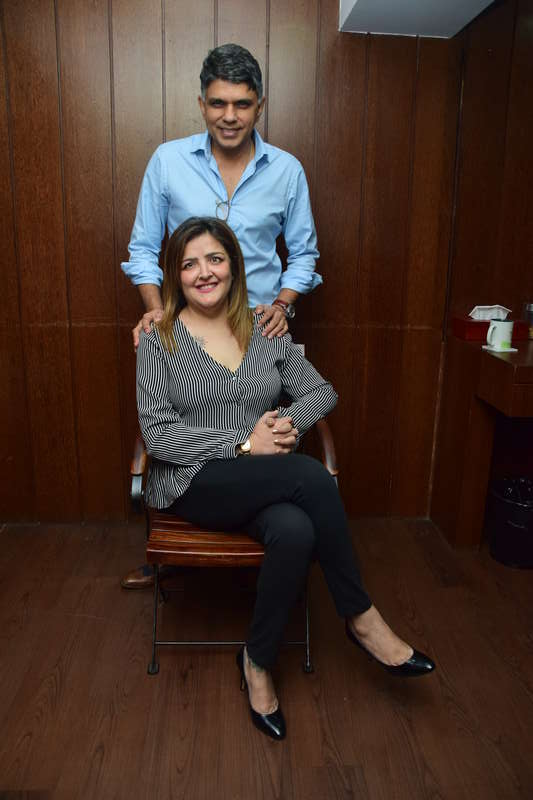 Sunaina with Dr. Lakdawala
"When Sunaina came to me, she had NAFLD — Non-alcoholic Fatty Liver Disease, the largest cause of cirrhotic liver in the world, caused by fatty deposits on the liver. Her liver could have turned cirrhotic at any moment. She had reached the point of no return and bariatric was the only thing that would save her," informs Dr. Lakdawala, who has also operated on Salman Khan's mother Salma among many other famous personalities from entertainment and even politics.
"There is no shame in admitting I did bariatric. I even saw a psychiatrist for my depression and was on anti-depressants, which I am not on anymore, thanks to the surgery," says Sunaina. "People said, 'She is a loser, she will never be able to do it.' Well, I have. Make no mistake, I did this for myself and now I am speaking out for anyone who is going through what I did," she adds.
Her lifestyle has completely changed, she says. "I do get insomnia once in a while but I am not depressed anymore, I don't suffer from sleep apnea and I am diabetes-free. Even the way I look at life has changed, for which I am grateful to Dr. Lakdawala," says Sunaina.
Her wardrobe too, is different. "I donated all my old clothes to the poor. My biggest kick now is fitting into a size smaller than what I used to earlier! When Hrithik returned from the States, he was like, 'Is that you? Do I know you?' My family tells me they haven't seen me like this in years. This motivates me," she says.

There is one motivation she is still looking for. "I want to lose 10 more kilos so I'm telling all my friends to find me a hot trainer so I'm motivated to hit the gym regularly!" she laughs.