Bollywood News
Hrithik Roshan to Opt Out of Farah Khan Film?
Hrithik Roshan maybe not working on the Satte Pe Satta remake
With two blockbusters on his roster in 2019,  Hrithik Roshan is being extra-careful about what he chooses  to do next. One hears that after giving the  nod to Farah Khan  to the Satte Pe Satta remake, Hrithik is having second  thoughts  over the  project. Says a  source  in  the know, "Hrithik is  looking at something that  would take  him ahead  of Super 30 and  War. And Satte Pe Satta is  not that  kind of a project . Sure, it has great commercial potential. But  it  isn't what Hrithik wants at this stage  of  his career."  There was a lot of excitement about the news that the 80s blockbuster Satte pe Satta, one of Amitabh Bachchan's most entertaining and well loved films, was going to be remade by none other than the queen of Masala films, Farah Khan and that Hrithik Roshan would be stepping into Big B's shoes.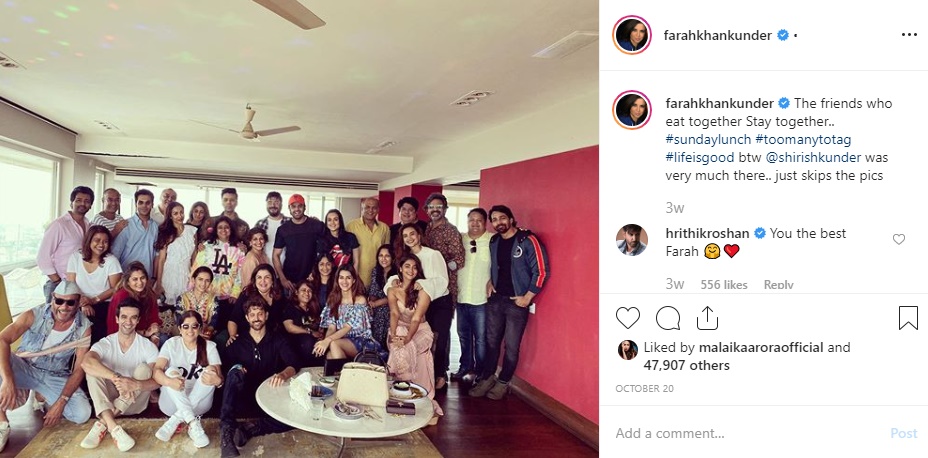 Farah Khan hosted Hrithik Roshan, Kriti Sanon, Karan Johar, Jackie Shroff, Malaika Arora and others  for a Sunday lunch back in October, 2019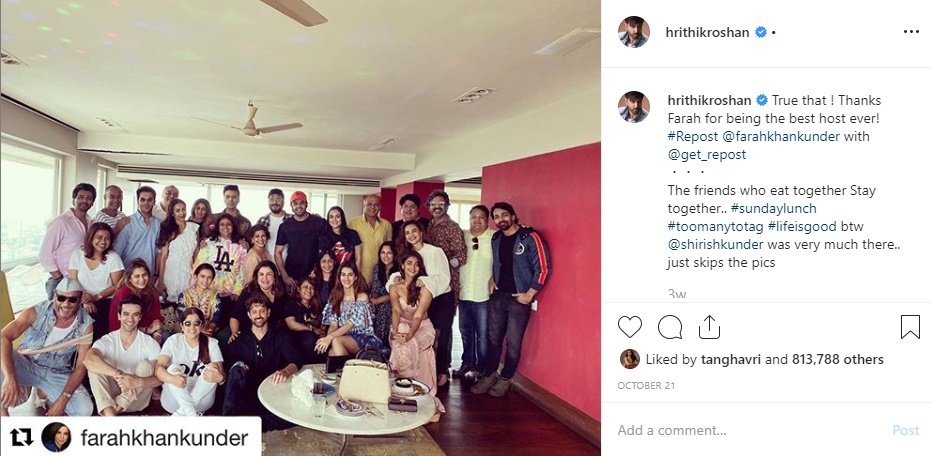 Hrithik Roshan took Instagram to repost Farah Khan's post. Sharing the picture, he thanked Farah for being the best host
We now hear Hrithik is looking at  Sanjay Leela Bhansali's Inshallah, yes the same project that was  shelved  earlier this year after  Salman Khan exited. Chances are, Inshallah and  not Sattte Pe Satta  may be Hrithik's next project. Watch this space. And watch  Hrithik's pace. Hrithik has had an extraordinary year so far. Two of his  films Super 30 and War went on to become super hits. Hrithik is now  looking at  doing a  sequel to War which its producers  Yash Raj  Productions  are  very keen  to do with the action star. Also  on the anvil is  his father Rakesh Roshan's  Krrish 4. Whenever Roshan Sr is ready to go on  the floors with Krrish, Hrithik will clear the decks and  concentrate on the one project. 
As  Hrithik once told me, "I can work with  other  filmmakers. But Dad works only with me."
There were also a lot of speculations that Krrish 4 will take a while before it starts off, given Hrithik's commitment to other projects and his father's health concerns. It was also said that the script wasn't ready for the same.