News
"Homemade Butter Biscuits and Freshly Brewed Coffee": Chef Nirmal Khanna on the Perfect Comfort Food and Her New Cookbook
Former journalist and chef Nirmal Khanna recently launched the fifth edition of her classic cookbook
Nirmal Khanna learnt cooking out of necessity. As a young bride in the '60s, who had to move cities because of her banker husband's transferrable job, she was keen to cook up interesting dishes instead of the same old Indian khana at every party or event. In Chennai, where her hubby had been posted, the choice was very limited and Nirmal had had enough of the regular South Indian fare; she wanted to try something more eclectic. An American friend then taught her the basics of shortcrust pastry. It was Nirmal's earliest exposure to Western cooking techniques and it had her hooked. Soon she began collecting recipes, experimenting in her kitchen and coming up with simple ways to cook seemingly complicated Western dishes. 
Then came her stint in Kolkata, where designer Ritu Kumar, Nirmal's bridge partner, encouraged her to start cookery classes. And thus it began – teaching the tricks and treats of cakes, bakes, pastas and pastries to homemakers and home cooks, a hobby she pursued for years on end. "Those were different days, the ingredients were also not easily available," says the genteel Nirmal, also a former journalist. Her passion resulted in a cookbook that turned out to be a classic, Cook and Bake – The Easy Way.  First published in 1982 by India Book House and later distributed by a kitchen appliances brand, the book found its way in the UAE when it was brought out by a publishing house here.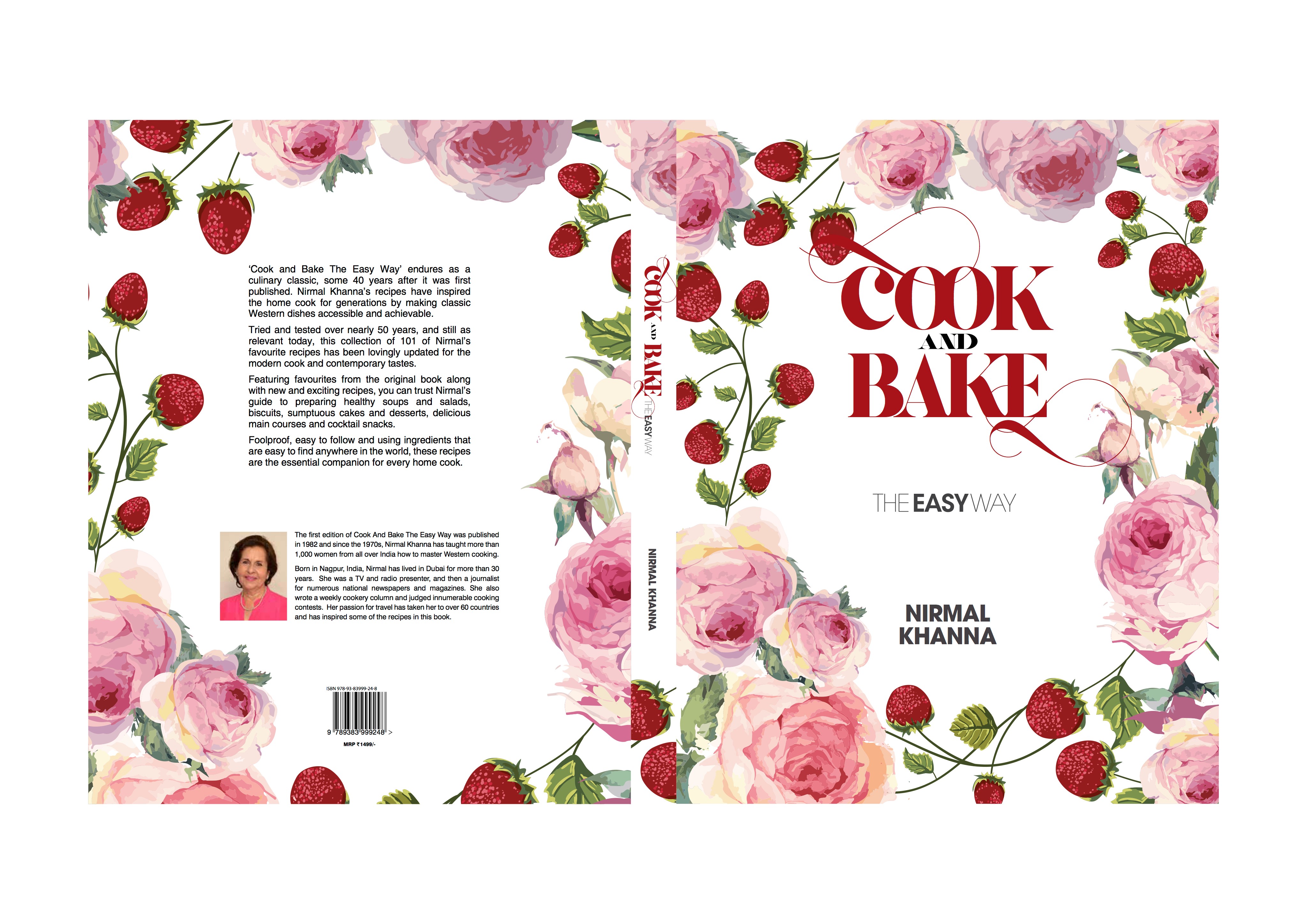 By this time, Nirmal had moved to the UAE and continued to spread the good word about western food. Recently the fifth edition of the book, a more updated and cool version with stunning images and easy-to-follow recipes that have stood the rest of time, was launched with the sale proceeds going to three charities. Nirmal says her objective is to inspire home cooks to try something new and rediscover old favourites.
And once you leaf through its glossy pages, you can't help but agree with her. We chatted with Nirmal Khanna on the joys of food and cooking:
What has been the most challenging recipe for you?
Undoubtedly, a hot cheese soufflé which should be golden brown and well risen above the rim of a straight sided dish! From measurement of ingredients to size of the dish, temperature settings and last but certainly not the least – timing. If undercooked, it will sink and look like a plump pancake at the base of the dish. If overdone, it will spill out of the dish.
What tips would you give a working woman to make cooking easier?
Whenever she has the time, a working woman should make and freeze items like shortcrust pastry and a basic masala. Further, things like spinach can be cooked, pureed and frozen, as can yeast dough, tomato puree etc.
What is your comfort food?
Homemade butter biscuits and freshly brewed coffee! With a good book, it becomes the perfect comfort food for a short rest.
What's your favorite cookbook?
Better Homes and Gardens. It's an encyclopaedia of simple, easy-to-make recipes. When I started cooking, this red and white checkered book was always in my kitchen.
 
What are the ingredients you cannot do without? 
I have my list of ingredients to rustle up yummy meals every day! These include:
- Good quality butter: It enhances the flavour of every item it is used for: Cake, sauce, gravy, pastry and more.
- Olive Oil: the best quality you can afford.  A drizzle of olive oil really brings a salad to life. Also good for dipping bread in for a quick snack with drinks!
- Dried herbs: Oregano, Basil and Parsley are particularly useful for many European dishes.
Some Indian spices are used for Western dishes like cinnamon in Greek moussaka, freshly ground black pepper is a universal favourite and is used in salad, soups while cardamom in cake brings east and west closer together!