Tips
Here Is How Rani Mukerji Loves Her One-Pot Grilled Chicken
Let us take a leaf out of Rani Mukerji's diet plan and show you how to make her favourite Grilled Chicken with grilled vegetables and onion
Rani Mukerji, the veteran Bollywood actor is riding high with her feisty performance in  Mardaani 2 as she reprises her role of Sp Shivani Shivaji Roy yet again. Rani Mukerji may have the might of perhaps the leading and strongest production house in India e.g. Yash Raj Films, but with every performance, she proves that she doesn't take it for granted. In recent years, we have seen the Hichki star taking up fewer movies yet give stellar performances and silencing the naysayers.
On the personal front, we see how post-delivery, Rani Mukherji literally transformed herself in no time. The fitness transformation was quite apparent in her movie Hichki where she played the role of a teacher. Though she is known to go on a yo-yo diet which is basically not a lifestyle but a temporary diet plan to get in shape.
Today let us share with you Rani Mukerji's favourite healthy meal that is not only simple but very healthy and perfect for the weight watchers.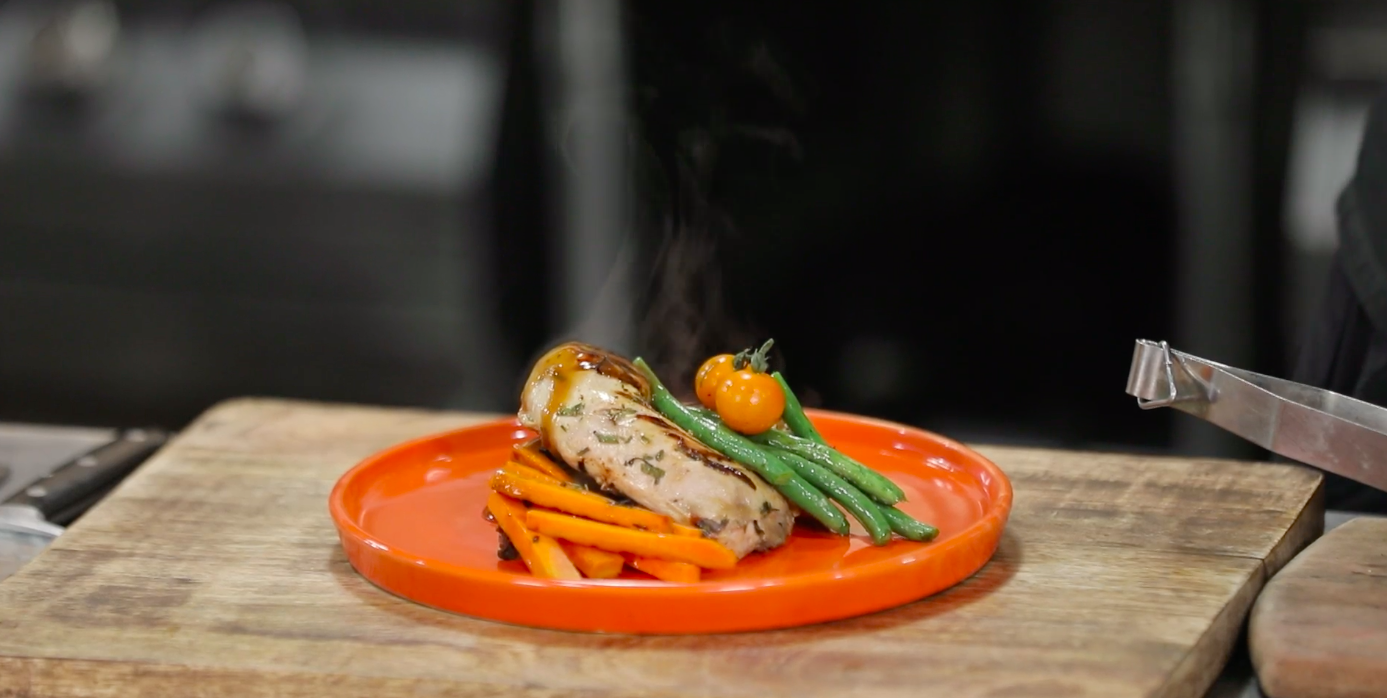 Rani Mukerji's favourite Lunch Meal:
Grilled chicken with grilled veggies and onion jus is a protein-rich lunch meal that is prepared by celebrity chef Mohit Savargaonkar for Rani Mukerji. The celebrity chef basically prepares and caters customized diet meals to some of Bollywood top stars and industrialists. Hence Rani's favourite lunch meal is basically straight from the horse's mouth. According to Mohit "She prefers eating meat n the bone. This is one of her favourites.she is not at all a fussy eater and eats food which is very plain and basic."The celebrity chef tells us how to recreate this protein-packed dish easily at home.
Ingredients:
For Marinating Chicken
1.    Chicken: In-bone leg pieces(Make some gashes on the chicken)
2.    Garlic: few cloves
3.    Mix Herbs: Chop some fresh Thyme, Oregano, and Rosemary
For Veggies:
1.    Carrots: 1 (peel and Cut into sticks)
2.    Green Beans: String them
Directions:
·         Marinate chicken with salt garlic and mix herbs.
·         Put the chicken pieces on a grill pan and cook them (cover it with a lid to let it cook faster)
·         For veggies boil both carrots and beans in boiled water and later put them on the same grill pan as chicken and grill them.
How To make Onion Jus?
·         Take some bones
·         Put some water, garlic, and some herbs
·         Boil it for good 5 to 6 hours
·         Now what you get is a reduced form of a stock
·         Now strain all the veggies from the stock and reduce it further
·         Now here is a thick sauce that you can drizzle on the chicken and all the meats that you eat.
So if you are on your weight loss journey, here is an easy, simple one-pot grilled chicken recipe that even a hopeless chef can make. This protein-packed meal is great for weight watchers who are also time-bound because it has hardly any ingredients. The ingredients together give you a well-balanced meal, perfect for lunch or dinner.