Bollywood News
'He Ran All the Way from the Airport to Juhu for Me': What Rajkummar Rao Did For the Love of his Life
Patralekhaa reveals details of the love story between Rajkummar Rao and her – how they fell in love and what makes their relationship so special
In an industry full of broke and fragile relationship, current hot star Rajkummar Rao's love story with his girlfriend Patralekhaa comes as a refreshing change. The duo has been together for nearly eight years and while they don't make a big deal of their personal lives, theirs is the most genuine and heart-warming story. Now, Patralekhaa has broken the silence around their relationship and has revealed everything about their love story.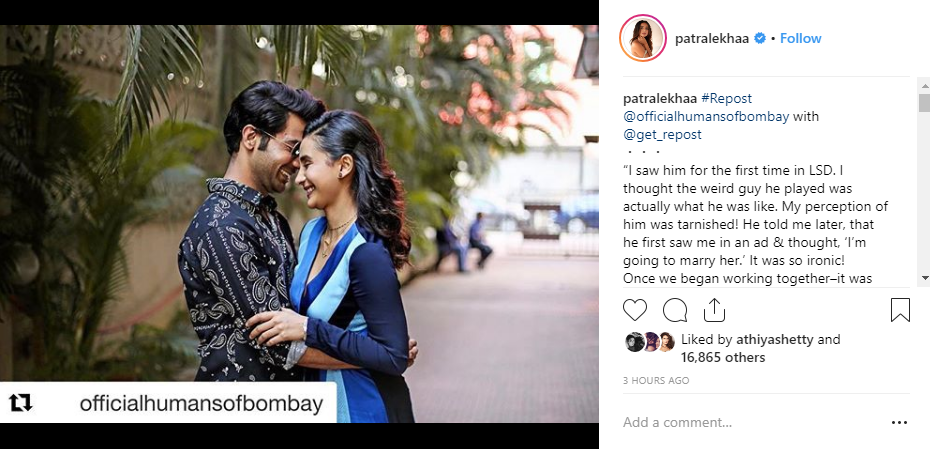 In an interview to the popular Instagram page, Humans of Bombay, the Citylights actress details her journey with the Stree actor – showing glimpses of Rajkummar as a genuinely caring, affectionate and equal partner. Like she reveals how the actor schooled a website who addressed her as 'Rajkummar Rao's girlfriend' and instead ask them to write 'Patralekhaa's boyfriend. Or the time when he ran from the Mumbai airport to Juhu (a suburb in Mumbai) just because he was a bit late.
Of course, the interview is in line with the promotions of Ek Ladki Ko Dekha Toh Aisa Laga, Rajkummar's next film that hits the theatres in February. But well, promotional tactics or not, isn't it amazing to see true love stories emerging from Bollywood?
Here is the entire story! 
"I saw him for the first time in LSD. I thought the weird guy he played was actually what he was like. My perception of him was tarnished! He told me later, that he first saw me in an ad & thought, 'I'm going to marry her.' It was so ironic!
Once we began working together–it was magic. The kind of passion he had was powerful & I couldn't respect him any more than I did then!
We spoke about our work, love for cinema, passions… I saw him through his struggles, never giving up. How could we not fall for each other? We didn't officially go on dates, but we'd go for drives, movies, or just sit at home. We accompanied each other for auditions, just for support. All we needed was that understanding. He'd often go out of his way for me. Once he was late to see me, so he ran all the way from the airport to Juhu! Not only that, but when we weren't earning much, he gifted me my favourite bag–it was so expensive!
Years later, someone stole it in London! I called him sobbing–for me, it was about the memories. He'd bought it for me when he didn't have much. Later, at our hotel, the exact same bag was waiting for me. These little things make me realise how lucky I am for him.
And the best part is, he always says he's the lucky one. Isn't that what a relationship needs? To remind each other how grateful we are?
He told me once that after I met his mom, she said, 'I have a feeling she's the last one I'm meeting.' She was right–we've been together for 8 years.
We're equals–when an article said, 'Rajkumar with his girlfriend, Patralekhaa', he retweeted–'Patralekhaa with her boyfriend Rajkumar.' I can tell you this when you find the one–through the fights, hurdles & chaos, you should never forget to let them know you love them. It doesn't have to be with expensive gifts & dates–it can simply be with the way you hold them while they need it & when they don't. For us, we don't know what the future holds, but this, being together, is enough."
What do you think of their love story?