TV/Streaming Reviews
Haseeb Hasan and Motion Content Talk Alif and Dhoop Ki Deewar
Haseeb Hasan and the folks at Motion Content talked exclusively to Masala about the hit television show Alif and their upcoming show Dhoop Ki Deewar
Haseeb Hasan is not new at this game. He's been there done that now with the feature length Parwaz Hai Junoon and the hit tv series Mann Mayal in his repertoire. Airing on television these days is Alif, a show based on Umera Ahmed's novel of the same name. Starring Sajal Ali, Hamza Ali Abbasi, Kubra Khan, Manzar Sehbai and Ahsan Khan, the show is an intellectual and soulful project shot in Turkey and Pakistan. The show is produced by Motion Content Group and Epic Entertainment.
When I asked Haseeb about the star-studded vehicle that he had been helming, Haseeb explained how it all took shape. "It became star-studded after I came on board," he explains. "Umera was writing and there was a one-liner. I came on board and she sent 8 episodes. I saw it and realized immediately that this kind of writing isn't being done. Channels are getting very generic. They want run-of-the-mill stuff."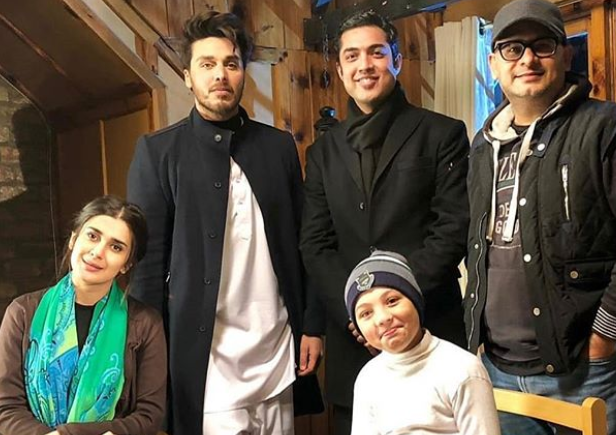 Haseeb Hasan, Iqrar ul Hassan, Ahsan Khan, Kubra Khan, Pehlaaj Hassan - credit, Instagram, haseeb_hasanofficial
I told him I noticed little elements to Qalb e Momin's character and how he's added texture to the production design by elaborating Momin's narcissism by hanging newspaper clippings in the background and having him literally live in a lounge of mirrors. There is a lot of detail in his production. Haseeb says, "This is really basic. It should be there in every story told. This is a must. These kind of elements for telling a compelling story should be created. In Alif, we had a support system. We went as far as we could. Now we're doing Dhoop ki Deewar and we're keeping in mind an international standard."
Hamza Ali Abbasi, Manzar Sehbai and Haseeb Hasan credit, Instagram, haseeb_hasanofficial
So why aren't other producers and directors using this approach? Amplify the storytelling? "We did as much as we could. I don't know why others aren't doing it. If I don't it I don't feel satisfied," he explains. "I guess the industry's approach is limited. We lack resources."
Who does he blame for this? "I don't blame anyone," he responds. "But if I absolutely had to – I'd say it's those four people who think if any product, any drama that gets a rating is a hit. All these dramas who get big ratings – I don't even know which tv shows they are. What we're making is not tv anymore. Times are changing and if I look at what I'm doing, I have to see things from a digital point of view. My own mindset is digital. These rating samples are wonky."
Motion Content Group or more popular known as Group M, who are behind the show, talked about Alif and Dhoop Ki Deewar to Masala!. Motion Content Group is behind various successful tv shows across the globe including Pakistan.
A statement from Motion Content regarding Alif and Dhoop Ki Deewar spoke about the viewer of today and what they're tuning into. "The viewer today is exposed to global content and thus they subconsciously compare our TV/content with everything else they are already watching on international streaming platforms from all parts of the world," they said. "If the quality and standards are not at par we will start losing on viewership which will ultimately hamper the overall business in the long run."
Alif follows two parallel stories, one of Qalb e Momin (Hamza Ali Abbasi), a director with a flamboyant taste and Momina Sultan (Sajal Aly), a young aspiring actress with a ton of bills to pay. Qalb e Momin has an extensive backstory which is gradually revealed with each passing episode.
On working with Umera, the production house stated, "it was not an easy task to convince Umera Ahmed to convert her very close-to-heart project into a drama and she did a marvellous job (as usual). Motion Content then had Haseeb Hasan who was integral when he aligned with our vision and eventually turning the show of what it looks today, moving forward same was intended for the cast and production values as well."
Alif's first episode is nearing 7 million views on YouTube and it's getting a lot of good feedback from viewers. "Alif is getting a lot of appreciation," Haseeb agrees. "Unanimous appreciation. People call/message me for Alif. I'm grateful."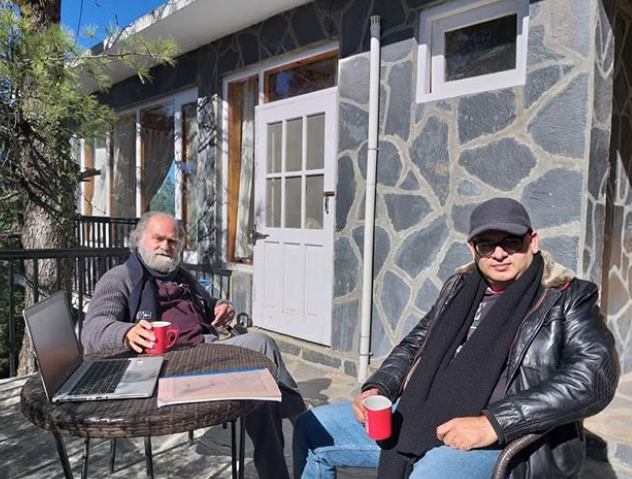 Haseeb Hasan and Manzar Sehbai. Credit Instagram, haseeb_hasanofficial
Alif is shot over various locations. Old neighbourhoods in Karachi and deep forests in Turkey. Was it difficult to manage the various locations? "Navigating the diverse set up wasn't difficult," Haseeb answers. "The hunting and the recon is difficult."
The philosophy in the tv show is something that has been praised by viewers. What's Haseeb's take on it? "Umera's philosophy is something I am in agreement with. Qalb e Momin's world is exactly like we see it in the show. The arrogance. Although in Pakistan, we don't have that level of stardom and we've taken creative liberties with it." Similar to the novel? "The novel is definitely different but overall I'm really happy."
The show is currently at 14 episodes (nearly halfway in its series) and is competing with Humayun Saeed's Mere Paas Tum Ho in its timeslot. While Mere Paas Tum Ho is lauded for its addictive quality, Alif is lauded for substance in its characters and plot. Alif airs every Saturday on Geo Television Network and is produced by Motion Content.
About "Dhoop Ki Deewar", the production house commented, that this is a "totally different storyline, a more challenging one, with the cast of Ahad, Sajal, Sawera Nadeem, Samiya Mumtaz, Manzar Sehbai, Samina Ahmed, Zara Tareen, Aly Khan and many more." Umera Ahmed has penned down Dhoop Ki Deewar as well and Haseeb is directing it. The show will be out on a digital platform soon and will tell the story of families from India and Pakistan.