News
Harbhajan Singh and Yuvraj Singh Controversy: Shahid Afridi 'Sad' for Messages Being Misunderstood
Harbhajan Singh and Yuvraj Singh were bashed on social media for supporting Shahid Afridi's call for donations to fight coronavirus
Twitter was ablaze with hate against Indian cricketers Harbhajan Singh and Yuvraj Singh as they tweeted to support Pakistani cricketer Shahid Afridi's charitable organization, Hope Not Out. Many users attacked Harbhajan Singh and Yuvraj Singh for supporting the Pakistani cricketer's cause that was fighting against the global pandemic of coronavirus.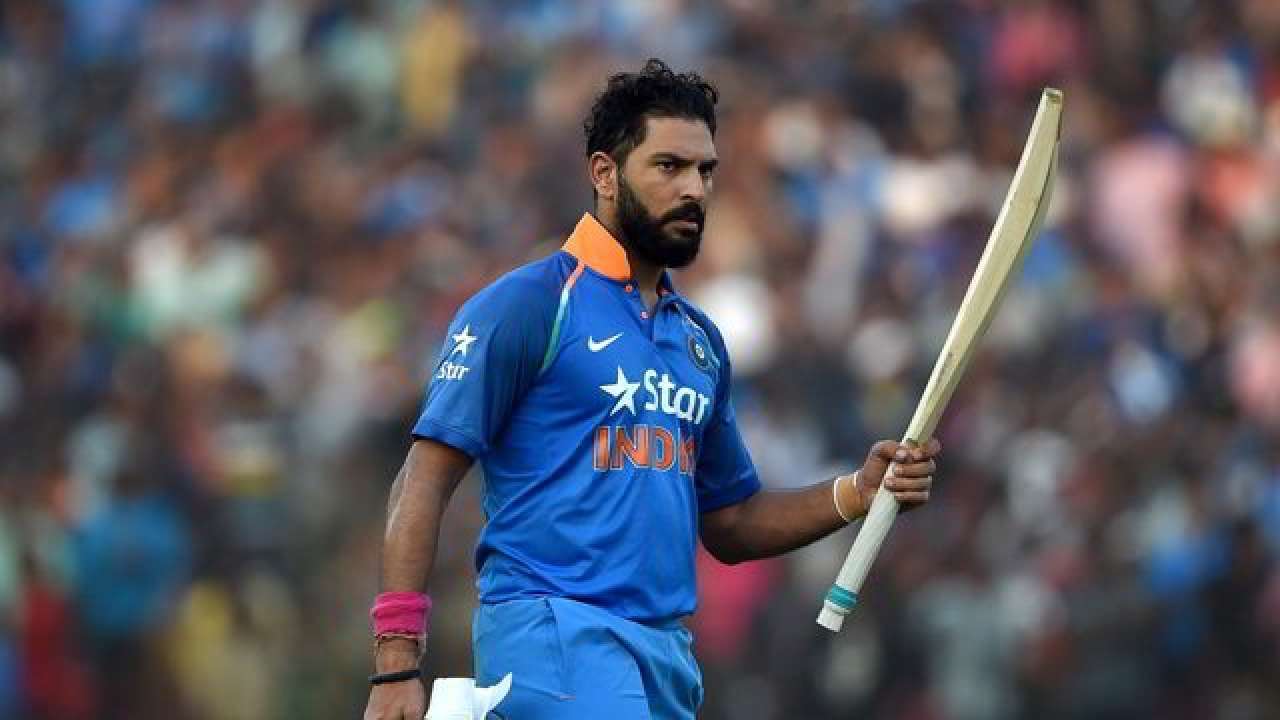 Yuvraj Singh
Yuvraj Singh later deleted his tweet and stated the following on his social media.
April 1, 2020
Shahid Afridi had appealed to everyone to support his campaign to fight the global pandemic.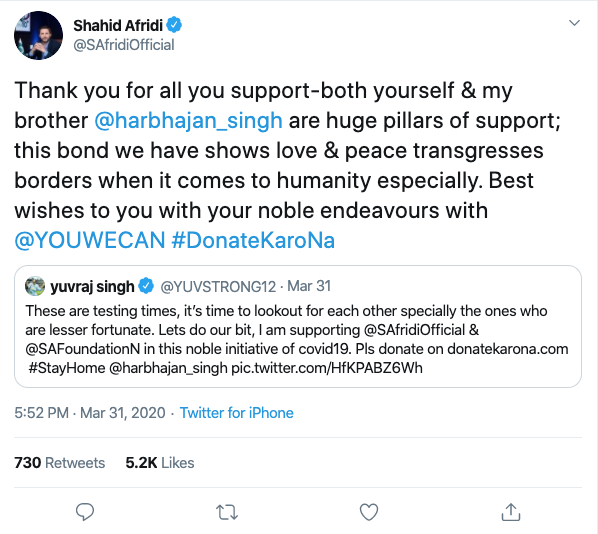 Shahid Afridi's appeal and Yuvraj's response
Afridi's foundation, Hope Not Out, was delivering food and ration packages amongst the lowest socioeconomic strata in Pakistan.
Day 11 of @SAFridifoundationN Ration drive Orangi Town, Karachi. Volunteers distributed 100 bags of food and supplies to families in this #Covid19 pandemic. Ensuring #HopeNotOut for all!
Requesting everyone #Stayhometosavelives& #DonateKaroNa to the cause!https://t.co/tw5QOQY9oT pic.twitter.com/5gpmddGIeD

— Shahid Afridi (@SAfridiOfficial) April 1, 2020
Harbhajan Singh and Yuvraj Singh were both heavily trolled on Twitter for showing their support for Afridi and later deleted their tweets. Harbhajan later added a tweet where he was facing Shahid Afridi in a match where he hit a six on Afridi's ball.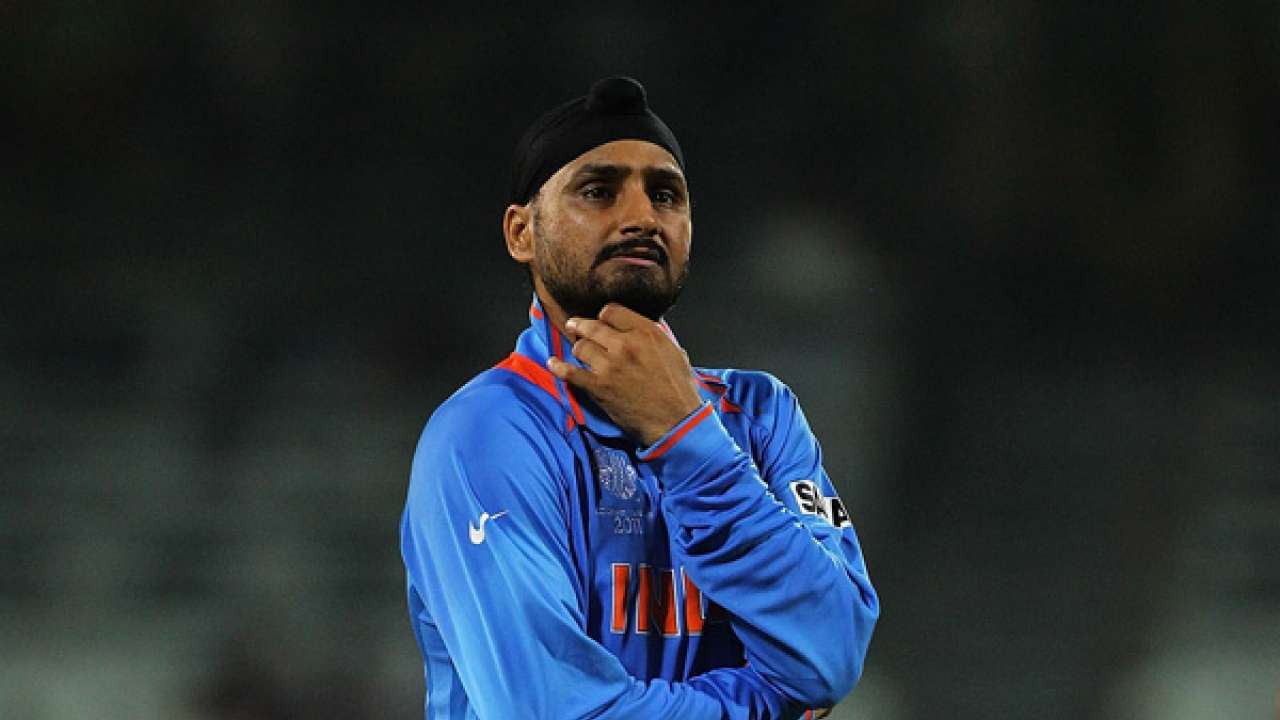 Harbhajan Singh
Users told him that there was no point of him tweeting this anymore because they weren't his 'fans anymore'. Some stated that while they understood that Harbhajan had done a lot for the Indian cricket team, his support for the Pakistani cricketer was unforgivable.
Panga nahi lena.. burraaahh pic.twitter.com/3b9KWDfRDw

— Harbhajan Turbanator (@harbhajan_singh) April 1, 2020
Shahid Afridi later responded with a message to the backlash. "Very sad to see simple messages of humanity getting misunderstood! We r ambassadors for Love & peace," he said in a tweet.
Very sad to see simple messages of humanity getting misunderstood! We r ambassadors for Love & peace ,
Truly value the support extended by @YUVSTRONG12 & @harbhajan_singh for coming forward & urging people to #DonateKaroNa #HumanitybeyondBorders https://t.co/x5Uo5GUNp5

— Shahid Afridi (@SAfridiOfficial) April 1, 2020
The backlash against the Yuvraj and Harbhajan has been very strong indeed.
Horrified to know that Harbhajan & Yuvraj Singh - two respected cricketers of India - are seeking donations for Shahid Afridi.

This Pakistani cricketer hates Hindus.

He broke his TV because his girls were imitating Bhagwan Aarti.

DON'T DONATE.

(Thread)pic.twitter.com/2twsWtQFgm

— Soumyadipta (@Soumyadipta) April 1, 2020
Shame on you Harbhajan Singh and Yuvraj Singh, people of India gave you Name, Fame & all, and you are requesting People to Donate for PAKISTAN, why not for INDIA???#ShameOnYuviBhajji Big Shame pic.twitter.com/YUDCE3OygU

— Rajesh Dangi (@rajeshmodimodi) March 31, 2020
Dear Hindus,

Please listen to our Sikh brothers, Harbhajan Singh and Yuvraj Singh and donate to Shahid Afridi's foundation. You can also use hawala channels as that way, it will be easier for terrorists like Hafiz Saeed to access your donations and plan more Kabul like attacks. pic.twitter.com/Is8h3Qdo1S

— Sonam Mahajan (@AsYouNotWish) March 31, 2020
However, there were some supporters of the cricketers as well who voiced their opinions on the matter. They hashtagged their support with #IStandWithYuvi
He Did For Humanity not for Hate. Afridi also Donated his signed jersey & some money to Youwecan (Run by Yuvraj Singh) foundation which helps Poor Cancer patients in India#IStandWithYuvi pic.twitter.com/yMy3URjsd9

— David Williamon (@CricketTard) March 31, 2020
Such a travesty that Yuvraj Singh has to apologise/clarify for a simple humanitarian message.

All those trolls who attacked him must have been first in chest-thumping line when Yuvraj was winning the 2007 World T20 and the 2011 World Cup for India. https://t.co/rC6Mis7HqJ

— Saurabh Somani (@saurabh_42) April 1, 2020
What did @harbhajan_singh or @YUVSTRONG12 do to offend people? They showed us humanity has no nationality and isn't that the upbringing in India? At times you can win over hatred with love too friends. Be proud of what they did as Indians https://t.co/HeFbfbduWh

— Vikrant Gupta (@vikrantgupta73) April 1, 2020
I will say @YUVSTRONG12 and @harbhajan_singh did the absolute right thing by helping out. That's humanity. And frankly really don't care if anyone else feels otherwise. @vikrantgupta73 I am glad you think the same.

— Boria Majumdar (@BoriaMajumdar) April 1, 2020
The two countries have been facing tensions against each other since the attacks in Uri that took place four years ago. Last year a suicide attack took place in Pulwama which almost brought India and Pakistan at the brink of war. Since then both countries have been facing tensions and all cultural cross border exchanges had been stopped. The Coronavirus pandemic, however, has hit Pakistan and India, with each country battling over a thousand cases as the number grows gradually. Coronavirus has been named a global pandemic and has claimed more than 30,000 lives in Europe already since its global outbreak in late January 2020. The United Nations has described as humanity's worst crisis since World War II.