Bollywood News
Happy Birthday Anand Ahuja! Here Are the 5 Times He Was the Bestest Husband Ever to Sonam Kapoor
Anand Ahuja and Sonam Kapoor have been one of the most adorable and romantic couples ever in Bollywood since they married last year. Now that it's Anand's birthday, let's take a look at the top five moments he was total hubby goals!
Sonam Kapoor and her husband, businessman Anand Ahuja, are a certified power couple in Bollywood, and for good reason. The romantic pair had long been rumoured to be dating but finally publicly came forward with their relationship after they got engaged. What followed was a B-town wedding to be remembered, as Sonam and Anand's marital celebrations were all things lavish and exciting. Since getting married, the couple have been keeping it relatively low-key but are always ready to post plenty of romantic snaps of each other to their respective Instagram handles. What fans have quickly come to realize is that Anand is totally head-over-heels for Sonam and makes sure to let her know every day.
Today, Anand will be celebrating his 36th birthday and we're sure that he'll be having a ton of fun partying it up with Sonam and the rest of his friends and family. To commemorate the businessman's special day, here are the top 5 moments he has been the cutest hubby to Sonam and gave us all the feels:
5. When he shared the cutest photo from their wedding and left a simple hashtag that summed up his feelings on being with Sonam forever: #EverydayPhenonemal.
Who doesn't remember the first time they saw Anand and Sonam's totally gorgeous wedding photos?
4. When he didn't shy away from showing his and Sonam's love to the world with a few PDA-filled snaps.
We love a man that isn't afraid to show his affection for his ladylove!
3. When Anand and Sonam proved that distance only makes the heart grow fonder and made sure to video-call each other.
Sonam's complete look of adoration for her husband is definitely the highlight of this photo.
2. When the couple celebrated their belated honeymoon with a gorgeously Instagrammable trip to Japan.
Fun fact: According to a post by Sonam, the couple unfortunately didn't get any time to have a proper honeymoon right after their wedding! So to make up for it, the couple decided to have their honeymoon a year later in Japan. Since the trip took place around the same time as their wedding anniversary in May and Sonam's birthday in June, they labelled their visit as a special "honeymoon/anniversary/birthday trip."
1. And finally, when he had the sweetest response to Sonam's birthday wish for him!
To ring in her love's birthday, Sonam took to Instagram and posted a series of previously unseen photos, including a shot of their wedding, a few of their cutest photos together as a couple and, of course, some super adorable pics of Anand as a baby. The "Sanju" actress' caption was all things heart-warming: "Happy happy birthday to the love of my life. To the kindest, noblest and most idealistic person I know. You are the best thing that happened to me. I hope you get to do all that you dream of. And contribute in all the ways you have always wanted to. "You're simply the best, better than all the rest!""
Proving that he is an expert romantic, Anand responded with an equally lovey-dovey comment: "Why don't I have any of these pictures!?!... You're the best, literally the best. Everyday w you is like a birthday. #EverydayPhenomenal Love you toooooo much."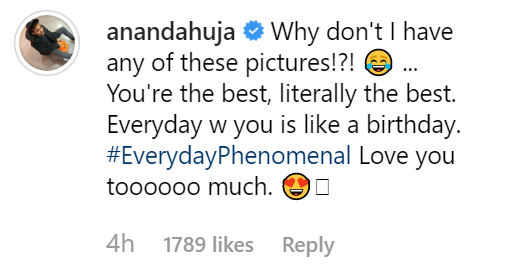 Here's wishing Anand Ahuja a happy birthday!