Celebrities
Hamza Ali Abbasi and Naimal Khawar Khan's Engagement: Social Media Reacts With Memes Galore
Hamza Ali Abbasi and Naimal Khawar Khan's announcement of their impending marriage has set social media alight, with Lollywood fans immediately taking to Twitter to share their thoughts. Check out the best reactions below!
Hamza Ali Abbasi and Naimal Khawar Khan are the latest Lollywood couple to be hitting headlines as it has been revealed that they will be getting married in just a few days! The news has come as a shock to many due to there being little to no indication of the two actors being together prior to these reports. Hamza took to his official Twitter yesterday to confirm the news that he will indeed be getting married to Naimal. The actor revealed that the pair had been in a "platonic relationship" for two years before Hamza approached her for her hand in marriage and further clarified that his motivations for proposing to Naimal were religious. Check out his full statement below:
Yup, its true. P.S Massive respect to Naimal for being ok with a Ganja me on Nikkah pic.twitter.com/8z9Uns0xo3

— Hamza Ali Abbasi (@iamhamzaabbasi) August 21, 2019
Social media reactions
Understandably, Lollywood fans were blown away by the news and immediately took to Twitter to express their emotions towards Hamza and Naimal's impending marriage the only way they know how: memes.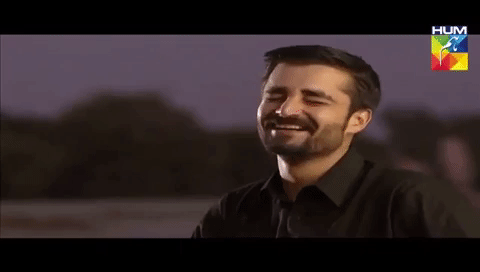 Reactions have certainly ranged. People are either wholeheartedly congratulating the actors, making fun of Hamza for his lengthy statement on the matter, or just outright crying that one of Pakistan's top bachelors is now off the market. Keep reading to see them all!
The teasing
Though Hamza's statement on his and Naimal's relationship got a ton of attention for the revelation that they will soon be married, plenty of people took issue with the actor's writing style, his motivations for getting married, and even the length of the post, which is more than 600 words long. Social media users just couldn't resist poking fun at the situation.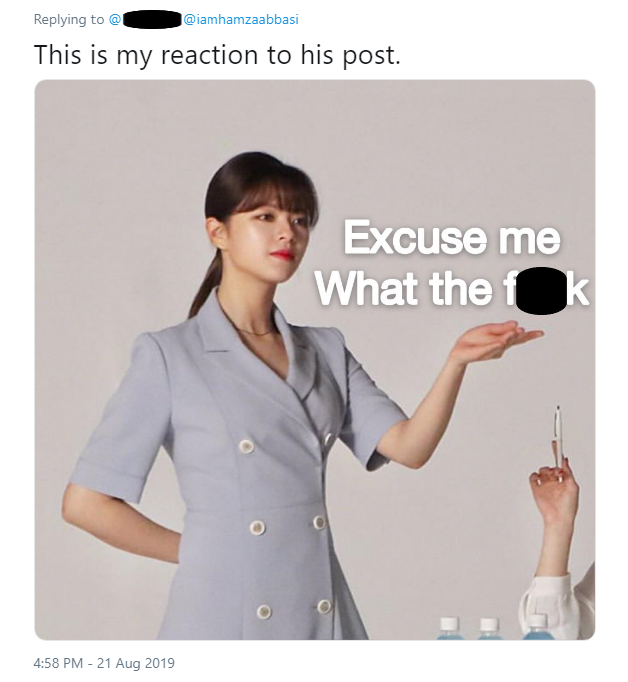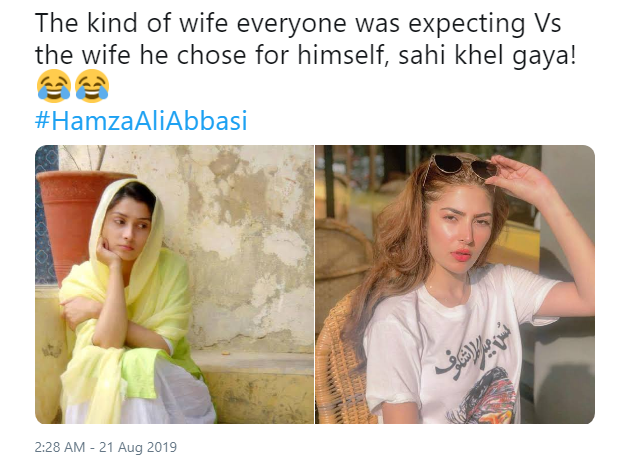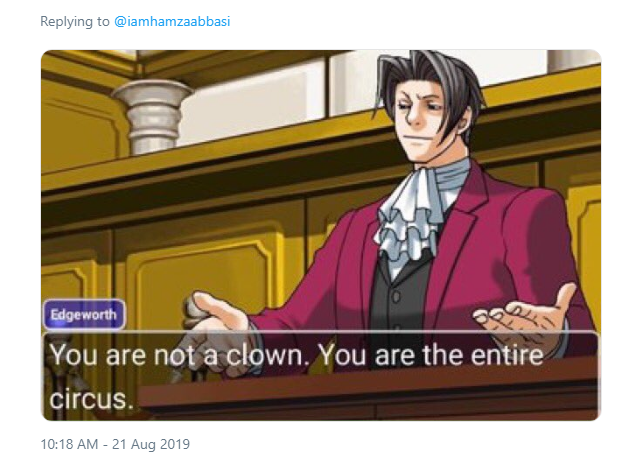 The tears
As expected, many of Hamza's fangirls are crying very real tears in reaction to the news that their favourite actor is no longer a bachelor. Prior to Naimal, Hamza had never publicly been in a relationship and even pointed out in his statement that he thought he was incapable of forming an emotional attachment with any woman. So the fact that Hamza is no longer single has proven to be a nasty shock for many girls across Pakistan.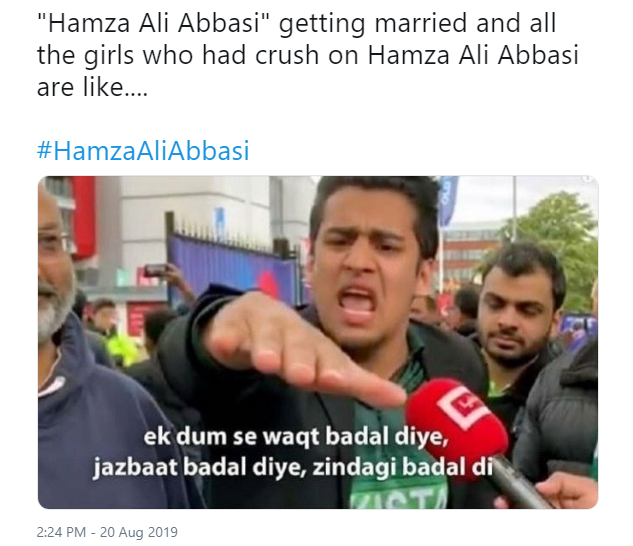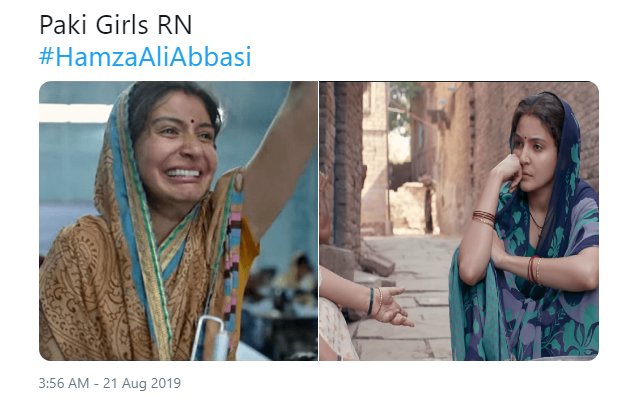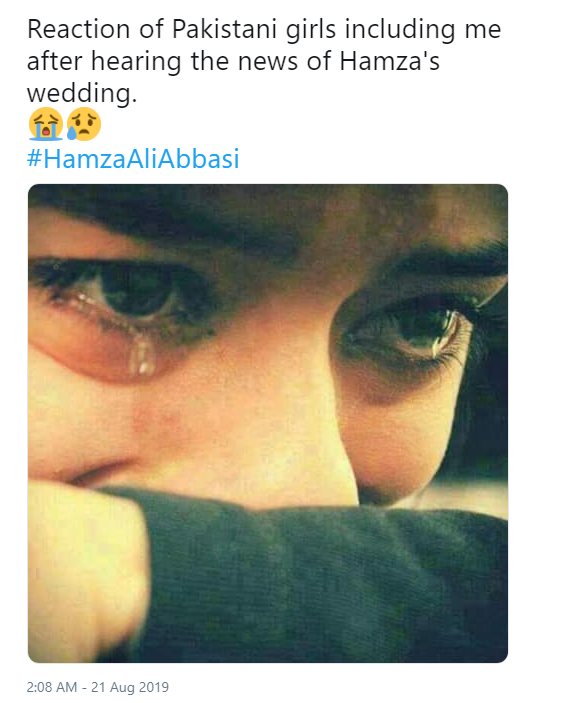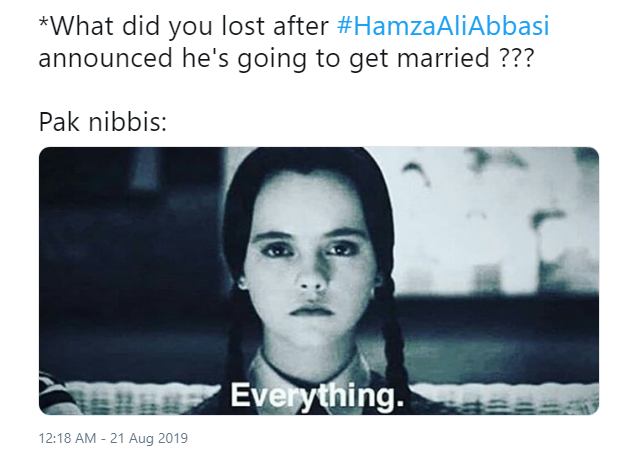 Here's hoping we get to have a sneak peek into Hamza and Naimal's wedding ceremony when it takes place on the 25th!